How to Clean Walls in Your Home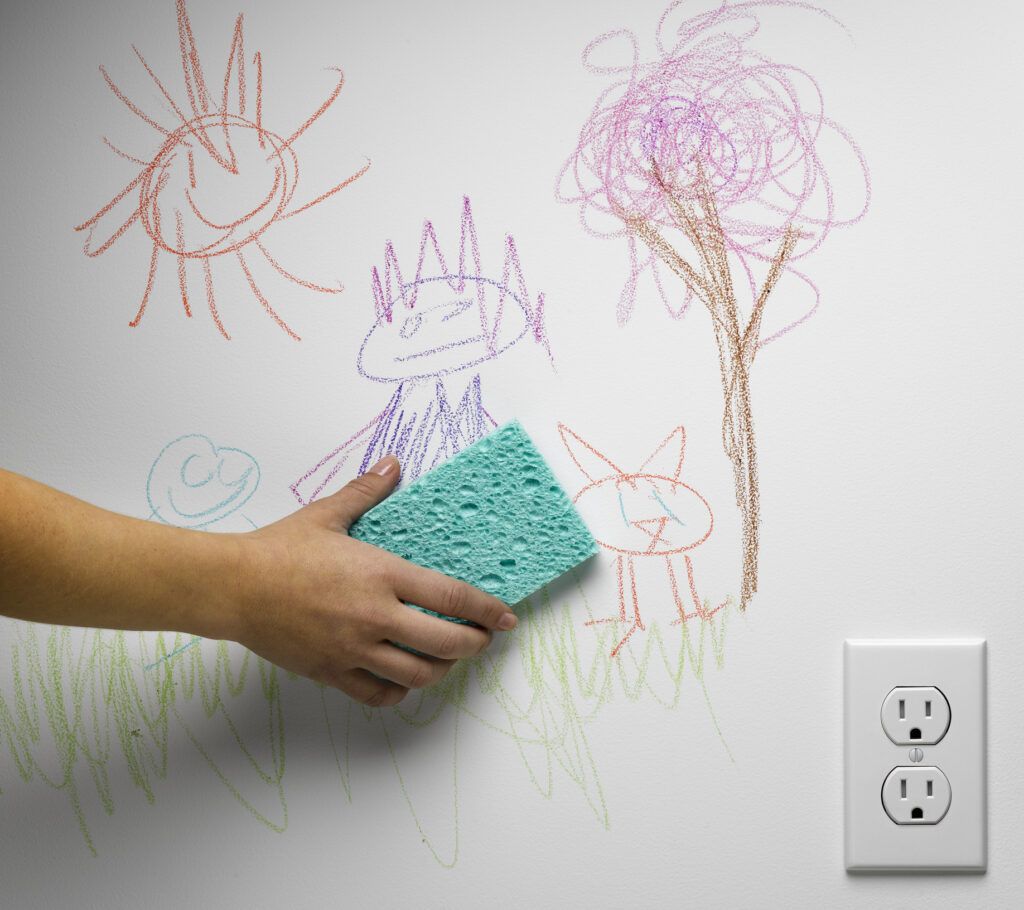 When doing regular home cleanings, you probably focus on vacuuming and dusting and scrubbing your bathroom and kitchen. Cleaning painted walls, however, may be forgotten. While they might not appear to be very dirty, grime from little hands, dogs bumping into them, and just general dust and grit goes unnoticed as it layers up.
Once you learn how to clean walls, we can guarantee that you'll be amazed by how much dirt comes off. It may even reveal a totally new shade of paint, especially at touching level. Read on for an in-depth explanation of how to wash walls, one step at a time.
6 steps to clean walls
The good news: cleaning off your walls is generally not very difficult. Follow the steps below for how to clean your house walls and admire the fresh look.
Step 1: Determine the type of paint on your walls
Certain paints hold up much better than others. Figure out if your wall paint is semi-gloss or enamel. These two stand up to a proper washing. Paint that is flat, eggshell, or stained needs a gentler wash so that it stays firmly attached to the wall.
Step 2: Vacuum away the dust
Don't use a feather duster or rag that will simply move the dust around. Instead, use the brush attachment on your vacuum and run it over the wall—this will start cleaning the first layer of loose dirt and grime away. If your vacuum doesn't have a brush attachment, you can purchase one to help begin the cleaning process.
Step 3: Prepare the work area
Next, find old towels or use a tarp to lay underneath the cleaning area and catch any cleaning drips.
Step 4: Prepare your cleaning supplies
Start off with a light cleaner similar to Pledge or dish soap, and then ramp up to a more robust cleaner like Simple Green to work away stubborn stains. Use two buckets: one with the cleaning solution and water, and one with only water. Make sure you also have cleaning cloths with you.
Step 5: Start at the top and work down
Work from the top of the wall down and be sure to go back over any drips. This ensures you won't be able to see water runs. Wash the wall with the cleaning mixture and then with only water to clean it off.
Pro tip: Clean stubborn stains by mixing baking soda and water together. Rub this over the stain and then rinse it away.
Step 6: Dry off
Follow up the washing process by using a dry washcloth to clean off the walls. This helps deter more dust and dirt from sticking to the wall immediately after you are finished.
Pro tip: To clean pesky grease stains that you can still feel under the cloth, use a heavy-duty degreaser and scrub until washed away.
Products and tools you'll need to clean walls
Don't want to use chemicals? Here's how to clean walls naturally
Washing walls is an easy process to do naturally since it generally only requires one type of cleanser. Natural cleaners are easy to come by and usually do just as good a job as chemical cleaners. They are also far more eco-friendly when you dump the water and cleaner mixture back down the pipes.
If you don't have easy access to a natural cleaner, you may be able to just scavenge your pantry. If you need to wash away a particularly tough stain, use the recommendation of mixing baking soda and water together. Vinegar can also be a useful natural cleaner for hard-to-remove stains.
The bottom line on how to clean walls
In six easy steps, you can clean your walls and make them look fresh and new. Although you may think your walls need a new coat of paint, cleaning off the hidden dust, dirt and grease can make it shine as if you just painted the room. Even when using natural cleaners, baking soda, or vinegar, cleaning the walls is a quick and straightforward process.
Frequently Asked Questions
How do you clean walls without removing paint?
Start cleaning the walls with a non-abrasive cloth or mop and water. If something more substantial is needed, use a mix of mostly water and some dish detergent to gently scrub and rinse the walls.
Is it necessary to wash the walls? 
It is only necessary for dirty or high-traffic areas that show signs of dirt. Sometimes dirt is unnoticeable, but it is still beneficial to clean your walls for the paint to continue looking fresh.
How do you clean stains off walls?
Start by using water to wash off the wall. Then, use a water and dish detergent mixture. If the stain persists, use a degreaser or a baking soda and water mixture and scrub gently but thoroughly.
How do you clean stains off wallpaper?
Newer kinds of wallpaper tend to be labeled as washable, but even if you have older, "non-washable" wallpaper, you can use the same process as on a painted wall. Start by using a little water to wash off the wallpaper. Then, use a gentle water and dish detergent mixture before drying off the wall.