How to Clean and Safely Remove Bathroom Mold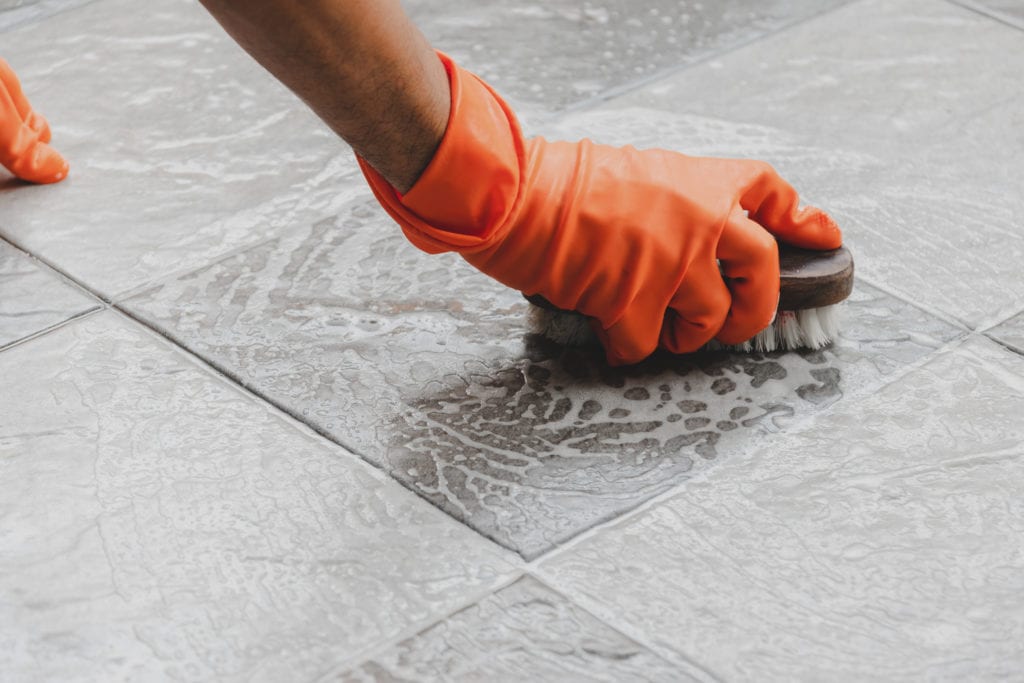 The bathroom is one of the most frequently used rooms in the home. Since moisture gathers there, it's prone to water-related problems like mold and mildew. Black mold often appears in the shower because there are many places where water can accumulate and hide. Not treating mold growth can exacerbate allergies, cause respiratory problems, permanently stain grout and sealant, and can just become an eyesore.
By using products that kill mold and prevent new mold growth, you can keep this situation under control. There are both store-bought and natural cleaning solutions at your disposal. Here's everything you need to know about removing black mold in shower areas and other parts of your bathroom.
How to remove black mold from your bathroom
Your first step before removing black mold from your bathroom is to test the mold to make sure it's not the toxic version, Stachybotrys chartarum. To test the mold, get help from a professional mold remediator or use a home mold testing kit like a DIY Mold Test. Only professionals should safely remove this type of mold due to increased risk of lung irritation, skin issues, and more. However, most bathroom mold isn't toxic and you can remove it with store-bought cleaners or home remedies. Remove black mold from your bathroom in a few simple steps:
Step 1: Spray an antifungal cleaner, like one by Clorox, onto the mold. This cleaner uses a specific formula to kill types of fungus such as mildew and mold. Then scrub the mold away with a sponge or toothbrush.
Step 2: After cleaning the area, use a mixture of equal parts water and bleach in a spray bottle and apply it to any remaining stains to lift them. Let it soak for a few minutes and then use a toothbrush to scrub the stains until they are clean.
Step 3: To prevent mold from returning, spray distilled vinegar onto the surface of your shower to kill mold spores and slow down any regrowth. Let the vinegar dry before going on to the next step.
Step 4: Fully dry any remaining wet surfaces with a clean cloth towel. Ventilate the bathroom.
What you'll need to remove bathroom mold
These are just a few of the products and tools that can help you get rid of mold in bathroom areas.
Antifungal cleanser: Clean off black mold from grout and tiles with a product like RMR-141 RTU Funcigide.
White vinegar: Kills mold spores and slows down potential regrowth.
Soft cleaning brush or toothbrush: Use to scrub away black mold stains.
Standard spray bottle: Fill with homemade cleaning solutions.
Bleach:  Brightens and disinfects surfaces after removing black mold.
Don't want to use chemicals? Here's how to get rid of black mold in your bathroom naturally 
If synthetic chemicals aren't an option for your family or pets, you can use effective natural methods to get rid of bathroom mold. Hydrogen peroxide, white vinegar, and baking soda are three nontoxic products that can remove mold in shower areas effectively. Hydrogen peroxide is naturally antifungal and antibacterial, which makes it perfect for treating mold. Baking soda also kills mold and absorbs moisture that facilitates mold growth.
Mix one part hydrogen peroxide and another part water into a water bottle and spray the solution onto the mold. Or, mix one tablespoon of baking soda into a spray bottle of water. Spray either of these solutions and let it sit for a few minutes, then gently scrub away the stain and rinse it with water. To prevent future mold growth, spray the area with undiluted vinegar and let it air dry. Vinegar is a powerful natural acid that can kill over 80% of mold spores.
Note: Although vinegar, peroxide, and baking soda are effective at mold removal and prevention separately, don't mix them all together because this creates a bubbly mess that's potentially toxic.
How to keep black mold in your bathroom away 
Once you've gotten rid of the mold, you've got to keep it away with regular maintenance. Regularly spraying vinegar on bathroom surfaces and letting it air dry kills mold spores and prevents growth. Make sure there's proper ventilation in the bathroom and install an exhaust fan if you don't have one. If you can, wipe down the shower with a cloth or squeegee after showering. Clean the bathroom weekly using your preferred cleaner (or the natural remedies we mentioned!) and use an antifungal cleaner once a month.
Frequently Asked Questions 
Is bathroom mold dangerous?
Black mold can be dangerous, especially to people with mold allergies. There's also a chance that the species of mold in your bathroom is the toxic Stachybotrys chartarum, which requires the intervention of professional mold remediation.
How do you get rid of mold and mildew in the bathroom?
To get rid of mold and mildew in the bathroom, spray store-bought or homemade antifungal cleaners onto the affected areas. The black mold in shower grooves and surfaces can be stubborn and hide in tight areas, so it's important to thoroughly clean the areas with both large and small brushes.
How do I know if I have black mold in my bathroom?
To know if it's black mold, simply smell your bathroom. Black mold in shower areas has an unforgettable musty smell that has a stagnant odor. This rotting smell clings to fabrics, loofahs, the bottoms of shampoo bottles, and in any standing water. And of course, you'll see black stains in these areas or pink spots that signify early mold growth.
How do I stop mold from growing in my shower?
To stop mold from growing in your shower, try to keep humidity levels below 50%. Usually, a proper air conditioning system or ventilation fan in the bathroom maintains these recommended levels. Black mold in shower crevices thrives on moisture, so be sure to also dry wet surfaces thoroughly after every use.
{"@context":"https://schema.org","@type":"FAQPage","mainEntity":[{"@type":"Question","name":"Is bathroom mold dangerous?","acceptedAnswer":{"@type":"Answer","text":"Black mold can be dangerous, especially to people with mold allergies. There's also a chance that the species of mold in your bathroom is the toxic Stachybotrys chartarum, which requires the intervention of professional mold remediation."}},{"@type":"Question","name":"How do you get rid of mold and mildew in the bathroom?","acceptedAnswer":{"@type":"Answer","text":"To get rid of mold and mildew in the bathroom, spray store-bought or homemade antifungal cleaners onto the affected areas. The black mold in shower grooves and surfaces can be stubborn and hide in tight areas, so it's important to thoroughly clean the areas with both large and small brushes."}},{"@type":"Question","name":"How do I know if I have black mold in my bathroom?","acceptedAnswer":{"@type":"Answer","text":"To know if it's black mold, simply smell your bathroom. Black mold in shower areas has an unforgettable musty smell that has a stagnant odor. This rotting smell clings to fabrics, loofahs, the bottoms of shampoo bottles, and in any standing water. And of course, you'll see black stains in these areas or pink spots that signify early mold growth."}},{"@type":"Question","name":"How do I stop mold from growing in my shower?","acceptedAnswer":{"@type":"Answer","text":"To stop mold from growing in your shower, try to keep humidity levels below 50%. Usually, a proper air conditioning system or ventilation fan in the bathroom maintains these recommended levels. Black mold in shower crevices thrives on moisture, so be sure to also dry wet surfaces thoroughly after every use."}}]}