How to Prevent and Get Rid of Mold in Your Basement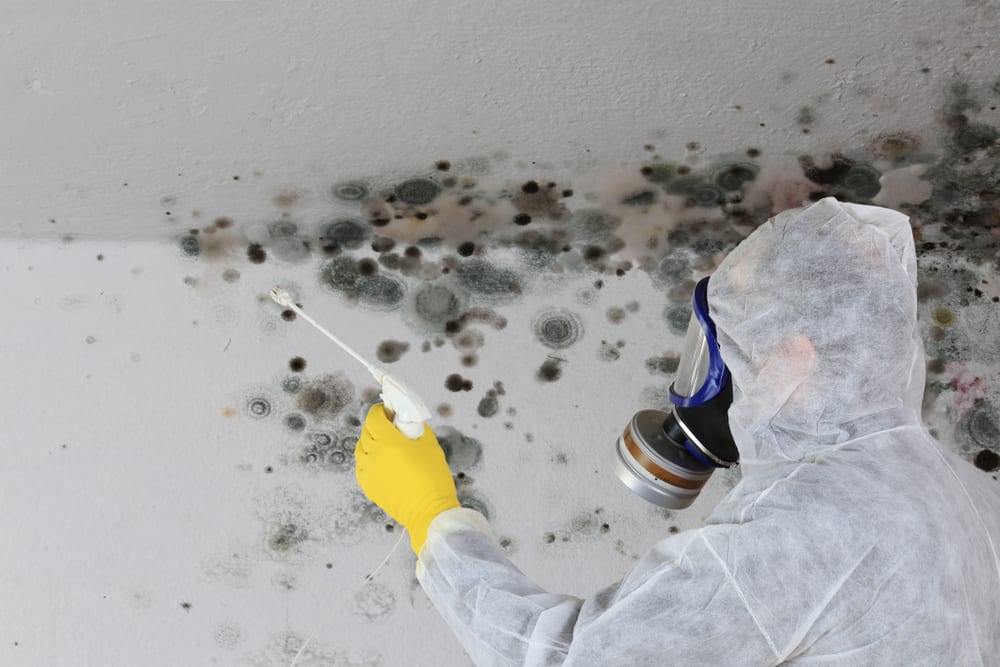 Dangerous and unsightly, mold in your basement can be a damaging invader. According to the EPA, it just takes a little moisture before naturally-occurring mold spores start their rapid growth. Paired with the low airflow of basements, moisture can cause mold growth easily and potentially damage your health and property.
Getting rid of mold in basement areas can be a daunting task, and it's hard to know when to call in a professional versus what can be reasonably handled by yourself. This guide will walk you through what you need to know about mold in your basement, steps and tools to get rid of it, and when you should call in a professional.
How do you get mold in your basement?
Mold is a natural way that the environment breaks down organic debris, and tiny mold spores are present everywhere. When mold spores come into contact with a damp surface, they either begin to grow or try to break down the item that they're growing on, such as natural fibers and untreated wood.
There are different types of mold, but it's easy to identify each type once you know their characteristics. Knowing where to look makes it easy to find. Mold will usually grow when there is moisture from HVAC condensation, pipe leaks, or unsealed basement walls. By checking around your HVAC units, under overhead pipes, and along where basement walls meet the floor, you can usually find where mold has settled and started to grow.
How to test for mold in your basement
If you're not confident in identifying mold, there are several kits that you can buy to collect a sample and have them sent to a lab for testing — including this inexpensive kit available on Amazon. Simply follow the instructions and place the sample in a pre-addressed envelope to get to the lab.
Though testing is simple, you should immediately take action to stop mold in basement areas even if you just suspect it. Some molds are technically more damaging than others, but the CDC states that all molds should be removed, and the type of mold present in your basement is ultimately irrelevant.
Common types of basement mold
The National Institute of Environmental Health Sciences (NIEHS) lists five different types of mold as the most common:
3 steps to get rid of mold in your basement
According to the CDC, you cannot completely get rid of mold spores in your basement, but you can remove the source of moisture and remove the mold that has grown from it. The following steps suggested by the CDC and EPA will help you get rid of mold in your basement:
Step 1: Quickly stop the source of moisture (if you can) to prevent mold from growing further
Depending on the problem, you may have to perform significant repairs to stop the moisture. If it's a leaky pipe, condensation in your HVAC system, or a crack in a doorway or window, make sure to either repair or have a professional repair it ASAP. If there is a moisture problem from your basement walls, run a dehumidifier to dry excess humidity.
Step 2: Remove moldy material if possible
If the mold has damaged a small area of soft or fibrous material like carpet, ceiling tiles, or wall material that's not load-bearing (such as wood studs or cement), you can remove the material yourself and replace it. Just be sure to wear protective eyewear and disposable dust masks, gloves, and possibly protective clothing so you can ensure you're not bringing the mold into your living spaces.
Step 3: Clean moldy material that can't be replaced
For walls, floors, and other hard surfaces, use a bleach solution (1 cup of bleach per gallon of water) and/or commercial cleaners to wash and kill the mold while wearing the same protective gear mentioned in step two. Use disposable sponges and other cleaning materials so you can throw them away and keep them from spreading spores to other places in the house.
Products and tools you'll need to get rid of mold in basement areas
Don't want to use chemicals? Here's how to get rid of mold in your basement naturally
Understandably, some households want to avoid using harsh chemicals in the home to treat mold, especially if it's a small and manageable amount. Thankfully, there are several natural and less-harsh products to clean mold away.
For example, vinegar and baking soda are both acidic and can be used to scrub away mold and help kill the spores in its wake. Simply make a half-water, half-vinegar solution, spray on the mold, leave overnight, and come back the next day to scrub with soapy water. For baking soda, make a paste of 50:50 baking soda and water to use as an abrasive scrub, or mix 2 tablespoons of baking soda with 2 cups of water in a spray bottle and spray the solution on the affected area before scrubbing.
Though these methods are usually effective in getting rid of mold in basements, more serious problems may require stronger solutions or professional intervention.
When to call a professional to get rid of mold in your basement
Most basement mold cases are easy to tackle with the methods discussed in this guide, but major problems like hidden moisture leaks, floods, or ruptured pipes can lead to an explosion of mold growth in materials that have to be replaced. When you experience widespread mold, the job is better left to a mold remediation specialist.
Companies that maintain an American Council for Accredited Certification (ACAC) mold certification have the qualifications to safely remove moldy material and remediate mold on surfaces that cannot be replaced. Many of these businesses also specialize in basement encapsulation to prevent further problems from mold in basement areas.
The bottom line on getting rid of mold in your basement
Mold can be scary, especially if you or a loved one have allergies or sensitivities. However, you can get rid of mold in your basement by fixing the moisture issue, removing unsalvageable material, and putting a little elbow grease into cleaning the affected area. Just remember to be safe, watch for cross-contamination, and never hesitate to call a professional if the problem becomes more than you can handle.
Frequently asked questions
How can I tell if I have mold in my basement?
Learn how to identify mold through the common types described above, or purchase a kit to have a professional lab determine it. Discoloration of surfaces, musty odors, and health symptoms such as a sore throat, congestion, or coughing are often indicators of mold.
Is mold dangerous?
According to the CDC, all mold should be removed and can be damaging to the human lungs and respiratory system. However, the degree of the danger ranges from mild to very high, depending on allergies, sensitivities, and other conditions that your household may have.
Can you get rid of mold in your basement completely?
Mold spores are everywhere in the environment and will enter your home before and after any mold removal or prevention that you undertake. However, mold spores must have moisture to grow into a harmful substance, and that is a factor that you can control.
Is bleach strong enough to kill mold for good?
Yes, a solution of 1 cup (8 ounces) of bleach to 1 gallon of water will kill mold. The mold will likely leave a stain and bleach will not prevent other mold spores from growing if there is a moisture source.