The Best Small Towns You'd Actually Want to Live In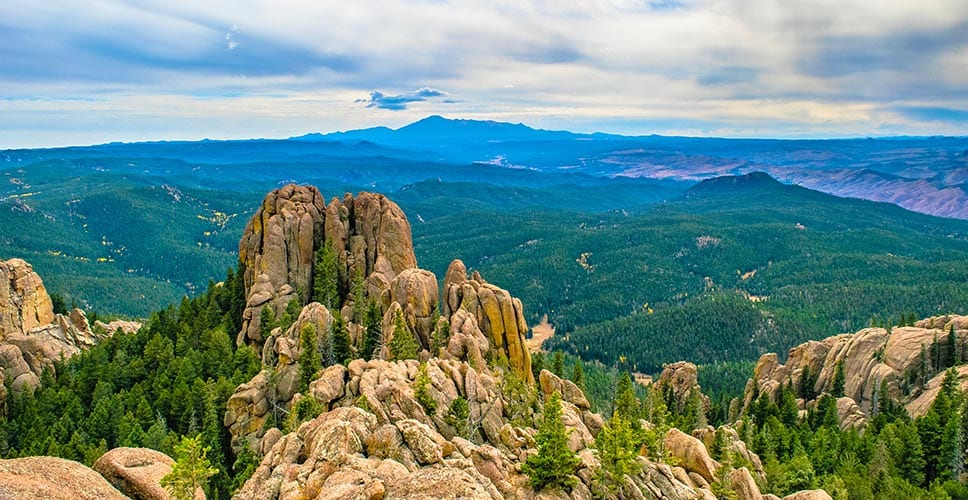 Did traffic finally break you? Or was it the price of a latte? Either way, here you are, Googling the best small towns to live in. There are plenty of reasons to live in a big city, from the endless parade of new restaurants to the acres of manicured parks. Still, some people hit a point where the more affordable real estate and quiet nature of a small town becomes appealing and suddenly you want to know the best small towns to move to.
What makes a small town, exactly? For the purposes of this article, we're using the U.S. Census definition of "rural," which is any community with less than 50,000 people. Drawing from the expertise of sites including Realtor.com, Trulia, and Livability.com, here are the best small towns in America to live.
1.Littleton, CO
Population: 48,065
Top draw: Education
Living in Littleton means you're just 20 minutes outside of Denver. While it's not a super-cheap small town (the average home price is about $448,000), it's a charming community with mountain views where you can get comfortable for the long term. There are 46 colleges within 50 miles, so it's a great place to call home if you're planning to send your brood off to school one day, or returning for your own degree.
2.Burlington, VT
Population: 42, 819
Top draw: Scenery
The University of Vermont makes its home in this small New England community, but its top attraction may still be Lake Champlain. It's a great place to live for skiing and other winter sports. Burlington also has a lot of great dining options for a town of any size. The median home price is $292,177.
3.Blanco, TX
Population: 2,071
Top draw: Lavender farms
Everything is supposed to be bigger in Texas, but not the crowds in Blanco. Smack-dab in Hill Country and just 48 miles outside of Austin, this small town has plenty of wide-open spaces and fragrant lavender fields. In fact, Blanco is the Lavender Capital of Texas. The median price tag of a home here is about $184,420.
4.Moscow, ID
Population: 25,702
Top draw: Parks and trails
This small Idaho town is on the Washington-Idaho border in the northern part of the state, and Realtor.com calls it one of the top ten affordable small to mid-sized cities. You'll go crazy for the number of trails and parks if you're an outdoorsy type. Even if you're not, it's comforting to know you could easily transform into a weekend cyclist if the mood hit. In addition to being home to the University of Idaho, Moscow has 17 parks and the Latah Trail that leads to Troy. The median price tag on a home in Moscow is about $236,111.
5.Pullman, WA
Population: 34,506
Top draw: Independent businesses
Pullman is just a stone's throw from Moscow, on the other side of the state line. Despite its modest size, Pullman is the largest town in Whitman County, and it has one of the best public high schools in the entire country. The boutiques and small restaurants are a charming addition to the city. You'll also find the University of Washington here. The median price of a home in Pullman is about $268,302.
Population: 30,837
Top draw: Historic charm
One of the best small towns to live in is Ithaca. You'll love the 150 waterfalls in Ithaca, but you'll stay because the picturesque architecture and dozens of wineries are too incredible to leave. There are tons of community festivals here, celebrating everything from apples to chili, and Buttermilk Falls State Park is great for hiking. You can snag a home in this Upstate New York town for a median price of $244,748.
The Bottom Line
Ready to consider moving to a smaller town? These communities prove you don't need to be one in a million to have a happy life near plenty of amenities … you could be just one in 30,000 and do just fine.
For all populations: https://www.census.gov/data/tables/time-series/demo/popest/2010s-total-cities-and-towns.html
For median home prices: https://livability.com/