5 Major Cities Where You Don't Need A Car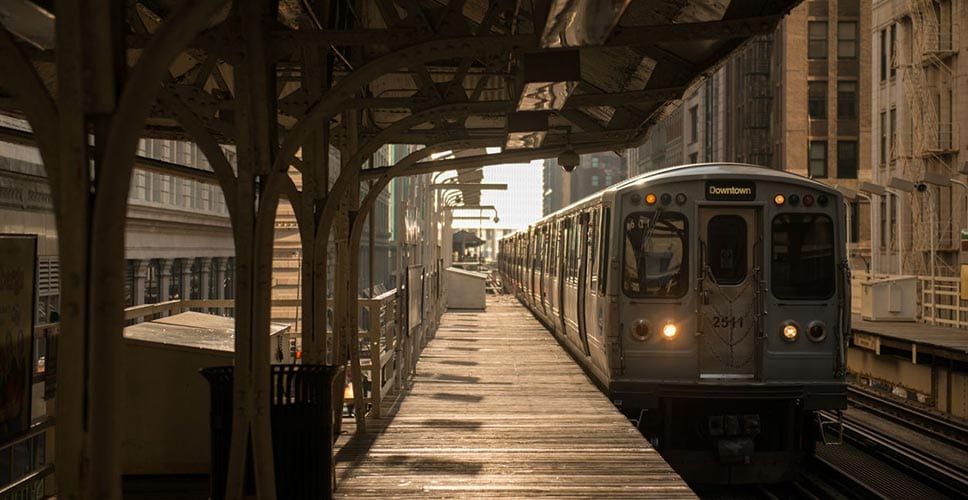 Living the car-free life
Things millennials like: freedom, technology, overnight oats (allegedly). Things millennials don't like: waiting, phone calls, driving.
In fact, according to the American Public Transportation Association, millennials cite public transit as the best way to digitally socialize and connect with their communities. In other words, they're looking for the top non-car reliant and most walkable cities.
A few years ago, Redfin analyzed several sources to determine the best places to live in, without a car, if driving isn't your thing. The site listed San Francisco, New York, Boston, Washington D.C., Philadelphia, Chicago, Minneapolis, Miami, Seattle, and Oakland in its top 10.
MYMOVE interviewed residents in five of these cities to determine whether car-free living is all it's cracked up to be.
Commute times are among the most-voiced complaints about living in or near San Francisco. One resident explains how simple it was to call it quits with his car and use that time for something more enjoyable.
Writer Roy Steele says, "I sold my car years ago and haven't looked back. I even commuted south on the peninsula for a few years and had options ranging from public transit to an employer-provided shuttle bus. It was easy, efficient, and fast."
In addition to taking advantage of ride-sharing businesses such as Uber, Lyft, and Scoot, he also mentions "car-sharing" as a favorite option.
"Zipcar and Getaround have fleets of cars in neighborhoods all over the city. If you need a car for an hour or a day, there's a service to meet your needs." Bonus: these services provide the flexibility of a car without the monthly insurance or car payments.
Among the benefits of living in The City that Never Sleeps are the reliable transportation options available day and night. Not to mention it's also the nation's top walkable city.
Emile L'Eplattenier is a native New Yorker who hasn't been behind the wheel of a car in more than 15 years. As a veteran New York real estate agent, he asserts that New Yorkers do not need a car to live happily. Owning one can grant an extra sense of freedom, he admits. But he's quick to point out that driving in New York City is not for the faint of heart.
If you do want to drive, he notes, "You need to live in a neighborhood that is not a nightmare to park in. That means 99% of Manhattan is out."
Ben Friedman has lived in Chicago and Boston, and he believes neither necessitates car ownership. He identified the commuter train system in Boston as being particularly good, although the local subway was less reliable.
However, because of the size of the city, it is possible to bike or walk most places easily throughout the year.
"Boston is a big tech hub," he says, "so there are numerous startups offering alternative transportation options. There are shared car services, community shuttles, shared bikes, and on-demand services."
Chicago is the third-largest city in the United States, so it makes sense that the Windy City offers robust public transit.
Eric Bowen is a digital marketing manager for a company that identifies internet and TV service providers. He has lived in the Chicago area since graduating from college and hasn't invested in a car. He just doesn't find it necessary.
"I pay $105 each month for unlimited rides on all Chicago Transit Authority buses and trains," he says. This allows him to travel anywhere he needs to be, downtown or in neighboring communities.
He adds, "I have calculated the cost. Between monthly car payments, insurance, gas, any repairs, and even car rentals, and Uber fees for unexpected trips, this method is far cheaper for now."
Not only that, but Chi-Town also boasts a top spot for most walkable cities.
Miami is a hub of international travel. As such, it has evolved to accommodate large numbers of visitors (and residents) as one of the best cities where you don't need a car.
Amira Celon lives in the city's South Beach neighborhood. She says, "I can get Uber or Lyft anywhere I need to go for a very cheap price. It is much easier if you go out at night. It also prevents [having to pay] high valet prices or trying to park your car."
She adds, "Most apartment buildings here don't have parking, or they have valet or paid parking spots, so it's not worth really owning a car."
The bottom line
Most cities where you don't need a car employ a combination of public transportation and rideshare-style businesses that cater to consumers who want the freedom of a car without the additional stress and cost associated with owning a vehicle. As these services continue to expand, it is likely more cities will become friendlier to those who wish to forgo owning their own car.
Frequently Asked Questions
Is there a way to calculate transportation costs to see if it's cheaper than having a car?
RideorDrive.org offers a handy calculator to help determine whether you purchase a vehicle or switch entirely to using ridesharing services like Uber or Lyft. Otherwise, you should look into the cost of unlimited passes for a particular city's public transit offerings.
How can I know which rideshare company is popular in a city before I move there?
Major rideshare companies, like Lyft and Uber, list available cities on their websites. Check their sites first to determine if the service is available.
What's the best way to optimize how many groceries I can carry on public transit?
To avoid this altogether, have your groceries delivered. If that's not possible, try using a basket, not a cart, when you shop. It will cut down on what you need to take home with you and force you to prioritize the groceries you buy. You can also try visiting your close-by store more often and picking up only what you need each time, like much of Europe already does.
Virginia Brown contributed to this report