The 10 Friendliest Cities in the U.S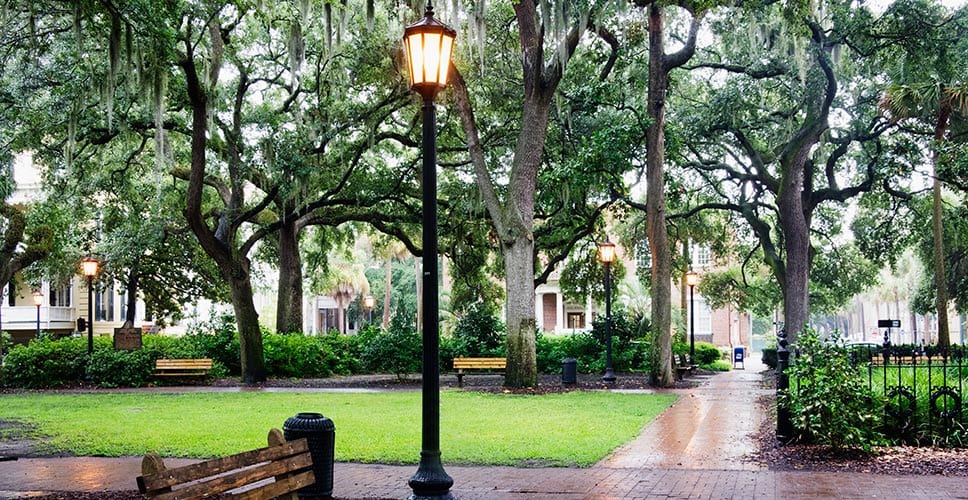 Tired of living in a city of grumps? Maybe it's time to pack up and move to a friendlier city where the vibe is easygoing and the people are a little more neighborly.
Hundreds of thousands of people felt some pretty friendly vibes when they visited (and voted for) the cities that topped this year's annual Readers' Choice Awards survey for friendliest cities in the U.S. by Condé Nast Traveler. Besides being friendly, these cities all boast landscapes to be envied, whether it's majestic mountainsides, beautiful rivers, historic cobblestone streets or pristine parks.
1. Telluride, Colorado
You don't have to hit the slopes to feel welcome in this small, funky ski town. Its population in 2015 was only 2,444, but it's this the lack of huge crowds-and abundance of friendly people-it's residents love most. And Telluride doesn't shut down during the summer: the city hosts a hugely popular bluegrass festival every year that brings in thousands of people.
2. Des Moines, Iowa
Affectionately known to many as the "big small town," Des Moines is definitely a friendly frontrunner when it comes to popular places to set down roots. Based on its high marks for quality of life, job prospects and affordability, U.S. News ranked Des Moines the 4th best place to live (2018) in the U.S.
3. Natchez, Mississippi
As voters in the Condé Nast Traveler survey conveyed you would be hard-pressed to find friendlier people than in this river town of Natchez. The birthplace of Mississippi, Natchez is named for the Native American people who originally lived in the nearby bluffs. It's a "take it easy" river town flowing with down-home hospitality-and it's hard to be in a bad mood when you can take in the stunning scenery from 444-mile Natchez Trace Parkway.
4. Greenville, South Carolina**
Greenville started out as "Pleasantburg," which sounds like a friendly place to begin with, but the name was changed to Greenville in 1831. True to its name, the city boasts plenty of lush green scenery, as well as a happy medium average temperature of 60° year round-perfect weather for walking through the 32-acre Falls Park that runs through the middle of town. Bonus fun fact: There is a city named "Greenville" in all 50 states in the U.S.
5. Columbia, South Carolina
Columbia has a unique combo of "old meets new," with its delightful old pecan and magnolia trees dotting the outskirts of town and new modern skylines lighting up the industrial downtown area. This amicable mix gave this happy-go-lucky capital city high marks in the survey [EDITOR'S NOTE: it also happens to be the location of a certain MYMOVE editor's Alma Mater: The University of South Carolina. Go Gamecocks! ]
6. Chattanooga, Tennessee
Chattanooga is probably so friendly because everyone is outside enjoying the mountains. All that fresh air from hiking, biking, and kayaking generates a lot of feel-good endorphins. The landscape is so gorgeous, Chattanooga is nicknamed the "Scenic City." There's plenty of made-made beauty in Chattanooga as well, in the form of sculptures that line the river bank in the Chattanooga Coolidge and Renaissance parks.
7. Bend, Oregon
Its name certainly doesn't give off much of a "gotta-move-there" vibe, but the city itself makes up for its nondescript name with its beautiful scenery and welcoming personality. Bend is located near the foothills of the Cascade Mountains, with the popular Deschutes River running through it. Residents get chummy while kayaking, biking and walking together. Visitors are even encouraged to take the "Bend Pledge" which includes, "I'll be friendly and courteous because that's the Bend way."
8. Park City, Utah
Best known for skiing and the Sundance Film Festival, Park City continues to find a spot on the survey as the locals are "very friendly and welcoming." Maybe it's all the vitamin D and the fresh mountain air people soak up from the endless amounts of year-round outdoor activities. Whatever the reason, good-natured vibes are plentiful.
9. Healdsburg, California
Tucked away in the wine country region, you might think this small town is friendly because people are popping corks all day (that would do it for me!), but, according to the survey, Healdsburg's laid-back, welcoming vibe is what does the trick. You'll fit right in even if you're not a wine snob, as one survey taker says, "It's less fancy than Napa, but still very charming."
10. Savannah, Georgia
Technically, according to the survey, Savannah is one of the friendliest cities in America, but "congenial" seems more appropriate. The southern charm is as abundant as the signature Spanish moss that lines the cobblestone streets. One survey taker remarks, "The folks in restaurants, on the streets, and on their balconies were so kind and welcoming." Being the oldest city in Georgia, it's not surprising that Savannah has its share of tales of ghosts haunting antebellum mansions, but don't let that scare you off from moving there–they're just as friendly as the living residents (allegedly).