Why Millennials are Renting More — And Why It Works for Them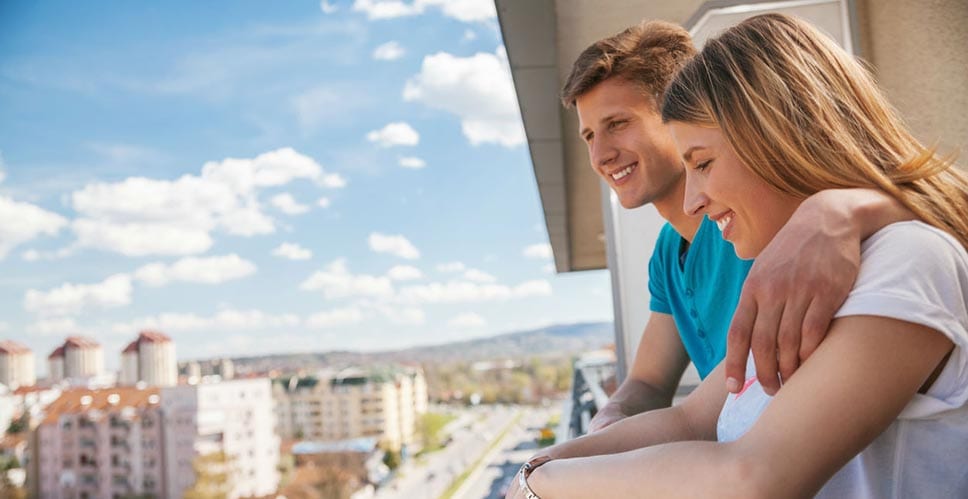 Rent or own? When it comes to choosing a living space, it's a question young people ask themselves as they begin establishing their personal and professional lives. According to 2017 data from the Pew Research Center, young people today renting more than ever before.
The following table illustrates the percentage of movers between the ages of 25 and 35, in their respective generations, who moved into either an owner-occupied home not owned by their parents or a rental property. (About 4% of movers in each generation moved into properties owned by their parents).
| Generation | Owner-Occupied | Rental Property |
| --- | --- | --- |
| Early Boomers in 1981 | 35% | 61% |
| Late Boomers in 1990 | 29% | 67% |
| Gen Xers in 2000 | 34% | 62% |
| Millennials in 2016 | 22% | 74% |
Three major reasons millennials rent at a significantly higher rate than their cohorts in previous generations include:
The Impact of the Great Recession
The recession itself lasted only from December 2007 to June 2009, but its effects lingered and remain substantial. Millennials had greater student loan debt than previous generations and a restricted labor market. They had limited job prospects, and income opportunities adversely pushed back important financial decisions — including home-buying.
Millennials are Postponing Marriage and Children
A 2013 Gallup poll indicates that getting married and having children are goals millennials pursue, but not with the immediacy of previous generations. A significantly larger percentage of millennials are delaying marriage and taking time to discover what they want out of life. They admit to feeling less pressure to make a lifelong commitment to a particular lifestyle, which may play a role in the decision to postpone home purchasing.
The Housing Bubble
Prior to the Great Recession, there was a housing bubble. Part of what caused the recession was the implosion of this bubble. The speculative activity that allowed mortgages to be distributed to high-risk individuals suddenly came to an end.
The aftermath: Foreclosures increased at unprecedented rates, and mortgage qualifications greatly intensified. Significant student loan debt and an undesirable job market made it almost impossible for aspiring millennial home purchasers to secure mortgages under these qualifications.
Why renting can beat buying for millennials
Sure, buying a home is great: You build equity, the interest and property tax portion of your mortgage is a tax reduction, and it's a major life milestone accomplished. But for many millennials, renting is more their style. A Rent.com survey of 1,000 renters between the ages of 18 and 34 found that nearly eight out of 10 don't plan on trading their apartments for homes anytime soon. Here are four reasons why.
It's in the budget. 
With student loan debt putting a big dent in millennials' bank accounts, it's no surprise that they prefer monthly rent payments to the acquisition of additional debt in the form of a mortgage. Plus, closing costs, home insurance payments and property taxes add up fast — renting is often the more frugal short-term option.
Go as you please.
Whether it means traveling overseas for a couple of weeks or moving to a more desirable neighborhood across town, millennials love the idea of being able to pick up and go when their lease is up, rather than being tied down by a mortgage. Additionally, young people are working for the same company for a fewer number of years. A temporary lease makes it possible to accept that dream job a few states away.
Live where you want. Or not.
Renting makes trendier, more desirable areas of town accessible to millennials who aren't making as much money as they will be in a few years. It's a great way to preview the cost, commute, and overall vibe of a neighborhood before making (or being able to afford) a long-term financial commitment. And if the hip urban art district everyone's raving about doesn't live up to the hype, it's easy to move out.
Let the landlord handle it.
Yardwork, repairs, upkeep — a lot of time and money goes into maintaining a home. That's not to mention utility expenses. As a tenant, these chores and costs are usually covered by property management. As a homeowner, it's all on you. For hard-working millennials who covet their free time and having the funds left over to enjoy it, passing labor and expenses to a landlord can be a huge upside.
So, to buy, or not to buy? There's no objective answer as to which option is better, but there are a variety of personal factors to consider before deciding which option is best for you.