25 Tips for Moving and Packing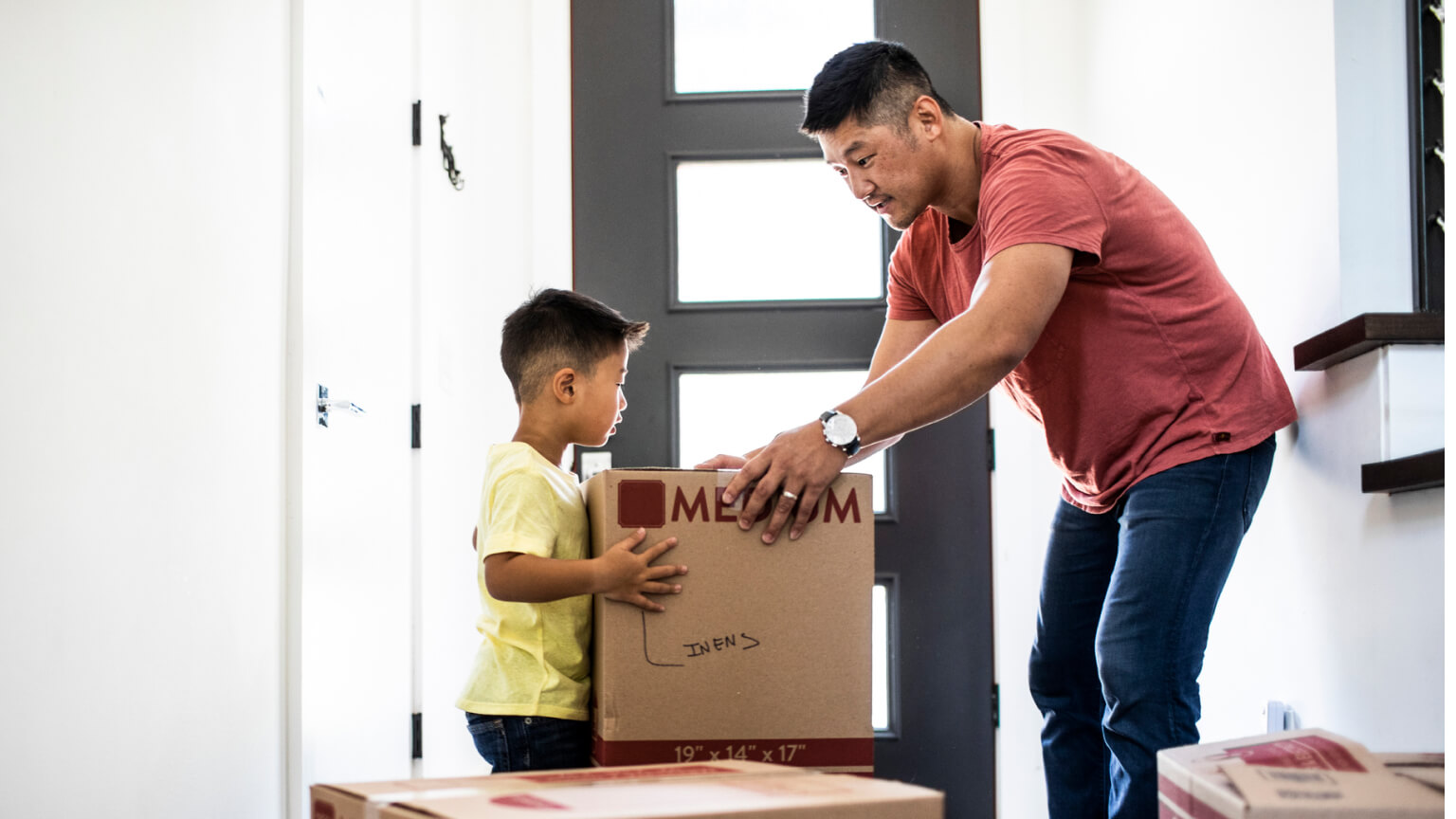 We're just going to say it, moving isn't going to be easy. But it doesn't have to be miserable either. There are so many details to the moving process — hiring movers, making lists, planning ahead — but having a plan will get you from the old home to the new home efficiently and easily. Check out our 25 tips for moving and packing.
25 must-know moving tips and packing hacks:
Tip 1: Make a game plan for day one of packing until the end of the move
Probably the top moving tip is to have a full plan. It will always help to keep a large process going smoothly. Once you know you're moving, start the plan. Outline what you need to do and when and keep the whole plan contained to one notebook or folder. Keep contacts in here for the moving companies, any landlords, etc. Also use this to outline the schedule so you can check things off as you go.
Tip 2: Schedule your movers as early as possible
Save yourself the headache later by scheduling your movers as early as you can to lock in your time. It's okay if you don't know exactly how much stuff you're moving — as long as you provide the size of the home you're moving out of and the location you're moving to, you can proceed with a quote and locking in a moving slot. Work with the moving company as you pack to keep them up to date on exactly how much you'll be moving on the day.
Tip 3: Try to make your move during an off-peak time
Moving in the middle of the week or middle of the month can be a little more cost-effective if that timing works for you. Check with a few moving companies to see when they can offer you the best deal and see if you can come up with a plan together.
Tip 4: If you're doing the move yourself, rent a truck early and have a plan
If you're planning to do the moving on your own, you still want to set up an extensive plan and rent a truck early so you can be sure you have it secured. Follow much of the same advice for if you had movers.
Tip 5: Grab free boxes from businesses
At the top of the list of packing moving tips is to find free boxes. To save money, check your local grocer or similar store for any boxes they're getting rid of. They may be more than happy to give you the boxes for free. You can also ask neighbors and friends if they're offloading any boxes.
Tip 6: Eat through your food
To prevent having to move a bunch of food or throw out excess, come up with a meal plan for the week or two before moving to use up as much of the food as possible, especially the perishables. Pantry items will be easy to bring to the new place, but you don't want to deal with a bunch of fridge and freezer foods.
Tip 7: Start a donation pile while packing
The golden rule of moving tips for packing is to not move anything you don't need to. While you're packing, start a box of things you want to donate, and even start a box of things to throw out. Moving will be easier if you're not carting around things you don't actually want or need.
Tip 8: Get any necessary paperwork for the movers and make sure they have a place to park
The logistics of this will depend on where you're moving to and from. If you're in an apartment building and/or moving into an apartment building, you might need to clear the movers with the landlord and get a Certificate of Insurance. If possible, you should also see if you can hold a space for the moving truck in front of the building. If you're in a house, make sure you have a clear driveway for the moving truck or a clear space on the street.
Tip 9: Have cash for moving day
Plan ahead and have some cash handy to tip your movers. That cost won't be figured into the moving fee, and it's important to tip them for their work. Base the tip on the quoted amount so you have an idea of how much you'll need.
Tip 10: Plan ahead for the first couple of meals in the new place
Moving is stressful, and one way to alleviate a little bit of that is to set a plan to order food for at least the first dinner in the new home. It'll be less pressure to unpack the kitchen and make a mess in the new home and will give you a bit of a break. You can even plan on having takeout the whole next day too, depending on how big of a moving job you have ahead of you.
Tip 11: Keep calm
At the end of the day, you want to just keep calm and collected. By sticking with these packing tips for moving, you're already on the right track. If you've hired movers, they're professionals and should be on top of everything, provided you're on top of everything as well. You have an exciting new beginning at the end of the move, so enjoy the process and know that if you've planned well, it'll hopefully go smoothly!
Hacks for packing:
Tip 12: Use your clothes as packing supplies
Save yourself some money on bubble wrap and use your clothing as packing supplies. Wrap up fragile items in T-shirts and put small, fragile items inside socks to pack. You're going to end up packing all your clothes anyway, so this way, they serve a purpose.
Tip 13: The same goes for linens
Use all the soft items you have as packing materials. Even if you aren't necessarily wrapping fragile items, these can line boxes to provide a safe spot for your delicate items during travel.
Tip 14: Label all your boxes and make a coordinating list
As you're packing, label each of your boxes with what's inside, what room it goes in, and a number. Next, have a coordinating master list with all the box numbers and rooms so you can keep close track of where everything is. This also makes it easier should a box get lost in transit.
Tip 15: Label the boxes you'll need first
For the items you know you'll need sooner rather than later, pack them together and label that box. These will be the items that aren't as pressing as what's in your essentials bag but are more important than your DVD collection.
Tip 16: Pack small items in small boxes before putting them in bigger boxes
You probably have some small items that you're worried about getting jostled in transit. Pack those small items in small boxes, like shoeboxes, and then pack those shoeboxes into a larger box. This way, your small items will be better protected, but your movers aren't dealing with a ton of small boxes.
Tip 17: Pack your suitcases full
Your suitcase is a great storage space! Pack it full, but not necessarily with clothes. You can use your suitcase for anything, so pack it full of whatever items you pull off the shelves.
Tip 18: Pack the rest of your clothes and linens in a trash bag
There are a couple of ways you can pack your clothes. After you've used some of them as packing materials, you can easily pack the rest in a trash bag, so it's a little easier to transport without using up a box. For your hanging clothes, though, you can keep them on the hangers and get a box with a rod so you can transport them all very easily and hang them right back up in the new place. You can also still keep them on the hanger but put a trash bag around them to protect them without using a box. There are a lot of options for moving clothes!
Tip 19: Take pictures of where your cords go and label the cords themselves
If you have a mess of cords behind your TVs and computers, take a picture of everything before unplugging and then label all the cords. You can easily use a piece of masking tape around the cord to label what it's for and what device it plugs into so you can more easily get everything connected at the new place.
Tip 20: Use plastic wrap to seal liquids
You don't want your toiletries or cleaning supplies to leak in transit, so open all those bottles and put a piece of plastic wrap over the opening before screwing the lid back on. This should help seal it and keep any liquids from spilling out.
Tip 21: Disassemble your furniture the night before you move
If you have any pieces that you know a mover will disassemble to transport, do it yourself before they get there if you feel comfortable. This will save time and effort on the part of the movers, which can save you money if they charge by the hour.
Tip 22: Make a bag of essentials for moving day
Guess what? Once everything is packed, you might not have access to it for a little bit while it's in transit, even if you're only making a short move across town. For this reason, you should put together a bag of things you'll need on moving day and the next day, just in case. Include toiletries, clothes, and any food items or kitchen utensils you might need right away.
Tip 23: Use your dresser drawers
Similar to your suitcase, you can use your dresser drawers as a moving container. While you can definitely leave your clothes in the dresser drawers for moving, you can also use the drawers for whatever else you want to put in there.
Tip 24: Pack styrofoam dishes between the real dishes
Another way to keep your dishes protected while in transit, if you're not using clothes or linens, is to use a styrofoam dish between them. So stack the breakable plates alternating with a styrofoam plate and the same with the bowls. This will give them a nice cushion.
Tip 25: Make sure your boxes are taped properly
This may seem obvious, but you'll be glad you double-checked all the tape. Tape the bottoms of the boxes thoroughly, including the sides. The same goes for the top, so you can be sure they're secure.
The bottom line
Have a plan for the moving process, and you'll be fine. By using these tips for moving, you can cut down on some of the extra stress that comes with relocation and get from your old home to your new home easily.
Frequently asked questions
Q:
How can I make moving easier?
A:
One of our best moving tips is to make a comprehensive plan and start early. It should be less stressful if you're not cramming everything into the last second before you move. Follow our pre-move checklist so you don't miss anything.
Q:
When should you start packing to move?
A:
This can depend on how much stuff you're moving, but if you have a month's notice, you can always start packing a month early. Pack a little bit at a time, so it's less stressful. If you have an entire house to move and more than a month, pack as soon as you're able to get started.
Q:
Where can I donate my stuff when I move?
Q:
What is the best way to pack a move?
A:
This will obviously vary based on what you're moving and what your budget is, but use all the storage you have in your home as moving containers and try to pack as efficiently as possible. Use our moving hacks for an easy process!
Q:
How do you pack clothes for moving?
A:
Use your clothes as protection for valuables, pack them in trash bags, and even keep them on hangers. You can hang clothes in a closet box or put trash bags around the hung-up clothes for protection too.