11 Organizations That Pick Up Your Donations for Free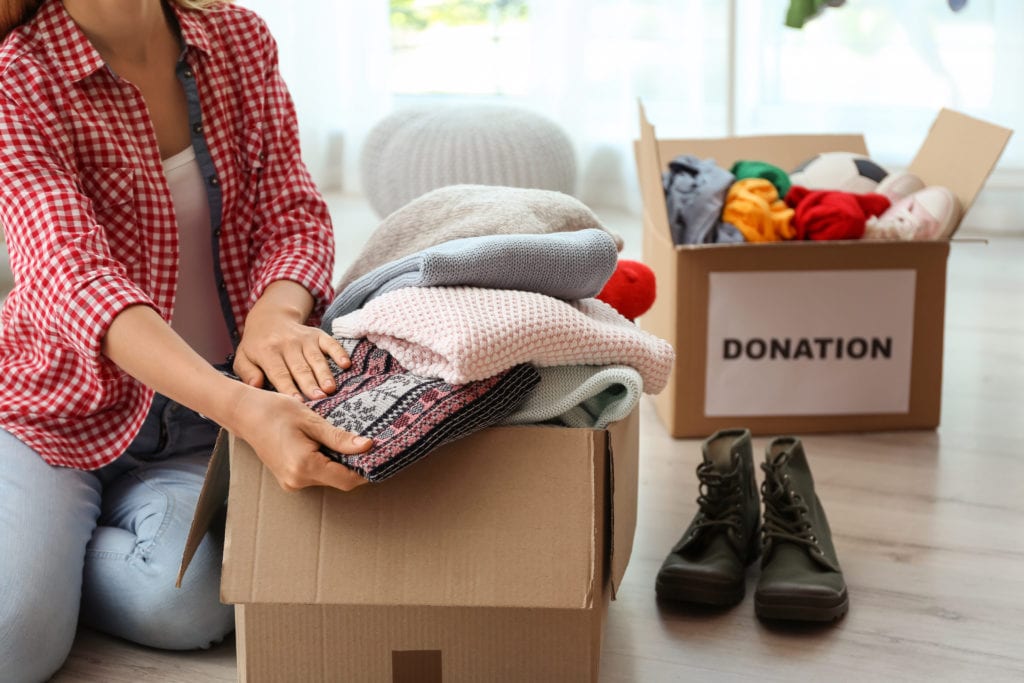 Moving to a new home is a great time to declutter and get rid of household items you no longer need. Not only will decluttering help you stay organized, but it will also be a huge time saver when it comes time to pack.
Many people in the process of moving don't know exactly where to drop off each kind of donation. Don't let confusion about your options halt your decluttering process. There are organizations that not only want your clothing and furniture donations but are also willing to arrange a donation pick up for you.
Whether you opt for a popular Goodwill pick up, a Salvation Army pick up, or find another local organization interested in free donation pick up, your household items, electronics, unwanted jewelry, and clothing all have some resale value and can benefit your local community.
By the way, if you need a little nudge to part with your stuff, check out these tips first.
Where to donate: Charities that have free donation pick-up
Here's a list of organizations that will pick up your donations, free of charge:
GreenDrop
Salvation Army
Habitat for Humanity
Goodwill
Pick Up Please
Furniture Bank
The Arc
AMVETS
Your local emergency shelter
Pick Up My Donation
Your local Humane Society
*The information listed below could be impacted by the ongoing coronavirus pandemic. Contact the organization directly for the most up-to-date information.
1. GreenDrop
GreenDrop is a program serving the east coast, selected by the American Red Cross, Military Order of the Purple Heart, the National Federation of the Blind, and the Society of St. Vincent de Paul of Philadelphia to raise funds through donations.
In addition to the free donation pick-up, GreenDrop offers Home Clean-Out, a free service that helps you sort and donate large volumes of clothing and household items — ideal for pre-move organization. A professional concierge identifies which items can be donated, and helps you prepare for the drivers who will pack and remove your donation.
Locations: Currently, this service is only available in Pennsylvania, New Jersey, Delaware, Baltimore metro area, DC, and Northern Virginia.
How your donation helps: After collecting your items, GreenDrop sells your donations to area thrift stores, and the funds go to support the charities listed above. In 2018, proceeds from these sales totaled over $3.1 million.
Items that GreenDrop accepts: GreenDrop accepts a variety of items such as clothing, household goods, electronics, tools, toys, and more.
Learn more: GoGreenDrop.com
2. The Salvation Army
The Salvation Army is an international organization that was founded in 1865. They help people across a variety of different needs, including disaster relief, hunger, poverty, addiction, human trafficking, and more. Donation pick up is just one way they support their programs.
Due to recalls or government rules on re-selling, there are certain things The Salvation Army won't accept, such as particleboard furniture, metal desks, TV armoires, and baby items (such as high chairs and car seats). Don't sweat it, though. You can use an app to sell those things.
Locations: Online services for scheduling aren't available for all ZIP codes, but The Salvation Army website provides a local phone number you can use to arrange a furniture donation pick-up. There's also an online form to schedule a pick-up for a future date.
How your donation helps: When you donate items to The Salvation Army, they sell your items in their Family stores. Proceeds go toward their Adult Rehabilitation Centers, which help those who are struggling with drugs and alcohol to overcome their addictions, build work skills, and restore their families. The Salvation Army assists 25 million people each year.
Items that The Salvation Army accepts: They will take your furniture donations (other than those listed above), clothing, appliances, household and kitchen items, automobiles, electronics, jewelry, and more.
Learn more: SalvationArmyUSA.org or SATruck.org
3. Habitat for Humanity
Habitat for Humanity is a nonprofit organization that helps build safe and affordable homes for families who need them. They work in all 50 states across the U.S., as well as 70 countries internationally.
Habitat for Humanity offers free donation pick-up once a week.
Locations: Call the Habitat for Humanity location closest to you to schedule a pick-up.
How your donation helps: Furniture donations are sold at their ReStores, Habitat for Humanity's improvement/furniture resale locations that sell gently used furniture, appliances, and building materials to the public. Proceeds from sales go towards building homes, as well as the repair of homes by the organization. Many ReStores will take other items that can be used in home improvement, including cabinets, appliances, siding, tile, and more. You can call and describe the item and its condition to see if the ReStore would be interested.
Items that Habitat for Humanity accepts: Habitat for Humanity will accept furniture, appliances, and building materials. They also accept most vehicles, including cars, trucks, motorcycles, recreational vehicles, boats, snowmobiles, farm equipment, construction equipment, and even airplanes.
Learn more: Habitat.org
4. Goodwill
Goodwill stores work on the local level to provide job training and employment services. They have 157 community organizations across the U.S., Canada, and 12 other countries, as well as 3,300 stores across North America. In 2018, the organization served over 35 million people and helped train more than 242,000 individuals for new careers.
Most Goodwill locations offer donated item pick-ups for free.
Locations: Visit the website to find out whether or not pick-up services are available in your community. Some locations will have restrictions on what they'll come to get. Others will pick up any amount of items, as long as Goodwill accepts them at their drop-off sites.
How your donation helps:  Goodwill sells your furniture donation in Goodwill stores and on Goodwill's online auction site to raise money for employment training and job placement services for people in your community.
Items that Goodwill accepts: Goodwill takes furniture donations, clothing donations, accessories, dishes and glassware, collectibles, and electronics. They also accept most cars, trucks, SUVs, boats, RVs, campers, riding lawn mowers, and more (they don't even have to be in working condition!). If you have a junker car or a rusty mower that you don't want to transport to the new house, arrange for a free pick-up.
Learn more: Goodwill.org
5. Pick Up Please
Pick Up Please is a program of the Vietnam Veterans of America (VVA). This organization handles scheduling through an easy-to-use online calendar, and your furniture donation can often be picked up within 24 hours — you don't even have to be home when the truck arrives. Just box up the items and label them "VVA Donation Pickup," and the driver will load the boxes and leave a tax deduction receipt.
Locations: Currently, the service is available in California, Colorado, Connecticut, Delaware, Florida, Louisiana, Michigan, New Jersey, New York, Oregon, Pennsylvania, Maryland, and Virginia. You can visit their website to see where to donate.
How your donation helps: VVA sells the items you donate to private companies in order to fund their local, state, and national programs.
Items that Pick Up Please accepts: They will accept your gently-used household goods, clothing, toys, electronics, and smaller furniture, such as nightstands and office chairs. Their service model requires that items be small enough to be lifted and carried by a single worker.
Learn more: PickUpPlease.org
6. Furniture Banks
Everyone deserves to have basic furniture in good condition. Your furniture donation to the Furniture Bank helps battered women and children in retreat, immigrants, the unemployed, the working poor, and the previously homeless set up their home with the furnishings others probably take for granted.
Locations: The Furniture Bank is available in 34 states. Head to their website to find a location near you, and call to schedule a free furniture donation pick-up.
How your donation helps: When you donate furniture to Furniture Banks, they redirect your items directly into the hands of families in need.
Items that Furniture Bank accepts: In addition to furniture, they also accept cars and recreational vehicles in any condition, and they offer free pick up and towing.
Learn more: Furniturebank.org in Canada, and FurnitureBanks.org in the United States.
7. The Arc
With over 600 local chapters and over 1,000 national and community programs, the Arc helps those who have intellectual or developmental disabilities. One of its key initiatives is free donation pick-ups.
Locations: You can see if your local chapter accepts free donation pick-ups by visiting The Arc's website.
How your donation helps: The Arc sells your donated items in its thrift stores in order to support its programs.
Items that The Arc Accepts: The Arc will take your furniture, clothing donations, shoes, books, toys, kitchen items, electronics, decor, cars, and more, depending on whether your local chapter has this program
Learn more: TheArc.org
8. AMVETS
AMVETS, or American Veterans, supports local veterans and their families by providing assistance, jobs, and other service programs.
You'll pack everything into boxes, mark them for AMVETS, and leave them outside of your door by 7:30 a.m. the day of pick-up. For larger items such as couches, you'll want to contact the local chapter to see how they handle these donations.services.
Locations: To see where to donate in your area, you can visit its website to fill out the donation pick-up form.
How your donation helps: AMVETS sells your items in thrift stores in order to generate revenue for its Veterans Programs.
Items that AMVETS accepts: AMVETS needs clothing donations (for men, women, and children), electronics, small appliances, kitchenware, lamps, curtains and drapes, books, bicycles, bedding, and more. They also take flat-screen TVs, computers, and exercise equipment if they are less than 5 years old. If you have an item that's not on this list, they may still be able to take it! Just call and ask.
Learn more: AMVETSPickup.org
9. Your local emergency shelter
How your donation helps: Emergency Shelters have limited needs, but some have a need for inexpensive furniture for their buildings, and others attempt to connect those who leave the shelter with a free set of basic furniture to get started. Beyond furniture donations, some emergency shelters welcome lightly worn clothing and non-perishable foods.
Locations: Most urban and suburban communities have an emergency shelter, but you may have to contact one that is miles away if you live in a rural community.
Items that Emergency Shelters Accept: Check with your local shelter to see if they're accepting furniture and other donations. Make sure what you donate is in good condition. Pack up your items so they're easy to carry. Some donation pick up workers might not be willing to lug bulky furniture, so heavy antiques, for instance, might not be the right fit.
Learn more: A variety of sites, including Ready.gov/Shelter and RedCross.org, have directories of local shelters for you to evaluate.
10. Pick Up My Donation
Pick Up My Donation is a hub website that connects people looking to find a donation pick up service with services in their area. This allows you to choose between multiple organizations in order to help the one whose mission resonates the most with you. Note that some areas of the country may have limited to no options, so the best way to start is to enter your area code into their website.
Locations: The site helps you find any non-profits in your area that offer free pick up service, so the service is nationwide. Some areas might not have many options, so make sure to check with your zip code.
How your donation helps: Most non-profits who send a truck for donation pick up recoup the costs by reselling your donation through thrift shops, online sales, or other avenues.
Items that Pick Up My Donation Accepts: They list options for large and small furniture, miscellaneous items, vehicles, electronics, and more. However, some areas will not come to pick up your donation if the value of the items doesn't justify the travel. If this warning comes up, consider pooling a donation with a friend or neighbor.
Learn more: PickUpMyDonation.com
11. Your local Humane Society
Humane Societies protect animals in the community by finding, rehabilitating, and adopting out animals who may have experienced cruelty or neglect. Not every local Humane Society or animal shelter will have an affiliated thrift store, but most of those who do are willing to arrange for a donation pick up.
Locations: Most major towns and cities have a humane society or animal shelter of some kind.
How your donation helps: Proceeds from their on-site or affiliated thrift stores help them to continue the work of animal care.
Items that the Humane Society accepts: While each Humane Society chapter has different rules, they will generally take gently used furniture, clothing, household items, and electronics. Some donation pickups are limited to a certain amount of bags or items of furniture. Arrange in advance if you have an unusually large donation.
Learn more: Look for your local humane society or shelter first at the Humane Federation's website, HumaneFederation.org/OurMembers.cfm.
The bottom line
Donating items you no longer use is a great way to get organized and make your packing process easier. When charities pick up your belongings for you, it removes the hassle of having to move and dispose of your bulkier things. Start by searching for the kind of charity you want to help. Simply typing "donation pick up near me" into Google can also narrow down results within close driving distance. Plus, it will feel great to know that your donations will be put to good use for someone else.
Frequently Asked Questions
Where can I donate furniture?
Many local charities like Goodwill, Salvation Army, or Habitat for Humanity will take gently used furniture. You can also use the app NextDoor Neighbor to see if anyone is in need or wants free furniture. Lastly, you could check with local civic or church groups, as some have furniture banks.
Does Goodwill pick up donations?
In many cases, Goodwill will pick up your donations. Visit Goodwill's website to see if they offer these services in your area.
Are my donations tax-deductible?
Yes, your items can be tax-deductible. If you plan to itemize your tax deductions, you'll need a receipt from the charity you donated the items to. Additionally, many charities such as Goodwill offer prices on commonly donated items like clothing and furniture. And it's always a good idea to follow the IRS's rules on charitable contributions.
What condition do my items need to be in for donation?
Generally, charities accept gently-used items, especially in the instances of furniture and other household goods, since they'll be used for resale.
This article was originally published on December 3, 2018. Updated on June 24, 2020. Laura Leavitt contributed to this article.

---
Everything for your move, all in one place
Curate your personalized moving checklist, set up TV & Internet, and more with a free MYMOVE account.
Save on your move and tackle upcoming to-dos with your free MYMOVE account.