How Safe Is My Neighborhood? Apps and Tips to Help Your Search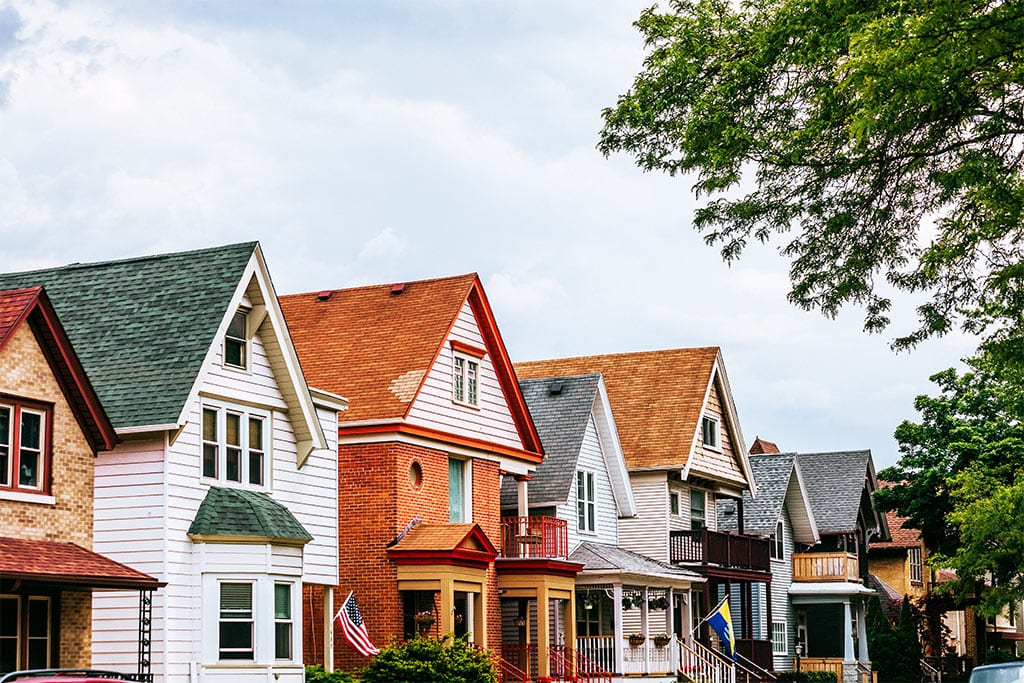 When you're moving to a new neighborhood, it's important that you feel safe. Not only is neighborhood safety key for you and your loved ones, but it also helps the value of your home if you have plans to resell someday.
You'll want to eliminate any dangers before you commit to a lease or buying a home. Keep reading to learn how to research the crime stats in your prospective neighborhood and determine the safety of your current one.
Table of Contents
Safety concerns in the U.S.
The FBI releases a report every year called the Uniform Crime Report. It's compiled by law enforcement agencies across the United States. Its main purpose is to generate reliable information to communities, students, and legal teams. According to the FBI 2018 report, there were:
1.2 million violent crimes in the U.S.
Among the various types of violent crimes reported in the country, aggravated assault is the most common.
7.2 million property crime offenses were reported including burglaries, larceny-thefts, and motor vehicle theft.
Collectively, property crime victims lost a total of $16.4 billion.
In 2018, the Northeast reported the highest rate in closed cases for violent and property crime.
It's important to note that these statistics vary every year and that crime overall has decreased. Reports show that violent crime has fallen 51% between 1993 and 2018. But statistics also show that there have been increases in certain crimes. For example, the rate of reported rapes has increased more than 2.6% year over year, to more than 120,000 cases in 2018.
7 tools to check neighborhood safety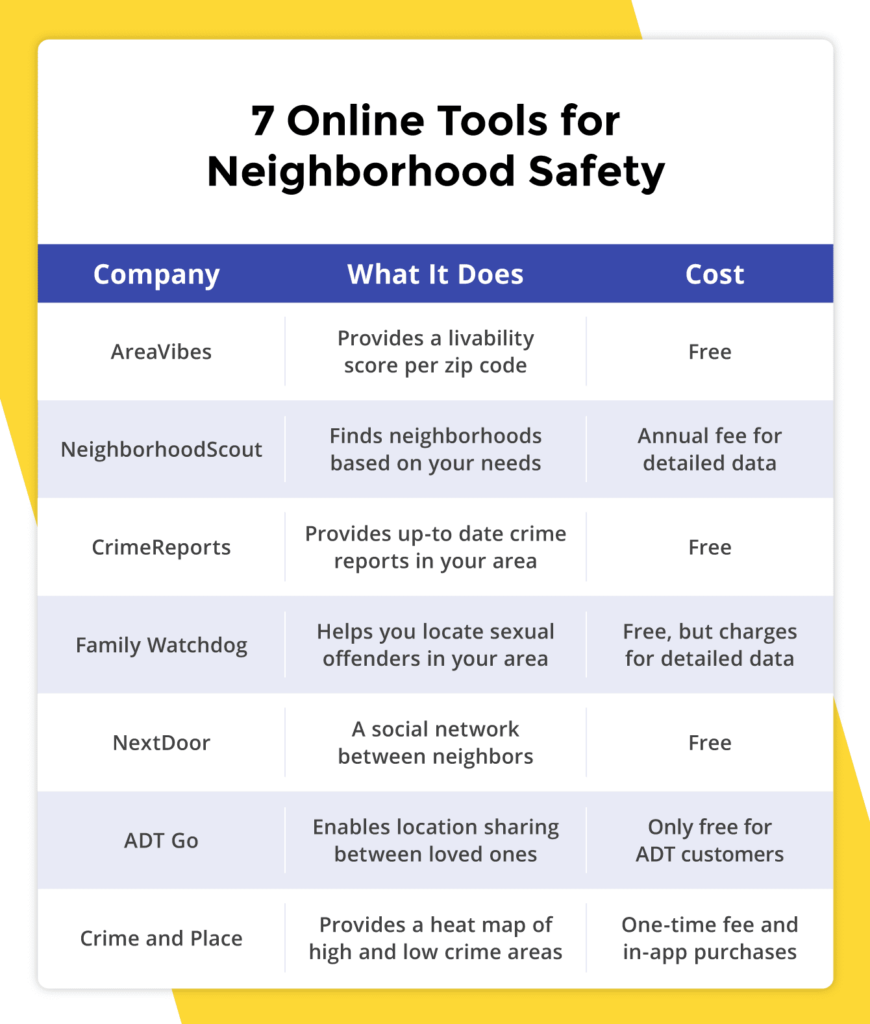 In order to see if your potential or current neighborhood is safe, start gathering all of your investigative tools. There are many online resources and neighborhood safety maps to measure crime in a particular area. Some have additional features like school and park safety. Below, we've highlighted the seven most helpful tools and resources:
Price: Free
AreaVibes is a tool that provides a livability score based on your Zip Code™. The livability score uses an algorithm to weigh amenities, cost of living, crime rates, education, employment, housing, and weather. It's particularly helpful for safety, but if you're also interested in housing, education, amenities, and education, it covers that too.
You can compare neighborhood crime trends and safety issues with national crime statistics. The community writes neighborhood reviews and safety concerns so you get a feel for the environment first-hand. You can also get demographic information like male-to-female ratio, languages spoken, and marital status. The other cool thing about AreaVibes is that you can get incident reports for the following:
Burglary
Theft
Vehicle theft
Property crime
Rape
Murder
Assault
Violent crimes
Robbery
Price: Annual fee for detailed data
NeighborhoodScout focuses on real estate in a particular area. It uses over 600 characteristics to build a neighborhood profile.
Its search engine uses patented methodologies like:
Crime rates
Income levels
Rental areas versus owner-occupied
Crime risk by crime type
Crime trends and forecasts
This neighborhood app matches people with the best neighborhoods for them and their families. The user can choose exactly what their dream neighborhood would include by selecting certain lifestyle searches and important keywords that link to their database.
Price: Free
This site shows you up-to-date information on crimes happening in your area via a map. You can find this data by simply entering your address or Zip Code™. The data is collected from more than 1,000 participating local law enforcement agencies.
If a person wants more information on a paticular crime that was reported, they're able to contact the local law enforcement agency directly for a more detailed explanation.
The reports cover everything from property theft, assaults, and even drug use. Their easy-to-read icons are particularly helpful for a quick glance.
CrimeReports also offers these unique features to help you feel extra safe:
Crime mobile alerts in your area
Allows you to submit crime tips
You can register your home or work security camera
Share incidents via Twitter, Facebook, or email
Price: Free, except for the sex offender report
This site helps you locate registered sex offenders in your area. You enter an address and they'll show you a map of where the offenders are located. You can click on squares, see a picture of the predators, their convictions and other helpful information.
Family Watchdog lets you:
Sign up for alerts for when a registered offender moves to your area
Browse through their blog for neighborhood safety tips
Search local schools, parks, or shopping locations
Filter your search by specific sexual crimes such as sexual battery, rape, and crimes against children
Price: Free, but need an account
NextDoor is the best way to stay informed about what's going on in your neighborhood. It's a private social network for your community that allows your neighbors to share safety tips, talk about any suspicious activity, and even find a last-minute babysitter.  
Signing up is easy and you can have real-time conversations between you and the people living around you.
NextDoor is great for:
Knowing if there's package theft in your area
Stolen vehicles
Asking questions about safety
Reporting concerns or incidents
Starting a neighborhood watch group
Price: Free for those using the ADT service, otherwise there's a monthly fee
This web and mobile location-based app allows you to view your family members on a map and it sends alerts when they get home from school and work or arrive at an event. ADT Go also has an Automatic Crash Detection Service with emergency response so if one of your family members experiences an accident, it alerts their emergency contacts right away.
Some of the other features of ADT Go include:
Fast emergency response
Real-time GPS location data
24/7 roadside assistance
Nearby crime data as far as one year back
Location sharing for your family
Price: One-time fee and in-app purchase
This map-based app lets you quickly check your surroundings in a specific area. You can search for points of interest or addresses and it provides a heat map with high and low crime rates. If you drop a pin on the map, it notifies you if it's potentially a dangerous area to step into.
Additional Crime and Place features:
Set up notifications when entering high crime areas
Weigh different types of crime in a specific area
Receive alerts you when you leave your comfort zone
Tips for finding a safe neighborhood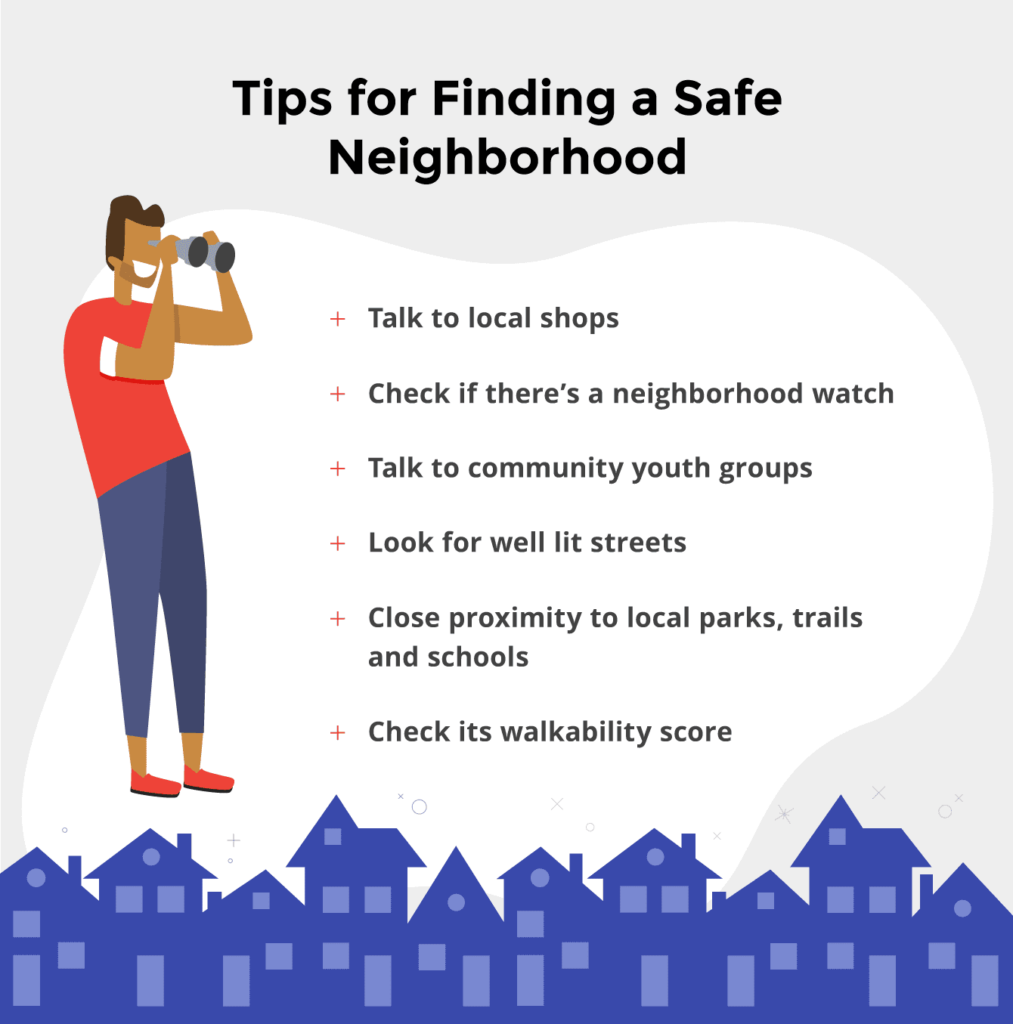 If you've gone down our list of neighborhood apps and still wonder "how safe is my neighborhood?" here are a few more tips to help find the answer:
Talk to local shops
Do a neighborhood check. If a community is thriving, local shops will prosper. If you notice booming restaurants, bookstores, coffee shops, and even clothing stores, chances are people are happy in the neighborhood and supporting their local small businesses. Go ahead and talk to business owners and visit shops! Getting information from your potential neighbors is always a win.
Check if there's a neighborhood watch
Neighborhood watch is essentially one of the oldest crime prevention programs in the country.  More than 40% of Americans live in areas covered by one. If your neighborhood has one, chances are the citizens in the area have a good relationship with local law enforcement and will do their diligent duty to report any suspicious activity or behavior.
Talk to community youth groups
If you're trying to find a safe haven for your children, researching youth groups is the way to go. Perhaps there's a local dance group, after-school program, church group, or a local volunteer group that your family can participate in. Ask around and find out what family resources are out there.
Attend community events
If a neighborhood offers community events to celebrate their neighborhood, that's always a great sign. Whether it's a farmer's market, charity event, or the opening of a local business, it's a great opportunity to experience the people and environment you will soon be living in.
Look for well-lit streets
Take a drive through the neighborhood and do an area safety check at night. Look out for working street lights and signs. Your neighborhood should feel safe to walk in. If there's not enough light, chances are you won't see many neighbors out and about.
Gauge proximity to local schools, parks, and walking trails
If the specific area you want to live in has many local schools and well-kept parks, that's often a good sign because you'll get to meet families and learn about neighborhood activities.
Check its walkability score
Use Google's easy Walk Score tool to figure out how pedestrian-friendly the area is. Simply enter the name of the city and you'll find information on car-dependency, transit availability, and bikeability as well.  Although it doesn't necessarily spot crime, it allows you to find out if your evening strolls are safe.
Things to watch out for
While these signs don't guarantee a neighborhood is unsafe, you'll want to be aware of them when choosing if an area is right for you. A good way to analyze the safety of the neighborhood for yourself is to drive by the neighborhood at a few times and look for:
Abandoned storefronts
A 2017 report from the Harvard Business Review found a correlation between retail stores and crime rates — when stores and restaurants close, crime goes up. The hypothesis is that stores act as a form of security, and when an area is left unchecked, property crime and vehicle theft increase. If you see many abandoned buildings in a neighborhood you're thinking about moving into, you may want to look into its crime statistics.
High crime rates
While this seems like an obvious one, it's important not to stereotype a whole city. In fact, violent crimes are often concentrated in small areas. One study found that nearly half of crime complaints and gun violence took place in 5% of street segments. You can look up the crime data for your specific neighborhood to get a better understanding of which areas are dangerous.
Unkempt landscaping
A nice front yard isn't just visually appealing, it's been correlated with reduced crime. A 2015 study of over 1,000 Baltimore City homes found that trees, garden hoses, sprinklers, and well-kept lawns were negatively associated with crime, while litter, overgrown lawns, and small trees were positively associated with crime.
Limited green space
In many cities, the better green space, the less criminal activity. However, just having a park in your area isn't enough. According to North Carolina University, "Parks that are designed for safety, heavily programmed on an ongoing basis and well maintained tend to attract residents whose presence serves as a crime deterrent." That is, the park must support positive activities, create a community, and have funding for upkeep.
Best and worst cities for safety
Whether you're moving across town or across the country, it's important to know which cities, states or regions have the highest and lowest crime rates. We used data from the FBI's Uniform Crime Report to calculate a score for each U.S. city based on rates of violent crime (ie. murder, aggravated assault, etc.) and property crime (ie. burglary, grand theft auto, etc.).
Here are the 20 cities in the U.S. (with a population greater than 100,000) with the lowest and highest rates of reported crime: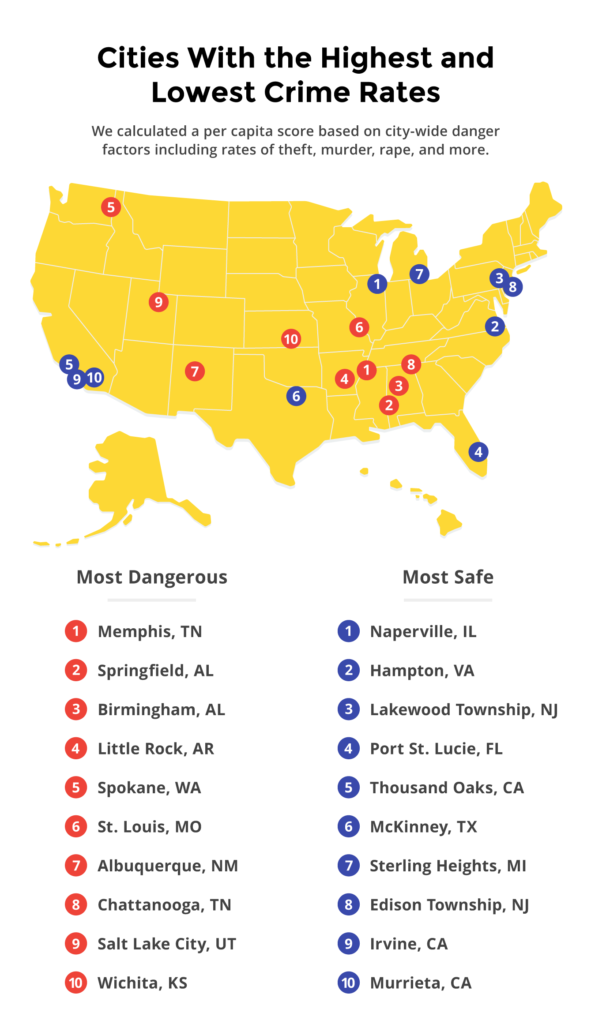 Here are some of our findings from the FBI's report regarding the cities with the highest crime rates:
States with multiple high-crime cities include California, Tennessee, Alabama, Washington, and Louisiana.
Detroit has the most violent crimes, totaling 13,478 in 2018, while Memphis comes to a close second with 12,674.
San Francisco had the most property crime, with 49,214 reported offenses in 2018 and larceny-theft being the biggest contributor with 39,675 cases.
When it came to robbery, Baltimore was at the top of the list with 5,066 robberies in 2018.
With 988 rapes, Detroit, Michigan tops the chart, followed by Anchorage, Alaska, with 613 cases.
Here are some of our findings from the FBI's report regarding the cities with the lowest crime rates:
Of the 10 cities in America with the lowest crime rate, 30% are located in California and 20% are located in New Jersey.
In 2018, there were only 92 violent crimes reported in Murrieta, California. That's less than the nationwide average for all cities regardless of population.
Sterling Heights, Michigan, a city with more than 133,000 residents, reported only 19 robbery cases in 2018.
Irvine, California is the most populated city to rank in the top 10 U.S. cities with the lowest crime rate and more than 288,000 residents.
Finding a new neighborhood to live in should not be taken lightly. Luckily, all of these resources have different purposes and can put your mind at ease.
Once you've found your ideal neighborhood, follow these simple moving tips for an easy, breezy transition.