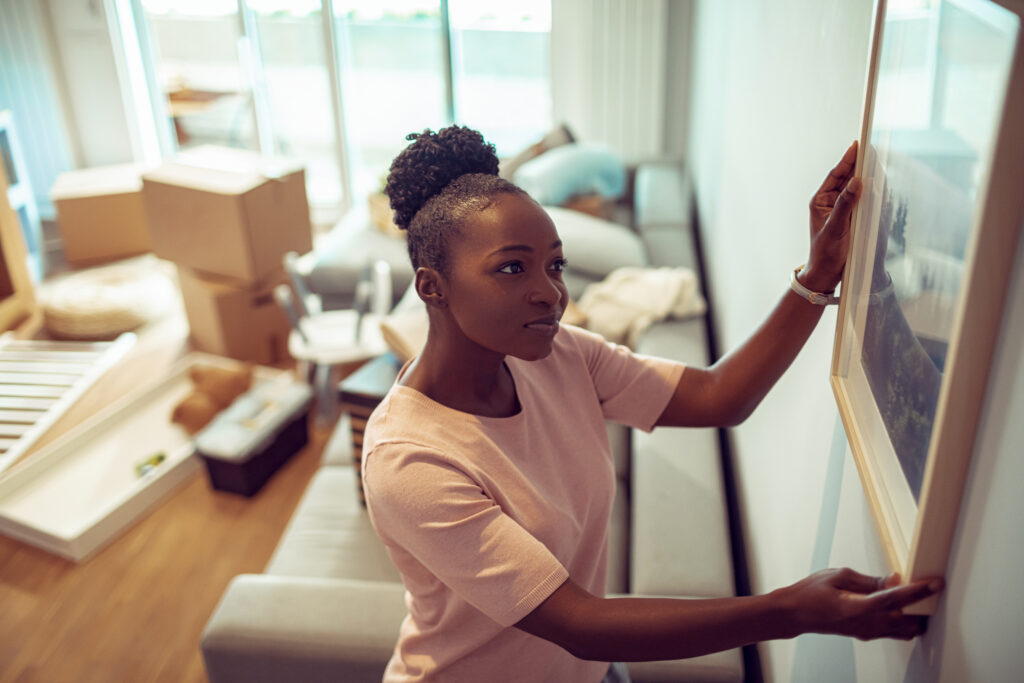 We all move at some time during our life: from the first move into our own space, the upgrade to a larger place, a cross-country career relocation, or downsizing into retirement. That first move often signals the start of independence for many of us and it can be a doozy, so it's smart to prepare youth early for that, as well as prepare ourselves.
Both parents and children need to be part of this conversation.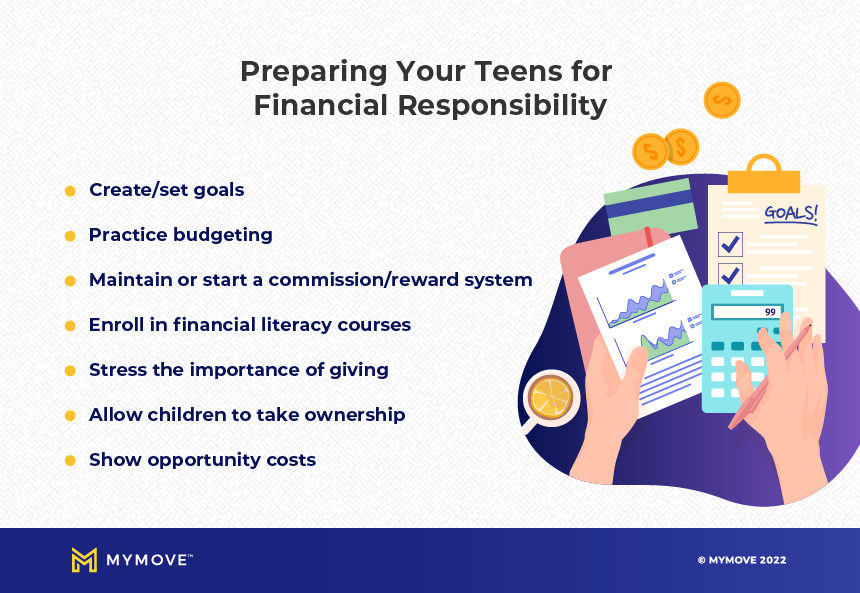 Instilling youth with financial literacy
According to Statista, "The homeownership rate among Americans under 35 years was 37.8 percent in the second quarter of 2021. In contrast, almost 80 percent of those aged 65 and older owned their home."
There are many factors that play into that statistic, but a big factor is that saving for a down payment on a home is challenging, especially for those under 30 with significant student debt.
Because of the financial hurdles many young adults face now, it's vital for parents to teach their offspring financial literacy – and start them early.
Here are a few key points to help you and your kid understand more about financial literacy:
Budgeting: Budgeting now is easier than it ever has been. There are many free apps available that track budgets for you. Chances are, even your bank or credit union has online tools to help you budget. Again, strive for transparency with your kids by showing them how you budget and what you do if you overspend on one category (i.e. taking away Dad's Bass Pro Shop credit card.) You could even set up a time monthly to work on your budget together. This helps your child understand the importance of budgeting and by working on this together, you both build accountability.
Savings: When having these talks, it's vital you stress the importance of saving money. Explain to them that by starting earlier in life, they'll be able to build more wealth over time through compound interest. If you've done well in this regard, feel free to share with them statements from your broker over the years showing how your money has grown.

This is also a good time to speak with them about opening a 401k or another retirement savings vehicle. And when it comes to buying a house, explain to them how the bigger of a down payment they can make, the lower their monthly payment is. This is why it's important for them to begin now to save for the future whether that includes homeownership, going back to school, or even starting their own business.

Understanding credit: This is one of the most important aspects of financial education. Talk about the importance of building credit the right way as their score can affect how much they spend on a car, house, and even insurance. Many rental companies base the deposit on creditworthiness.

Break down the components that make up your credit scores such as payment history, debt to income ratio, and more. You can also help them develop best practices such as paying off your credit card balance every month, paying all bills on time, and keeping your total debt to income ratio to under 30% if at all possible.
During this time, if you made any mistakes with credit such as charging too much or being late with payments, talk to them about it, telling them how much time it took to rebuild your score. Having this discussion is one of the most important ways your child can see how your credit score impacts a lot of future financial decisions you'll make.

Jobs: Another part of teaching someone about real estate and responsible homebuying is explaining the importance of a stable job history. Even if a young adult lives at home, having a job gives them independence and ownership over their financial decisions. It also provides them with the opportunity to save some of their money. During these discussions, explain to them how if they bounce around from job to job or don't work for longer periods, it could make it more difficult to receive a job offer or mortgage preapproval in the future, especially in the current market.
Cosign or co-borrower: In some cases, you might want to help your young adult child establish their credit or even help them buy their home. You can talk to them about being a cosigner on their loan and how this helps them earn a lower interest rate. However, it's also important to stress this shouldn't be a crutch your child relies on all the time. Instead, it's to help them build a good payment history at favorable rates so they won't need you in the future. It's also important for both of you to discuss the pros and cons of this approach. The pros are your child is more likely to receive approval and their interest rate will be lower if your credit is good. The downside is if they are late on the payments, the lender will require you to pay them.
Parents providing further assistance: Since families' finances are unique to them, it's important to weigh many considerations here. In some instances, the unfortunate reality is you might not be able to help your children with a downpayment or cosigner assistance. If this applies to you, it's okay, just be upfront and honest with your children so their expectations are aligned with reality.

In other instances, you might be able to help them with a down payment. This is huge, as it's difficult for millennials to save enough money to even afford a down payment. And in some rarer cases, the parent might be able to buy the house for the child or have the child move into a home the parent-owned.
Parents could also provide monthly payments to help out with the mortgage or any repairs that arise. The key here is to create balance and set expectations upfront before going into this endeavor with your child. Explain to them what you're able or unable to do that way they know from the outset the expectations placed on them.
Resources
It's time for your first move!
Moving out of a parent's home can be daunting, whether it's into a college dorm, your first apartment across town or across the country for a new job. It's also a very exciting time in your life.
Before you launch into that first big move, though, there are many decisions to make and things to consider that will smooth your way. It's also a time to implement all the financial tips and planning your parents shared with you.
It's helpful to have checklists to work through when facing such a large change:
Figuring out your finances
Work on a budget to decide what you can afford to pay monthly before you start looking for an apartment to rent. Don't forget to include utilities like internet, electricity, water, garbage collection, and more. Some rental prices include some of these in the monthly price, so remember to check for that. And don't forget to factor in commuting costs, grocery trips, insurance, etc.
Finding somewhere to live
Apartment and house hunting has changed greatly over the years. Gone are the days when you buy every newspaper you can find, every day, circle the apartments you like, and call to make an appointment to view it.
Now, you can jump online and do walk-throughs of available apartments, read leases, chat with an agent, apply for residency, and make your appointment to view the places you like.
Consider where you want to live, based on your lifestyle and needs. Is it close to your work, convenient to grocery stores, laundromats, and gas stations?
Dealing with furniture
Although it's nice to have brand new furniture for your brand new living space, it's not necessary and can be very expensive. Chances are your family and friends have some pieces of furniture you can use, but you can also scour thrift stores and online marketplaces like Craig's List or Facebook for deals.
Updating your address
Changing your address is a smart move, even if you pay your bills online. The IRS, along with many other businesses and agencies will use the U.S. Postal Service to send you mail. Changing your address is simple and can be done online through MyMove.com.
Turning on your utilities
About a month before you move, you'll need to start investigating what utilities you will need to have put into your name.
If you are renting from an apartment, the landlord will let you know when you sign the lease what utilities you are responsible for.
Getting packed
The first step in packing is to get organized – you'll thank yourself later.
Gather your supplies like boxes, packing materials for breakable items, tape, labels and markers.
If you start packing one room at a time and labeling everything, unpacking will be a breeze.
Keeping a checklist of moving steps will help you stay on task.
Moving
The big decision here is whether to do the move yourself or hire professional movers. Finances and distance are two key factors to consider.
If you decide to do it yourself, be honest about your physical abilities, your friend's and family's commitment to helping and your realistic timeline.
What to do after the fact
Take a day to breathe. Congratulations, you did it! You are in your new place. But, the work isn't quite over.
Changing your address in several places is very important. Start with the U.S. Postal Service here and then your local motor vehicle administration for your car and license. Don't forget your bank, voter registration, library card, insurance companies, doctor and dentist offices, publication subscriptions, prescriptions and more.
Tips for moving for the first time
So, to summarize everything you've learned about being a first-time mover, below is a quick list of 10 points to check: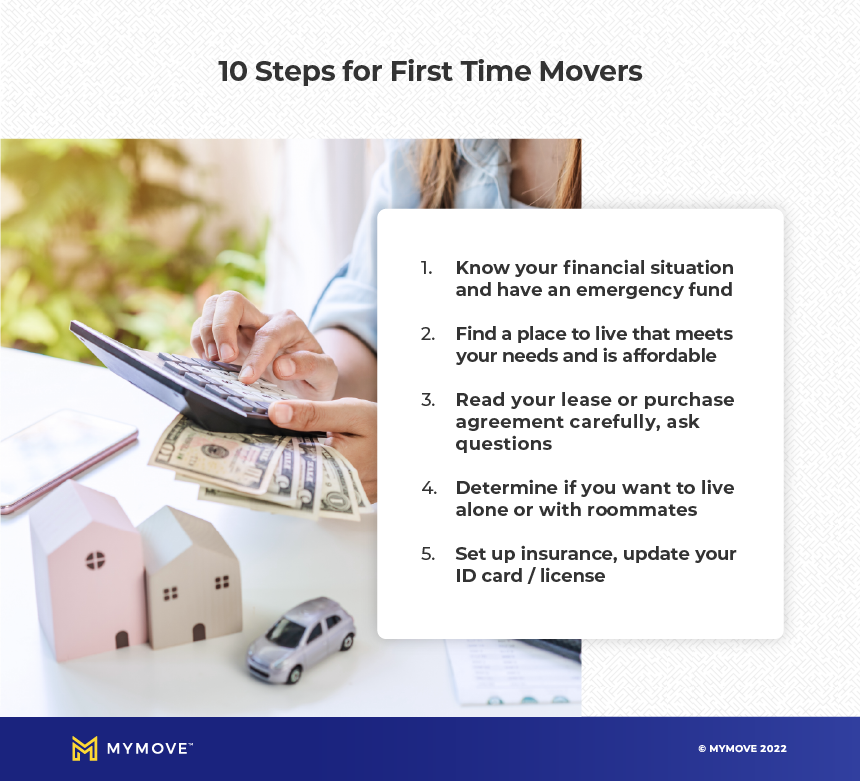 1. Know your financial situation and have an emergency fund
2. Find a place to live that meets your needs and is affordable
3. Read your lease or purchase agreement carefully, ask questions
4. Determine if you want to live alone or with roommates
5. Set up insurance, update your ID card / license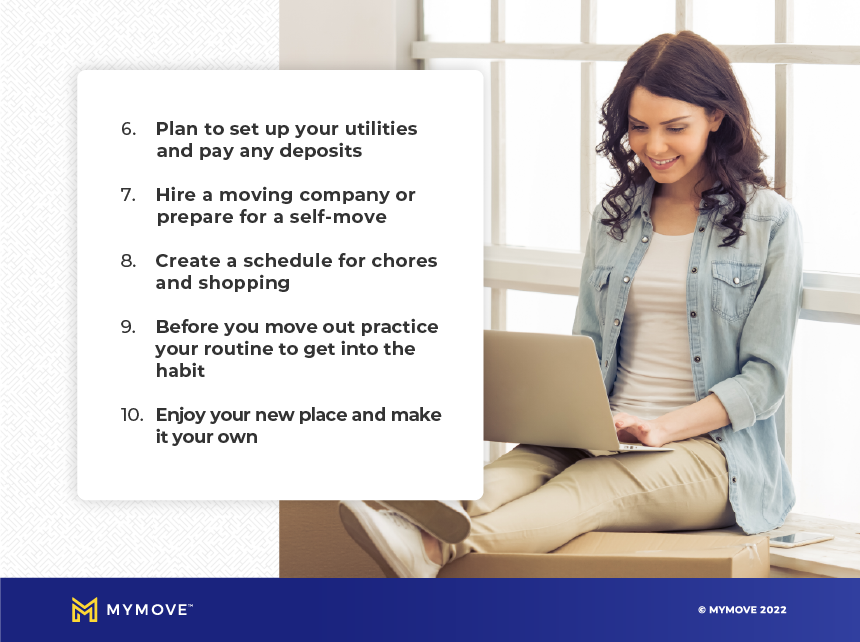 6. Plan to set up your utilities and pay any deposits
7. Hire a moving company or prepare for a self-move
8. Create a schedule for chores and shopping
9. Before you move out, practice your routine to get into the habit
10. Enjoy your new place and make it your own