Moving Guide for Domestic Violence Survivors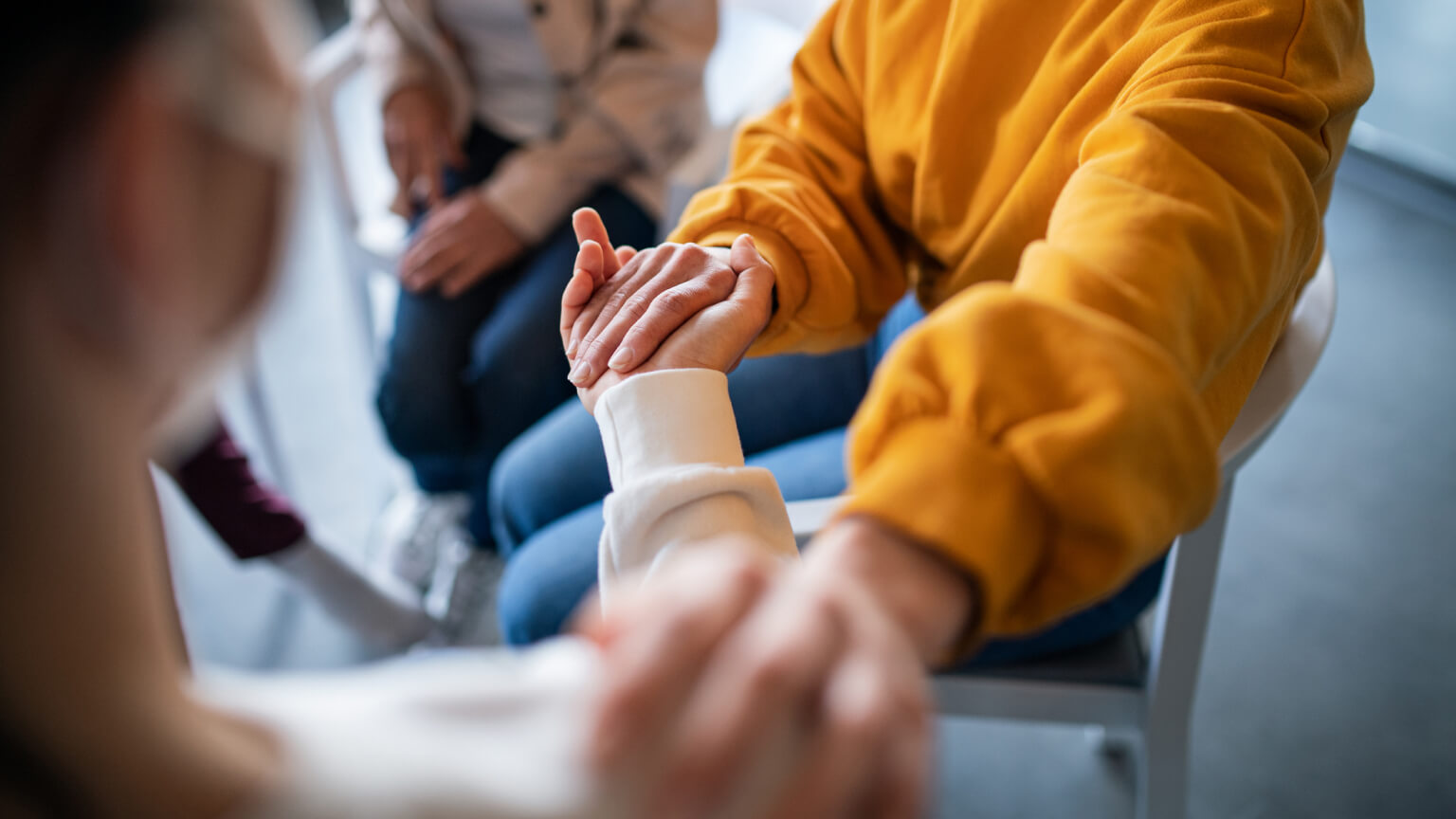 Every minute, nearly 20 people are physically abused by their partner in the United States — that adds up to more than 10 million people each year. Domestic violence is also one of the leading causes of housing insecurity: an estimated 63% of women experiencing homelessness have also been victims of domestic or sexual violence in the past.
We spoke to the following experts and pored through research to find the best practices and resources for survivors looking to move into new homes:
Amy Durrance, Director of Systems Change Initiatives at FreeFrom
Tannia Ventura, Director of Service Provider Engagement and Education at FreeFrom
Stephanie Nilva, attorney and Executive Director and Founder for Day One
Theresa Kim Nguyen, case manager at the Asian Task Force Against Domestic Violence
Ruth Darlene, Founder and Executive Director of WomenSV
---
On this page:
---
Barriers to moving into a new home
There are several barriers for domestic violence victims attempting to move into a new home, including financial dependence, impact on children, lack of resources, and immigration status.
Financial dependence
Moving costs generally start at a minimum of $400, but the larger issue is often getting money together for a security deposit on an apartment. The median rent for an apartment in the U.S. recently surpassed $2,000 for the first time ever.
"Economic abuse – which is any tactic employed by harm-doers to control survivors by controlling their finances – means survivors often have no money, no job, no income, no assets, damaged credit, and no support system," said Amy Durrance, director of systems change initiatives at FreeFrom, a nonprofit organization supporting domestic violence survivors.
It's important for survivors to make a saving plan when preparing to move into a new home. Safe ways to set aside money include asking someone you trust to hold onto cash for you or opening a private bank account.
"If a survivor decides that leaving is the best and safest option for them, making a financial safety plan is a great way to prepare," advises Tannia Ventura of FreeFrom. "Financial safety plans are as unique as the survivors who use them – survivors know best how to keep themselves and their families safe."
Impact on children
For some who feel trapped in a domestic violence situation, their concern is for their children. Custody is far from guaranteed, and it's a popular threat that abusers leverage over their partners to make them stay and propagate the abuse. Many children also face challenges adjusting to a new home, a new school, and unfamiliar surroundings.
Lack of resources
"When victims experience harm, they often have little access to social services and may believe all assistance is closed off to them," said Stephanie Nilva, attorney, Executive Director, and Founder for Day One, an organization dedicated to domestic violence prevention with direct legal and counseling services for young people ages 24 and under.
Abusers may also withhold items like food, clothing, medication, and important documentation. In many cases, they also keep their victims from accessing phones and computers, which makes accessing resources even more challenging.
"Put your IDs, passports, social security card, Green Card, (etc.) in a safe place," urges Ventura. "If you can't take physical control of these documents, try taking pictures of them when you feel safe doing so. Keep the images in Dropbox or a Google Drive that only you have access to." You can also try using a scanner app on your phone.
Immigration status
Some intimate partner violence (IPV) victims may be dependent on their abuser for purposes related to immigration status. Perhaps they rely on their partner as their primary translator, or they don't have a valid driver's license or other important documents the U.S. government requires. The victim may also be reliant on a dependent visa, meaning they'd have to leave the U.S. if they divorced their abusive spouse.
"Many of my clients believe that their abuser has the power to deport them from this country," said Theresa Kim Nguyen, a case manager at the Asian Task Force Against Domestic Violence. "They said if you don't want to do this, I won't fill out the paperwork for you."
Resources to help with your move
Once you know where you're going to be moving, it's another challenge to get all your belongings there. Here are some resources you can use during your move.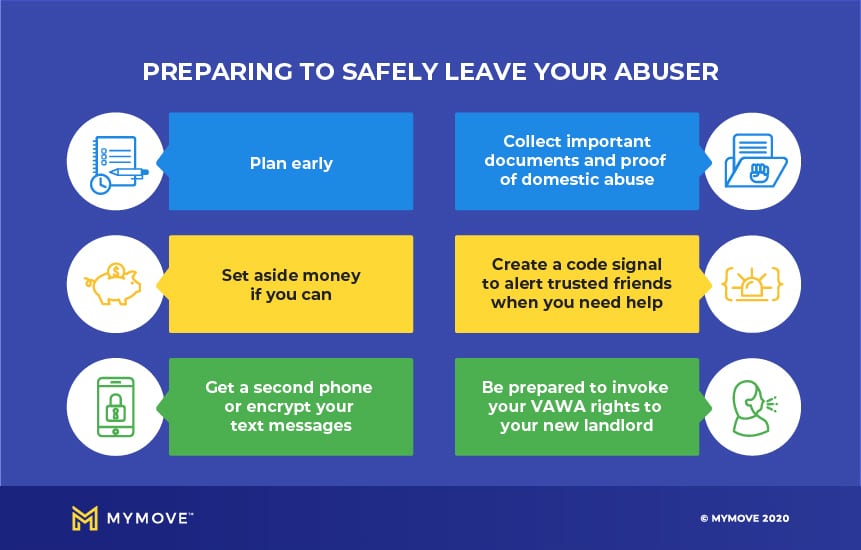 Moving companies that help victims of domestic violence
The following moving companies all offer free or discounted moving services to victims of domestic violence. In most cases, they work directly with local shelters and domestic violence organizations to coordinate the move.
MYMOVE reached out to numerous nationwide moving companies about their services for domestic violence survivors. We'll continue to add them to the list above as they respond or update their policies.
Changing your address and contact information
You'll need to change your address with places like banks, insurance providers, and DMVs when you move. But the most important address change to remember is with the USPS. This change-of-address costs $1.10, and it forwards most of your mail — bills, personal letters, invoices, merchandise — to your new address for 12 months after your move.
Some local domestic violence shelters also run programs where they'll give you a new phone to use, and you can always buy a prepaid phone at most gas stations or retailers. Short of that, try changing your phone number and creating a new email.
"Creating a new email that only you have access to can be helpful in securing your finances," says Ventura. "Many survivors use Protonmail because it is encrypted and adds extra security to emails. Change passwords, addresses, and emails if it is safe to do so. Get a P.O. Box or ask a trusted friend or relative if you can use their address so that you have a safe place to send mail."
Ventura, of FreeFrom, recommends that before you change anything, check which email and phone number are listed in the account. Whoever is listed as the recovery email or phone number will be notified.
"If someone who is causing you harm is listed as the recovery, get on the phone with the company," she advises. "Let them know that you are experiencing intimate partner violence by the person listed on the recovery account and ask if you can change your information without notifying them."
Taking care of pets
Taking care of your pets when leaving an abusive situation can be incredibly complicated. According to the National Domestic Violence Hotline, as many as 65% of domestic violence victims "are unable to escape abusive situations because they're concerned about what will happen to their pets." These resources can help make sure your pet stays safe throughout the moving process:
For more resources, visit the National Domestic Violence Hotline's guide to safety planning for pets.
Transportation
Finding reliable transportation is an essential step to starting over in your new home. Many domestic violence nonprofits and private companies have programs available to provide free transportation to survivors.
We've provided a list of options below, but you can also contact The National Domestic Violence Hotline to get connected with more transportation resources, including vehicles donated to the organization.
If you do acquire a new car, you'll need to purchase your own auto insurance policy and remove yourself from an old joint policy if necessary.
Contact local law enforcement or area resources
If you feel your safety is at risk in leaving, talk to your local law enforcement or area resources to see how they can help you safely leave your abuse. Additionally, it's a good idea to contact local law enforcement in your new area if you are concerned about your safety.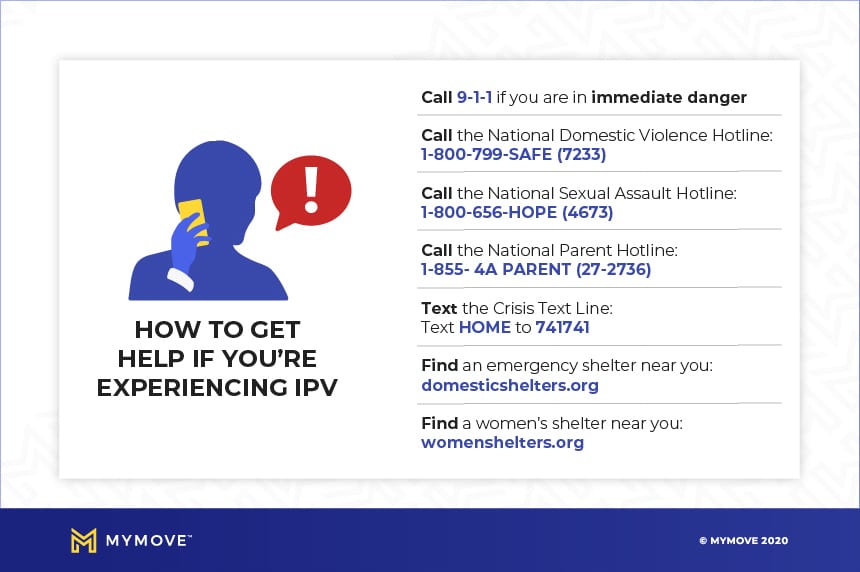 Housing resources
Over 90% of women experiencing homelessness are survivors of severe physical or sexual violence. Accessing safe housing is one of the most difficult but essential steps for those leaving an abusive relationship.
Finding emergency shelter
For many victims, the first step to permanent housing is often through an emergency shelter. "Many times, the first thing I do with my clients is move them right away to an emergency shelter," Nguyen, a case manager at the Asian Task Force Against Domestic Violence, told us. "Then we can start to get into more detail about what they need from there."
There are several ways to find emergency shelter in your area:
Applying for housing
Domestic violence organizations and support services have experience helping their clients find permanent housing after leaving an abusive relationship, but you may also want to look for an apartment yourself through a rental website like Zillow or Apartments.com.
Here's what you'll typically need to complete a rental application:
The application form for the property you've chosen
Proof of identification (a driver's license, state ID card, or passport)
Proof of income (pay stubs or bank statements for the past few months)
The application fee
Vet records if you have a pet
Most landlords will require contact information for your previous landlord (or a personal or professional reference)
Many states also have laws in place to protect domestic violence victims from eviction or landlords refusing to rent to them. You can check your state's laws here.
Financial resources
"The financial devastation wrought by intimate partner violence is trapping survivors in abuse," said Amy Durrance, director of systems change initiatives at FreeFrom. "The #1 obstacle to survivors' safety is financial insecurity. In fact, 73% of survivors report that they stayed in abuse because they simply couldn't afford to leave or stay safe."
What's more, according to the National Coalition Against Domestic Violence, as many as 60% of survivors lose their employment due to abuse. These are some of the organizations that can help you make ends meet.
Legal resources
Navigating the judicial system alone can be a difficult challenge. Fortunately, there are a number of organizations and support services that offer legal assistance to domestic abuse survivors.
Five ways to stay safe in your new home
For some, the struggle doesn't end after moving to a new home. "Most domestic violence incidents happen after the survivor leaves, and the danger level spikes for two years after leaving an abuser," says Ruth Darlene, founder and executive director of WomenSV. Here are some steps you can take to protect yourself after the move.
1. Get a domestic violence protective order
"Consider getting a protection order and if you do, keep a copy on you at all times," recommends Darlene. "Don't share your whereabouts or new address in order to minimize any chance of your abuser finding you. Safe at Home, a program through the Secretary of State, can help to keep your physical address confidential."
2. Secure your devices
"Survivors should look for any unusual activity on their devices and use encrypted communication tools to safely escape from an abusive partner," Darlene suggests. "Replace your laptop and phone, and secure your accounts, changing passwords and PIN numbers."
3. Update your financial information
"If changing your account information isn't safe, start an online bank account," advises Ventura. "Make sure to select the paperless option so that no bank statements are mailed to your address." And make sure the email your online bank has on file is the email your abuser is unaware of.
4. Notify your workplace
Domestic violence affects you in the workplace, too, impacting your ability to continue or resume work. Be sure to let your employers know what is going on so they can provide you with the necessary help and support.
Darlene adds, "Once you've left, keep in touch with people you trust. It's important for them to know you're safe and continue to support you."
5. Invest in home security
There are many affordable ways to secure your home with smart technology. A video doorbell like Ring and Nest will help you see who's at your door right from your phone, and companies like ADT and Vivint offer full security camera packages with professional monitoring. Other good options for safety include smart locks, motion detecting lights, and door security bars.
The bottom line
Leaving an abusive relationship and moving into a new home is incredibly challenging. Fortunately, there are excellent resources and organizations out there that can help make your move safer and more affordable.
"There is light and life on the other side," Darlene says. "Remember, you deserve to live in peace and safety and freedom in your own home – and so do your children."
Disclaimer: This content is not intended to be a substitute for professional advice. Always seek the advice of qualified resource providers with any questions you may have.