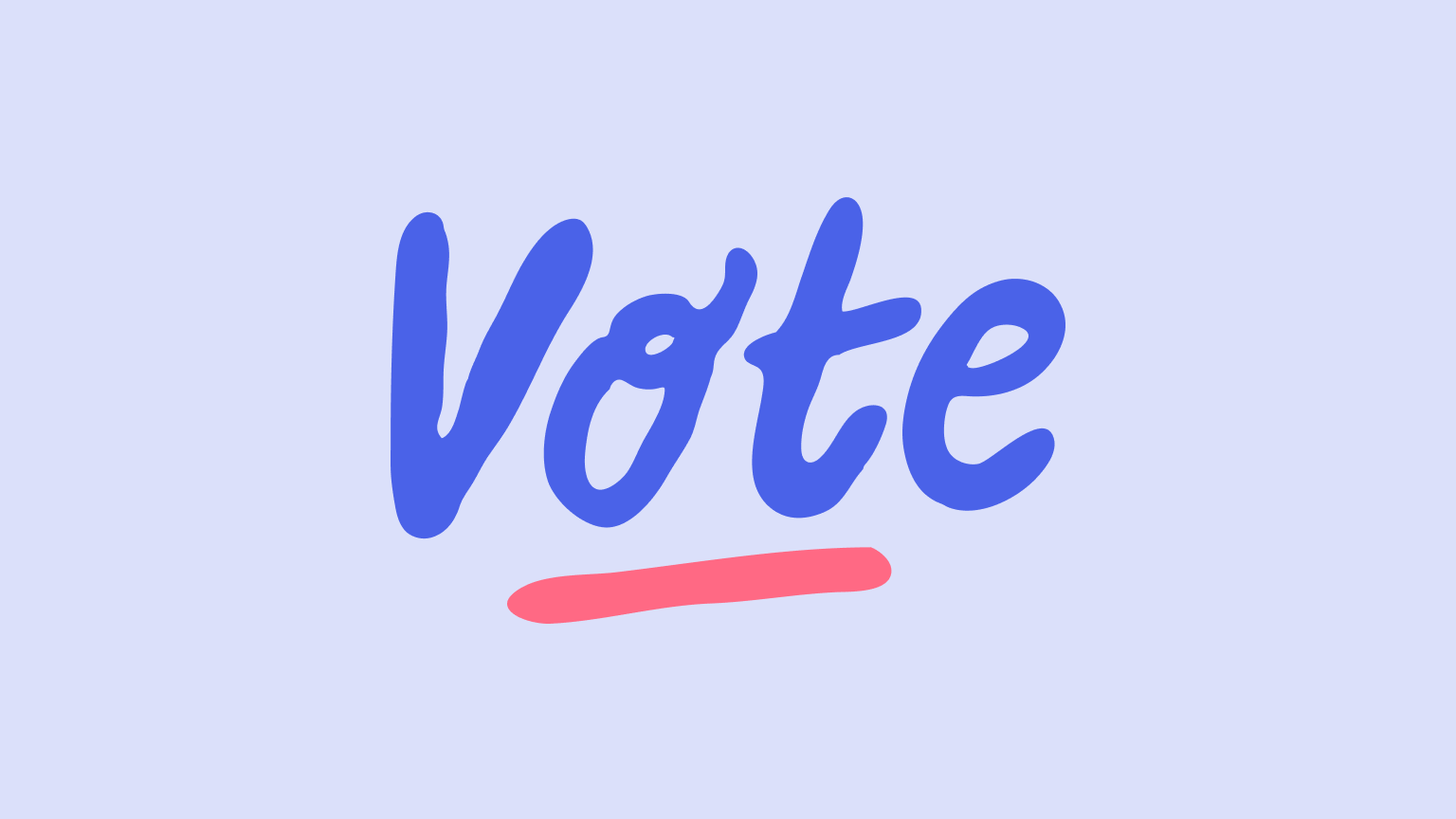 If you've recently moved, you've probably already changed your address, but did you remember to update your voter registration? For those who are voting for the first time, no worries; registering to vote is easy! Every state is a bit different regarding voter registration laws, so make sure you visit your state's election website for more details. However, all states have these three rules in common:
You must be a U.S. citizen.
You must be a resident of the state you are registering to vote in.
You must be at least 18 years old.
If you're in college and want to vote, don't forget to add your voter registration card to your packing list. The voting process for college students is actually easier than you might think.
Out-of-state students:
If you're an out-of-state college student, you have two options:
Submit a mail-in ballot to vote in your home state.
Change your address and voter registration to the state you are currently attending school, locate your nearest polling place, and vote in person.
Important note: Keep in mind that registering to vote in more than one state is illegal. You can either register to vote in your home state or the state where you attend school.
In-state students:
If you're an in-state student, the process is a bit simpler. Just find your local polling place and go vote. You can also request a mail-in ballot even if you are at school in your home state.You can find your designated polling place and mail-in options by visiting your state's election office website.
Why voting matters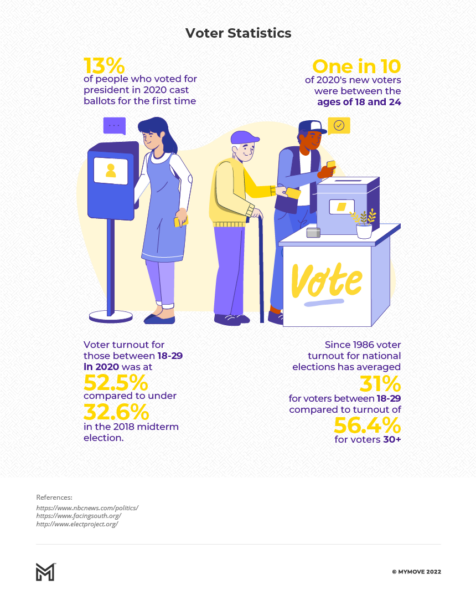 You might not think that one vote out of millions of others can possibly make a difference, right? Well, it turns out your vote does indeed matter. Most states have a system where the popular vote winner often claims the state's electoral votes, although there have been times candidates who won the popular vote did not get the overall electoral vote. Your vote is part of the popular vote. This means that if your vote joins others in your voting district, your vote could make a difference in the electoral results.
There's so much more to voting than just the presidential elections. You should also consider participating in your state's local government elections. Did you know that less than 15% of eligible voters were turning out to vote for local office positions? A lower turnout of voters means that local government positions such as mayor, council members, and city/town directors are only being determined by a limited group of people. Your singular vote has a lot of weight behind it.
The 26th Amendment – the right to vote at 18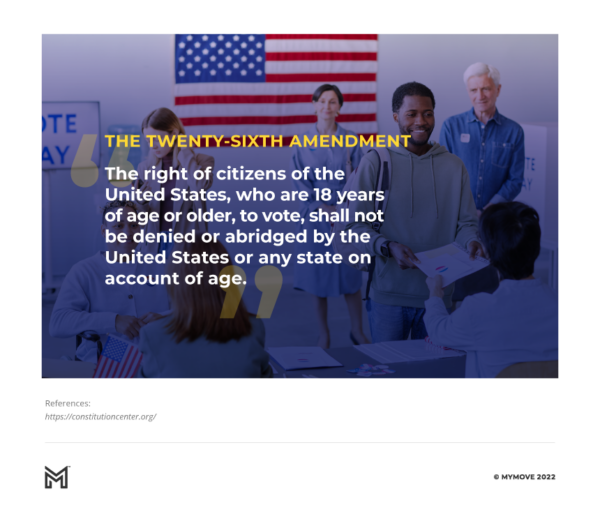 On July 1, 1971, the U.S. ratified the 26th Amendment to the Constitution, which lowered the voting age from 21 to 18 and forbids federal and state entities from discriminating among any voter based on age as long as they are at least 18 years old.
Americans used to have to be 21 years old to vote, but with so many young men between the ages of 18 to 20 being drafted to fight in Vietnam, Congress enacted the Voting Rights Act of 1970, which lowered the age to 18.
Step-by-step guide for first-time voters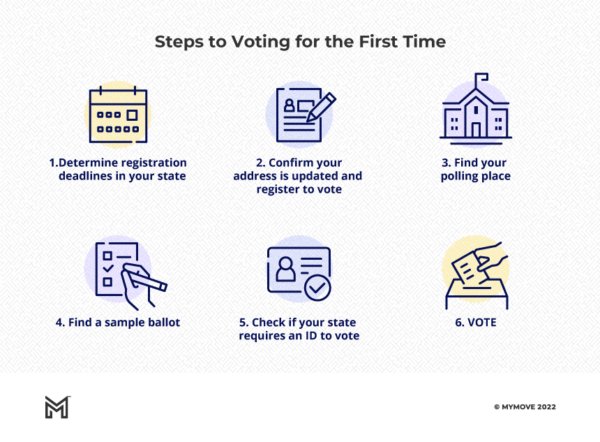 Now that you know why you should vote and your rights as a voter, you may be wondering how to vote. The voting process is actually quite simple. We've provided a step-by-step guide on how to vote below:
Step 1: Determine your state's registration deadlines
Your first step should be figuring out your state's voter registration deadlines. Each state has its own deadline that voters must register before to make sure they can vote in an upcoming election. For most states, the deadline is usually around 15 to 30 days before an election, but check your state's specific registration deadlines just to be safe.
Step 2: Register to vote
Once you've determined your state's registration deadlines, it's actually time to begin the registration process. In terms of how you go about registering to vote, you've got a few options:
Register online (only available in 42 states)
Download and fill out the National Mail Voter Registration Form to mail to your state's designated address.
Register to vote in person at your state or local election office.
If you can't vote in-person, you can request a mail-in ballot that can be mailed or dropped off at designated boxes within your hometown.
Step 3: Locate your polling place
The next step is to find your polling place and determine how you want to vote. If you plan on casting your vote in person, find your polling place by visiting your state or local election office website. Sometimes life happens, and maybe you can't go to vote in person, which is perfectly fine. You have options!
If you can't vote on election day or in person, you have two options:
Vote early
Vote by mail/absentee ballot
Most states have early voting but check with your state election site just to make sure. Early voting and absentee ballots also have their own deadlines as well, so be sure you know your state's voting deadlines.
Step 4: Look at a sample ballot
Familiarizing yourself with a sample ballot is a great way to prepare yourself for election day. Sample ballots give you a good feel for what the real ballot will look like. Plus, it might save you some time at the voting polls.
Step 5: Check your state's ID requirements
Before you head to the voting poll or mail in your ballot, check to see if your state has any voter identification requirements. Some states require you to show one or multiple forms of ID before you vote, so make sure you double-check your state's ID requirements. Also, keep in mind that first-time voters may be asked to show additional forms of ID, which also varies by state.
Step 6: VOTE
Finally, you're all set for the final (and most exciting) step: casting your vote. Just make sure you visit your designated polling place, bring your ID forms (if needed), and remember your vote counts!
Before you head out to the polls, there are a few rules to keep in mind. Your state may have a few additional rules, but here are a few common ones.
You can't use your phone in the voting area. In some cases, you can have it on you, but you're not allowed to use it.
There are no selfies allowed in the voting area. Some polling places have a designated selfie area, so save your pictures for afterward.
Button, pins, or anything promoting a specific candidate or campaign is not allowed.
Voter resource organizations
It's good to stay up-to-date on political news and topics before you vote so that you make the vote that feels right for you. Voter resource organizations are groups that aim to educate voters about what's going on in the political world and support specific groups of voters, political beliefs, and topics.
Important note: No matter what your political views may be, it's important to do your own research and check out multiple sources to make sure you feel informed and comfortable when voting.
Here are just a few voter resource organizations to check out:
If you can't vote yet
Even if you aren't old enough to vote, there are still plenty of opportunities for you to get involved in the political world. Find out what you are passionate about now so that you'll be even more prepared to vote when you turn 18.
Preregister to vote
If you are 16 to 17 years old, preregistering to vote in your state might be an option for you. You'll just fill out an application to be added to the voter registration list and be placed under a preregistration status. Once you turn 18, you'll be added to the voter registration list and be able to vote.
Keep in mind that not every state allows preregistration. Check your state's preregistration guidelines to see if you qualify.
Be informed
Keeping yourself up-to-date about political news and world events is a great way to stay informed about what's happening in the political sphere and could help you figure out what you want in a political candidate.
Talking with other politically informed people is an easy way to engage with your political passions and might lead to some thoughtful conversations. Don't be afraid to voice your opinions! Just remember to allow others to do so as well.
Volunteer
One of the best ways you can make a difference is by volunteering. If there's a political candidate that you really like, you can support them by volunteering on their campaign. Volunteering in campaigns is also a great way to get exposure to what's going on behind the scenes.
The bottom line
Now that you know the where, why, and how you vote, all that's left is to get out there and cast a ballot! Remember that your voice matters and just one vote can make a significant impact. And if you're already a registered voter and recently moved, don't forget to update your voter registration while you're changing your address.