A Complete Checklist of Dorm Room Essentials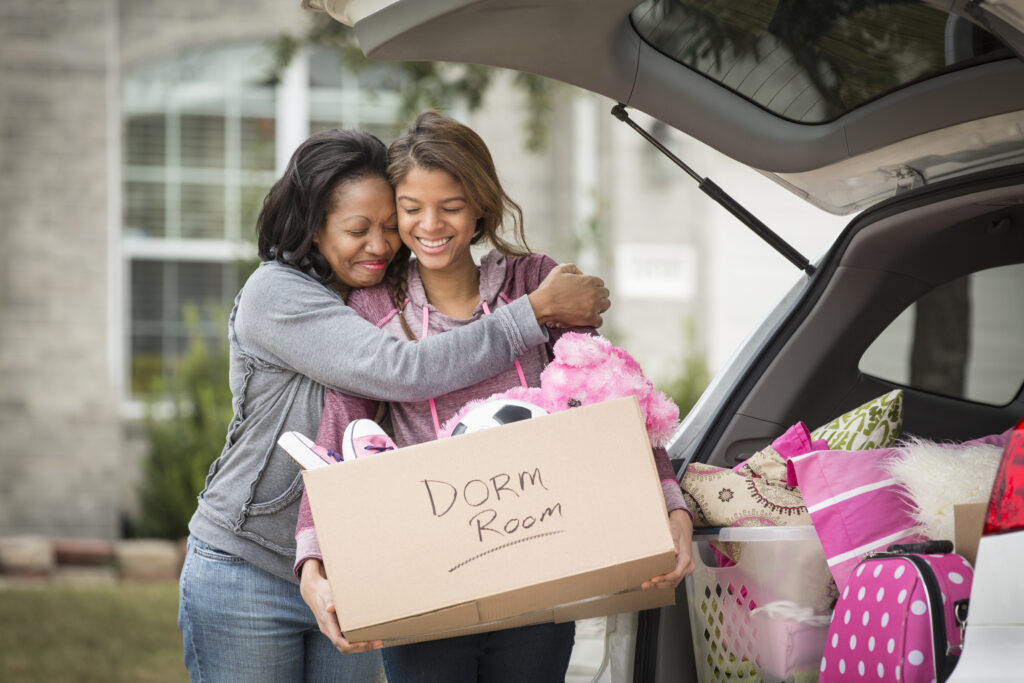 As an incoming college freshman, moving out of your parents' house and into your dorm room is an incredibly exciting milestone. Living in a dorm is a fantastic way to break out of your comfort zone, make new friends, and learn how to take care of yourself. However, gearing up to live on your own requires some advanced planning — which is why MYMOVE has put together this complete checklist of dorm room essentials.
In this article, you'll find ideas for what to bring to school, as well as a step-by-step guide on preparing your dorm room for move-in. With this college dorm checklist, you'll have everything you need for a successful school year.
Dorm checklist: 50 college essentials
For your bed:
For the bathroom:
For your study space:
For your "kitchen:"
For your "living room:"
For storage:
For decoration:
For those things you probably haven't even thought of:
How to prepare your college dorm room in 8 simple steps
Step 1: Figure out the dimensions and layout of your space. 
First, you'll need to understand how much available space you have. If you'll be living in a suite-style dorm, you'll likely have a common area, as well as a bathroom that you'll share with just a few roommates. If you're in a traditional dorm, you'll probably just have a shared bedroom with a communal bathroom down the hall.
Step 2: Find out what's included in your room. 
Some dorm rooms will have a complete kitchen setup, while others might only come with a mini-fridge. Reach out to your school's housing office ahead of time to determine what's already in your room.
Step 3: Get in touch with your roommate. 
Before school starts, try to contact your roommate to learn more about them and discuss what items you plan on bringing to school. For instance, if you already have a floor lamp, you can arrange to bring it for the shared area, rather than both of you bringing multiple items that aren't necessary. Good communication upfront will help you both avoid headaches later on.
Pro tip: Make an inventory of all of the items you're contributing to your dorm room. This will help you keep track of what belongs to you, and what belongs to your roommate. 
Step 4: Secure your move-in date.
Most colleges will send you an email over the summer with Moving Day details — including the date and time of your move. Put those details on your calendar, and start to make a plan. Figure out who's going to help, what car you're going to load up for the journey, and about how many trips you'll have to make to get everything moved in.
Pro tip: Contact your housing office to see if there's an elevator in your building. If there isn't one, prepare yourself for lots of stairs.
Step 5: Pack only the must-have items from home. 
Depending on how far away you're going to college, it might not be convenient or cost-effective to buy all of your dorm room essentials at home and then lug them all the way to school. If you're heading off to college in another state, only bring the must-have items that you can't buy once you're at school.
Step 7: Go shopping when you get there. 
Once you've arrived, it's time to unpack and take inventory of what you need to order online or buy from local stores. Take a look at your college dorm checklist and head to your nearest Target or IKEA to pick up the remaining items.
Step 7: Decorate! 
With all of the hard work done, now it's time for the fun part: decorating your room. Grab your roommate and pick a day before classes begin to prep your space for the school year.
The bottom line
Moving into your college dorm is the start of an exciting new chapter in your life — but with the newfound freedom also comes the responsibility of taking care of yourself. That's why you need to have a plan to gather all of the dorm room essentials that you'll need to survive your first year at school. For some students, living away from home for the first time can be a challenging adjustment, so it's vital to prepare your dorm checklist and stick to it.
Frequently asked questions
What do I need for a dorm room?
Room setups vary by school, but there are a few college dorm essentials that you will definitely need, no matter what kind of dorm you're in. For your bed, you'll need pillows, sheets, a duvet, and a mattress protector. For the bathroom, you'll need towels, toiletries, and shower shoes. For your kitchen area, you'll need basic plates, cups, and silverware.
What should you not bring to a college dorm?
College dorms tend to be small, shared spaces, so you should be mindful of what you bring with you. Your dorm will include basic furniture like a bed and a desk, so don't bring your own. In most cases, you won't have much spare room in your dorm, so don't bring bulky items like gym equipment or bookcases.
What size bedding will I need for my dorm room?
In most cases, you will need twin XL sheets for your college dorm. These beds are the width of a standard twin-sized bed, but they're a little bit longer so that they're suitable for taller students as well as shorter ones.
Can I cook in my dorm room?
It depends on your dorm, but most college dorms are small and only have enough space for a small refrigerator and a microwave. In these instances, students typically eat their meals in a nearby dining hall. Contact your school's housing office to learn more about the amenities in your dorm.
Where can I buy dorm room essentials?
Amazon is an excellent resource for finding a wide variety of dorm room essentials. If you'd rather shop at a brick-and-mortar shop, you'll find most of what you need at stores like Target, Walmart, or Bed Bath and Beyond.