Mover Stories: Everything We Learned From Our Long-Distance Move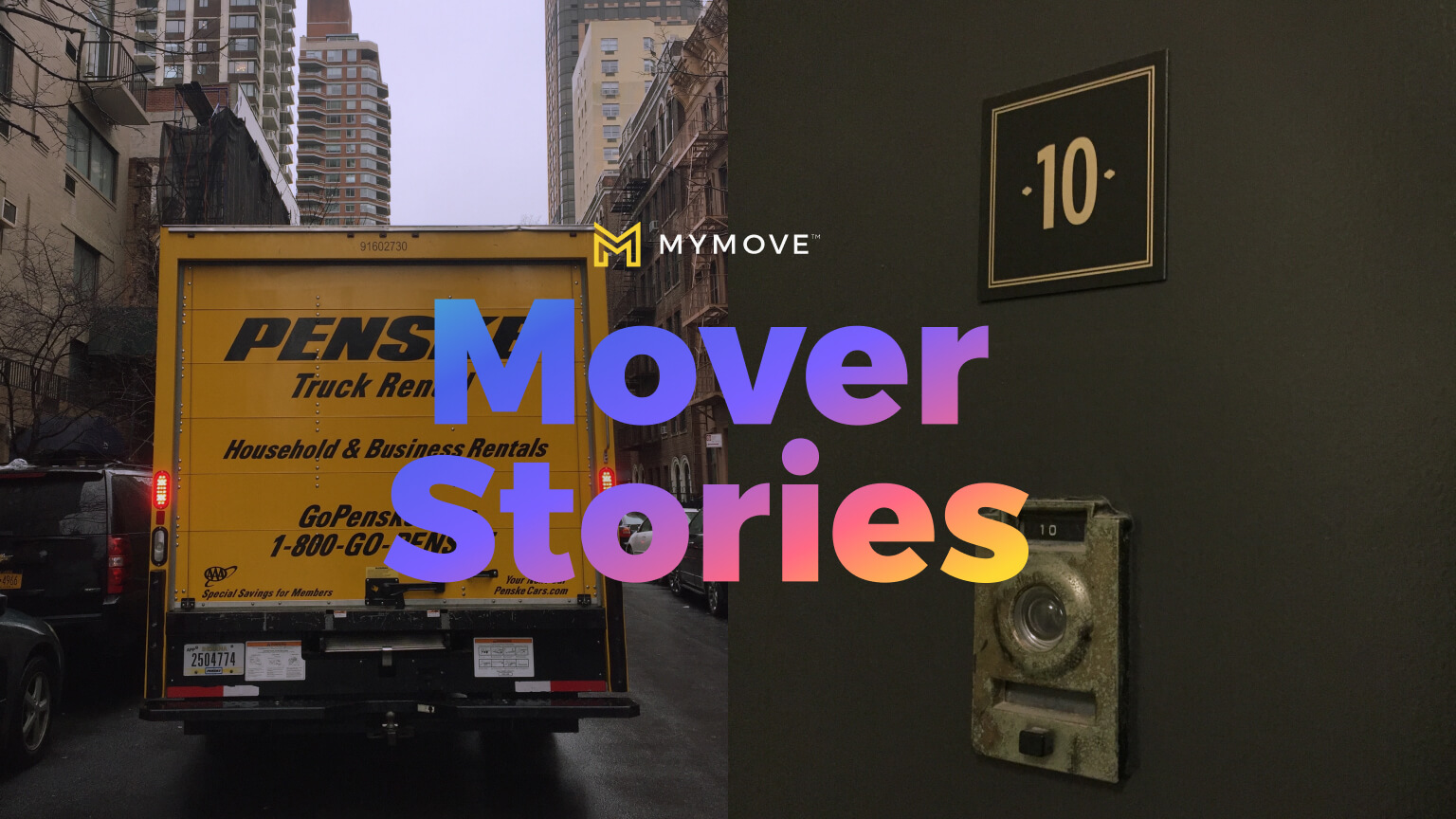 The excitement of a new job can also bring on the task of a stressful relocation, especially if it's several states away. To shed some light on what really goes down during a long-distance move, we asked one mover to share her story. Our next mover story is Danielle, who moved down the east coast with her husband, Jesse, from New York to Charlotte. Below is a lightly edited transcript of our conversation.
Mover details:
Moved from New York, NY to Charlotte, NC
600 sq ft apartment to 1200 sq ft apartment
DIY move
Moved in February
No kids or pets
Doing the research

We flew down for one weekend to look for an apartment. We did research ahead of time and scheduled appointments, but there's nothing like seeing the space for yourself – or the neighborhood. We also had the idea to purchase a townhouse, but since we were new to the area, we decided renting was the safer path.
Then, we made appointments online or over the phone with the leasing office. Once we got down to Charlotte, we saw everything in person. We looked at probably 5 or 6 different units. Some were different units within the same building. Because we were on such a time crunch, we went separately to check out different buildings at the same time. We had a heavy reliance on TRUST.
Apartment hunting on a time crunch
Jesse got offered a job in Charlotte, and they gave him four weeks to move down to Charlotte. So we knew we had to figure this out. A week or two after Jesse got the job offer, we planned to go down to Charlotte to look for apartments and then go back to New York and just start packing everything up. Packing up with four weeks' notice and then figuring out the logistics was very tough.
We were running around like crazy, but one of the good things was going online, looking at the areas that his coworkers/soon-to-be coworkers recommended, making appointments with leasing offices, and then trying to be strategic about when to see the apartments.
An unexpectedly competitive market
What we realized when we were down in Charlotte was that it is a super competitive market. Things are going fast! And the leasing agents were reminding us that apartments are going fast. When we finally found a place that checked all our boxes, it was a little pricier than what we were wanting. But we decided to just sign the lease before we flew out.
We actually 'stole' the apartment from somebody. It turns out they had a hold on the apartment, but they didn't have any money down and told the leasing office that they would be back the next day. And so we asked the leasing office, "if we're willing to sign a lease now can we get this apartment?" And they told us yes.
We remember thinking like, "okay, are we going to cave into this and make a choice now because of what they're telling us and this urgency factor?" or "do we just close door number one and look at door number two?" We felt that we needed to move quickly!
Making the most of moving day(s)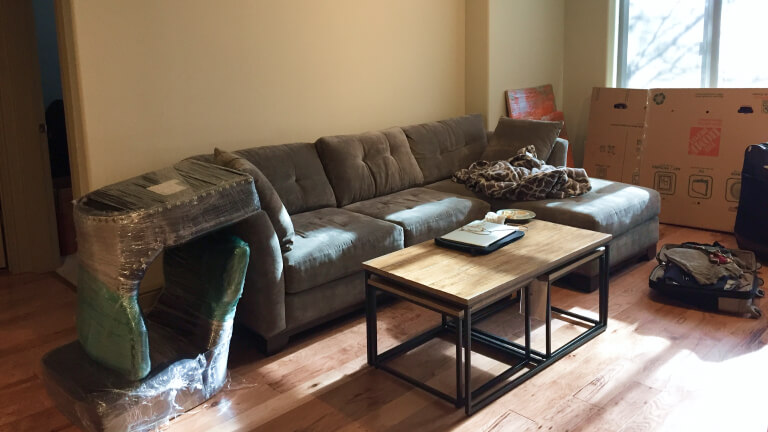 Moving day was more like moving two-days. On day one, when we were packing up our New York apartment, we hired a couple of strong folks to load up the moving truck for us. We also needed them to leave space in the back because we were picking up furniture on the way down to North Carolina.
In typical New York style, it was raining as we were heading out of town. The first leg of our trip was five hours. We stayed with family halfway down so we could get some sleep in before we arrived in Charlotte. On day two, we woke up bright and early and did another five hours on the road with the truck.
When we finally arrived in Charlotte, we hired more strong folks to help us unload. No surprise, the toughest leg of the day was at the end when we were tired from being on the road, unloading the truck, and now we were pushing ourselves to get the basic furniture together – assemble the bed, unwrap the couch and mattress.
Encountering struggles along the way
One of the struggles we encountered was not coordinating with the leasing office. We didn't coordinate with the leasing office ahead of time to reserve the service elevators. If you're moving to a big apartment building, they're very particular about making sure that you move in a specific window and that you use a loading dock.
The second struggle was having a moving truck overnight. We had to figure out where to put the truck. I'm pretty sure the apartment building wasn't a fan of having it in their parking lot or having it block the loading docks.
We needed to decide where to put the moving truck so that it wouldn't cost us extra money. We didn't bring it back that night because we didn't have a car. The truck was our car for the day. Because we were New Yorkers, we didn't have a car! Once we returned the moving truck, we had to figure out the car situation.
Advice for long-distance movers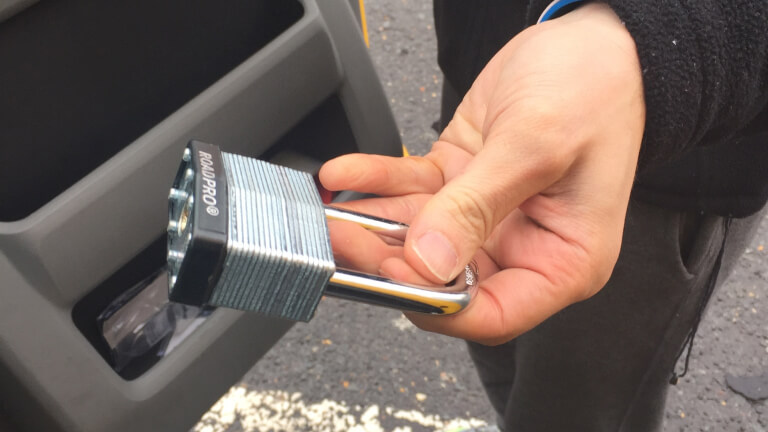 Buy a padlock for your moving truck
Buy a padlock for the moving truck if you are leaving it unattended, especially overnight. Nothing is scarier than having your life belongings all packed together in one place outside your home. To make sure your most prized possessions stay with you to your final destination, buy a strong lock (preferably requiring a key to unlock) for the backdoor of the truck.
Spend time with family and friends
Spend some time with the family and friends you are leaving behind. And don't forget to plan a going away party. Have those last-minute happy hours, and soak in the convenience of seeing the folks in your 'former' city. On the flip side – plan when you'll see them next. Invite them to come down/up to where you moved.
Pack a first-night essentials box
Pack a first-night essentials box and make sure you have some easy access things so you can rest if you traveled or drove everything yourself. And then take a couple of extra days off of work to settle in.
We recommend everyone take a couple of extra days to run those errands and get everything you need to get settled in. It's really hard to accept deliveries or go get stuff for your pantry while you're back in working hours.