5 Tips for Moving With an Infant Without Going Crazy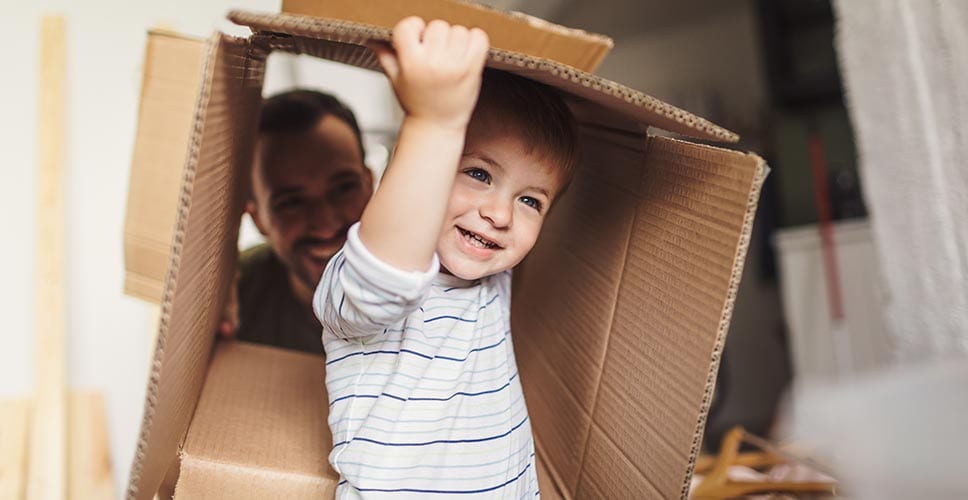 Oh, what's that? You have a baby and you'd like to move between homes with your belongings and mind intact? It's quite a tall order, but it's not out of the question. If you plan ahead and arm yourself for any possibility on moving day, you can get from one home to the next with an infant in tow and (at least most of) your wits intact.
1. Enlist the Help of an Extra Caregiver
Two parents plus one infant equals a stressful moving day. If you have other kids, you're likely to get even more overwhelmed. Do yourself a favor and find someone to watch your infant at another location, or care for her on-site, while you're moving. Bribe a friend with free dinner or hire a babysitter for a few hours.
It can't be overstated how much time caring for your infant alone will set you back on moving day. Plus, if you're driving the moving truck yourself, you'll definitely need someone to follow in a car that can accommodate your car seat anyway.
2. Babyproof Before the Move
Moving with an infant means they're not able to move and groove around your new home just yet. Still, it won't be long before they're up and roaming. If you have a crawling baby, childproofing your new home is an immediate need. If you can get into your new home before moving day, consider adding childproof locks and other safety measures beforehand. You'll be way less stressed out when you don't have to start babyproofing while the movers are still bringing in boxes.
3. Keep Your Eating Schedule Consistent
Your to-do list on moving day is apt to throw your schedule out of whack. You may have to institute nap time an hour late, or wake up baby an hour early. But don't mess around with food/milk. Plot your day around bottles in the car, including a pumping break if necessary. While you can't control everything on moving day, you can make your life easier by keeping baby fed. Set an alarm on your phone (you're bound to lose track of time). Give the schedule to your babysitter so she can bring the infant to you to breastfeed or give a bottle at the right time.
4. Pack a Cooler of Essentials
Bringing diapers and wipes along on moving day is a no-brainer. But a lot of parents don't have enough essentials on hand and wind up scavenging through boxes or having to stop at the store. Pack a small cooler filled with ice packs, as well as:
Milk/formula
Medications
Clean bottles and/or sippy cups
You may also want to bring a second, hard-top cooler to keep at room temperature, for other supplies. Coolers are easy to grab and stack in the back of your car and designed to remain sealed. In your second cooler, bring along:
A first aid kit
Diaper rash ointment
Sunscreen
Plastic bags for dirty diapers
Extra pacifiers
Extra bottle nipples
Here's a list of other Move Day essentials we know you'll need. 
5. Ignore Everything Until the Nursery is Set Up
You're in the new place! Put a pause on everything until the crib is set up and the white noise machine is unpacked. It's easier for you to stay sane when you're not distracted by the need to nest. Plus, having your nursery set up might mean it's possible to put your overstimulated baby down for a nap and enjoy some infant-free unpacking time.