5 Rental Updates You Can Make Without Asking Your Landlord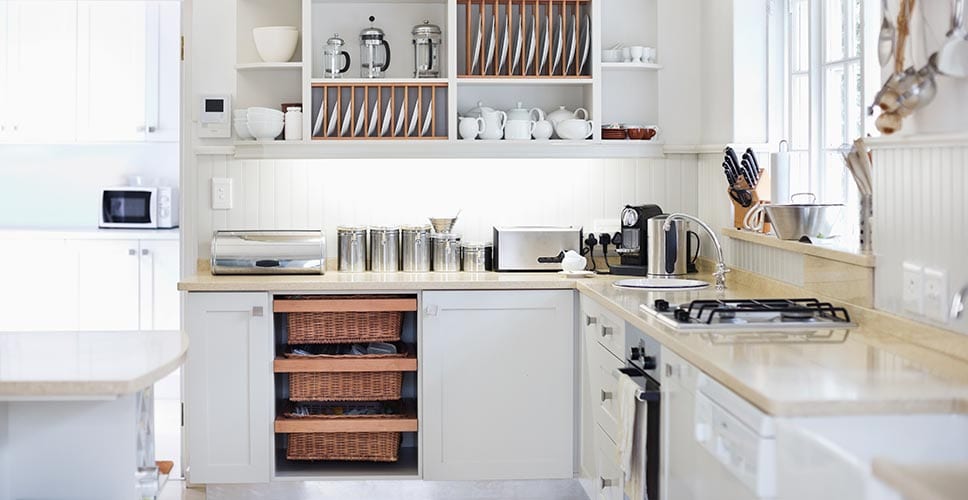 If you've just moved into a rental, you might feel like you've forgone some creative freedom in the interior decorating and designing department. Not that you're judging anybody's style choices, but the place could use some sprucing up to feel a little more … livable. Are listless walls, popcorn ceilings, and off-white laminate countertops no longer in? Since when?
Nobody's arguing against rental upgrades, but a lease agreement burning with damage warnings can leave you feeling overly cautious and limited. How can you make a space that's not technically yours, yours? And how can you do that without losing your beloved security deposit or having to request landlord permission for upgrades?
As experts on all things moving-related, we value the phrase "there's no place like home." However, we know that making a space feel like home is the first step to experiencing it. Here are five ways to upgrade your rental without leaving behind damage or your interior identity.
1. Give Your Kitchen a Temporary Splash of Personality
Let's start where the design crimes are usually most evident in a rental: the kitchen. Even if your kitchen was blessed with updated features, your backsplash—or lack thereof—could be dying for some color and personality.
Use temporary wallpaper, contact paper, or faux tiles to customize a backdrop that represents your style. If your kitchen has an existing backsplash, try individual faux tiles or temporary tin tiles similar to those used in this tile makeover. In an area prone to messes, just be sure to select a durable version that can be wiped down regularly.
2. Let the Floors Have a Little Character, Too
Here's another temporary solution — this time one that'll dazzle your floors. Using the kitchen backsplash concept, apply temporary tiles to your kitchen or bathroom floor. For proof of how transformative peel-and-stick tiles are, check out this Moroccan-style tile makeover. If it's larger patterns you're after, group duplicates of a non-slip, low-profile vinyl rug for an instant refresh. For rooms in need of softer floors, create an artistic design out of colorful carpet tiles.
3. Create Your Own Cozy, Custom Alcove
There's something about a nook that gives any home a custom feel, regardless of whether it's actually built-in or attached to the space. It's an aesthetically pleasing statement that serves a functional purpose, especially in a smaller rental. For a dining nook, position a high-backed buffet bench against a wall with a few chairs aligning the other side of the table.
Glean some design inspiration from these 25 dining nooks. If you're a bookworm (or just enjoy the thought of an extra place to lounge), set up a space designated for reading and relaxing. Wedge a futon between two freestanding bookshelves to replicate this custom built-in reading nook.
4. Replace This Overlooked Item With a Fancier Relative
Should we have placed one of the easiest and cheapest rental updates of them all first? This one only takes a few minutes and will bring new light and life to a fixture that deserves more attention. Upgrade your current light switch plates with more unique versions using inspiration from these six plates recommended by Apartment Therapy. Just save the originals to replace upon move-out (you won't want to leave these behind). You'll flip over how easy it is to switch them out and up.
5. Let Your Creative Sparks Fly
Fireplaces are a timeless and cozy addition to any home, but most landlords forbid them if they're not already integrated in the rental. If you're craving the concept, ignite your interiors with an ambiance that won't require a match. Create your own faux fireplace out of a freestanding mantel or by building your own.
Search thrift stores, consignment stores, garage and estate sales for pre-built mantels that you can prop against an empty wall in need of some flair. Place faux wood logs or candles in the opening to create a vignette. It'll give you an additional surface for a tv and decor, and you can take it with you when you move out. That's functionality on fire.
Enjoy your newfound creative (and lease-abiding) freedom in the space that's much more you.
---
Everything for your move, all in one place
Curate your personalized moving checklist, set up TV & Internet, and more with a free MYMOVE account.
Save on your move and tackle upcoming to-dos with your free MYMOVE account.