15 Tips for Moving Out of State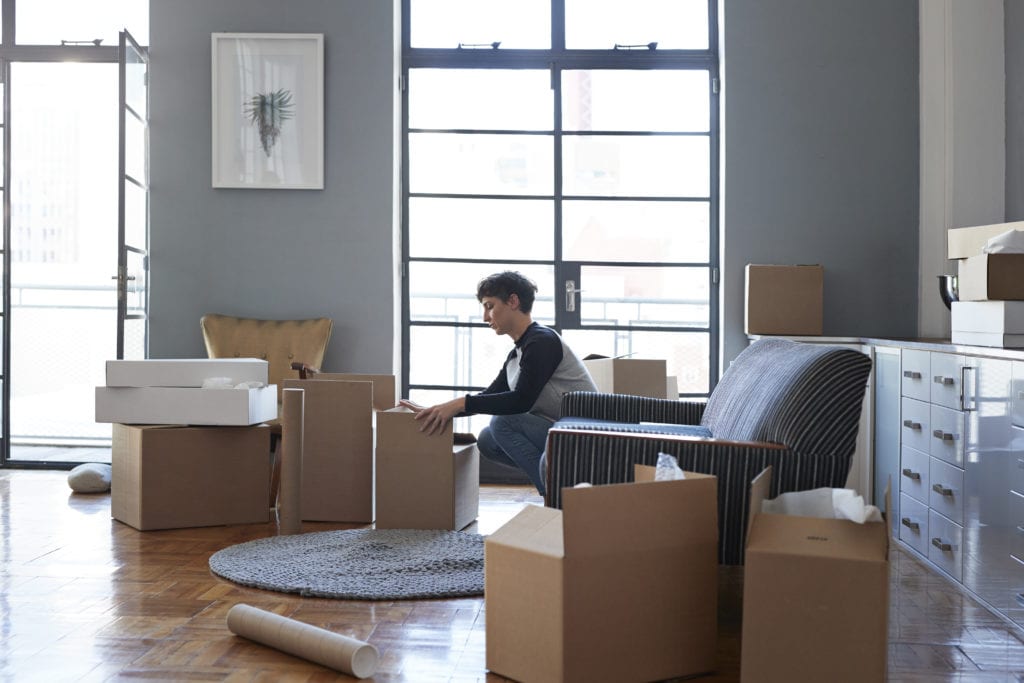 Klaus Vedfelt / Getty Images
Moving out of state requires way more planning than a simple local move. Knowing what to expect, and how to proceed, is half the battle.
You need to decide on whether you want a long-distance moving truck rental or state-to-state movers. You need to think about which belongings are worthy of making the journey. And you need to make a decision about where your possessions will end up at the end of the trip.
This can sound daunting, but don't worry. MYMOVE is here to help you get organized. Refer to this checklist for moving to another state to help you stay on top of everything.
Checklist for moving out of state
1. Plan ahead
Out-of-state moving requires more planning than an in-state move. Compare quotes on long-distance moving truck rental and the costs for having someone else swoop in and move your stuff. Grab free boxes from everywhere well before your move. Store them in a closet or spare room so you can cut down on spending for moving boxes later.
2. Tax prep
Your address change means more than a simple switch in zip codes. Your taxes will change too. Some states, like Washington and Arizona, don't have a state income tax, but you'll still have to pay the federal tax. When you switch states mid-year, you will be responsible for taxes in both places.
3. Go through everything
When packing for an out-of-state move, it's not a case of "Does it spark joy?" but "Is it worth the cost of extra pounds?" Get rid of anything you don't use or can't replace. Bring your stuff to Goodwill or another organization that accepts donations and request a receipt for a tax deduction. Or, post ads on Craigslist and NextDoor.
4. Spend time in your new state and city
Spend at least a week visiting the state you will soon call home. Get a feel for things. Play, eat, and wander around your new town or city. It's a great way to help everyone in the family get excited about the new digs and ease needless worrying.
5. Commit to housing before you move
Ahead of your move, line up your housing — be it a purchase, a rental, or temporary housing — and if you have kids, compare school systems. What may be common in one state, such as school transportation, may be atypical in another. Knowing where you live will make it easier to know what you need to bring, what you can do without, and whether or not you may need storage. Use WalkScore to better gauge if potential areas meet your needs better than others.
6. Upgrade your packing
Chucking your valuables in the laundry hamper for the move down the street was easy. Moving to another state requires thoughtful packing. You'll need boxes, bubble wrap, and plenty of packing tape. Use egg cartons to store small baubles. Ask your neighbors for old newspapers and use your clothing and linens like blankets, curtains, and dish towels, to wrap up breakables.
7. The essentials box
This is an unofficial out-of-state moving rule: Store your important paperwork, like passports, school and shot records inside your essentials box. Don't forget military documents (like the DD214), birth certificates, social security cards, and tax info. If unpacking takes longer than you thought, you'll still have those important docs close at hand.
8. Pack early, pack often
Packing takes longer than you think. Start early. Pack up out-of-season items, and things from your garage, workshop, or basement. Think: books, home decor, and everything in spare bedrooms. Keep packing according to the "least used" status in your home. You don't want to tack on extra, unnecessary hours of work the night before you move. Movers will charge you for any delay.
9. Make sure your new digs are pet-friendly
Do your pets travel well? Are your pets' shot records updated? Speak with your vet. Look into any certification requirements in the next place. Set aside Fido's favorite toys and Fluffy's preferred food bowls to help ease the transition. Bonus tip: Read this state-by-state guide to moving with your pets.
10. Relocation help
Will your employer help with the whole relocating-to-another-state process? If the company you work for is behind your move, what kind of costs do they cover? Do they pay for your long-distance moving truck rental? Lodging? Food? Find out long before the big day. Hang onto your receipts for reimbursement.
11. Network early
Hunt online for social groups in your new town or city. Search for social networking groups, like Meetup, for people in your new city to post events, services, and things for sale. You can find out the town's events, help discover area services, and get more excited about moving to another state.
12. Spread the word
Whether you move yourself or hire someone to help, your life is about to get busy (and stressful). Share the new address with friends and family in advance of your move. You may get offers to help or meals dropped off. Don't forget to update the USPS, other government agencies, your banks and credit cards, utilities, insurance companies, and subscriptions you may have.
Sound overwhelming? See here for a complete change-of-address checklist.
13. Emergency fund
Maybe the moving company needs to change your date or your things will take longer to arrive than planned. Or, you could hit horrible weather and have to hole up in a strange city for a few days. Whatever "it" is, know your finances can handle it. When you're moving to another state, it's important to save a cash emergency fund for life's unexpected detours.
14. Valuable things
Your grandmother's wedding ring, your prescription drugs, and your laptop shouldn't go on the moving truck. Valuable items should be well-wrapped and moved with you. Boxes get lost. Things get broken. Help prevent the worst by planning ahead.
15. One year
Moving to a new place, let alone a new state, can be rough. Know that it takes a year to feel settled and to begin to make friends. It's normal to sometimes yearn for where you used to live, even if you wanted this out-of-state move. Keep in mind you will adjust to the change with time.
The bottom line
Start preliminary planning early when you're moving out of state. Get organized months before your moving date. State-to-state movers need advance notice to coordinate your move. If you opt for a long-distance moving truck rental, schedule well before a penalty kicks in.
Remember to breathe. Moving to another state is tricky, but not impossible. You're about to have a great new adventure.
Frequently Asked Questions
Q:
How much does it cost to move out of state?
A:
A long-distance move costs thousands of dollars. The larger your household, and the more things you have, the more it will cost. The season you move and how you plan to move will also affect your costs. Plan ahead, pare down your stuff, and compare DIY moving rates to those of long-distance moving companies to see where you can save.
Q:
What do I need to move to another state?
A:
Switch your utilities, your internet service, and your mailing address, for starters. You'll also need your tax returns for your last state and your current state so you can file partial tax returns. Your kids will need school records transferred between schools, and any pets will need to follow state guidelines too.
Q:
What's an easy way to cut down on my things before I move?
A:
Pack, purge, or donate your items. When time is of the essence, you can't waste time waffling. If you haven't used an item in the past six months, can you justify its continued existence in your home? Remember, the more things you don't rehome now, the more you are going to pay in moving expenses later.
---
Bring on the savings
Unpack unbeatable deals
We can't sugarcoat it — moving can be expensive. That's why we team up with your favorite brands to help you save on everything you need (and want!) for your new home. The best part? You won't find these deals anywhere else.
VIEW YOUR DEALS