Tips for Moving Alone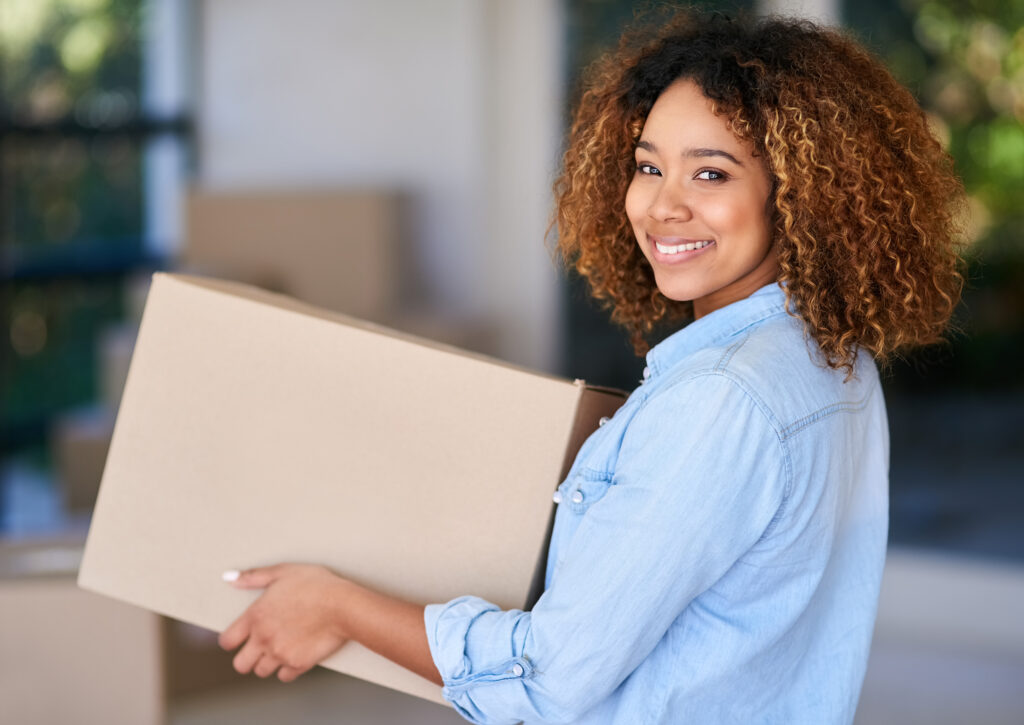 Whether you're moving to a new city alone for a change of lifestyle, job relocation, or simply because you need a fresh start, going at it solo can be stressful. Take a deep breath as you read these 10 must-know tips designed to empower you and your exciting new life chapter.
10 essential tips for moving to a new city alone
Armed with the following tips, you'll avoid unexpected glitches that can happen when moving alone.
1. Research your new city ahead of time:
Moving alone can be stressful because there's a great deal of uncertainty. Whether you're moving across the country alone or just a few towns over from your current location, taking time to research your new city helps ease the new move jitters. Locate the closest grocery and hardware store, gas station, and pharmacy. Review your transportation options and maps if you'll be using the bus, train, or subway.
2. Create a resources cheat sheet:
As you research your new city, create a one-stop-shop document for all your must-have information. Along with details on the local hospital, pharmacies, and grocery stores, make sure to include information such as trash and recycling times, who your utility carrier is, and where to go to register your vehicle or change your license. Try to complete as much of the list as possible before your move.
3. Have an emergency savings fund:
Moving can be expensive with unexpected costs along the way. Factor in the cost of living in your new city before you decide to move alone. Are grocery and gas prices higher? Will you be eating a lot of takeout until you get around to unpacking your kitchen? Do you need to buy furniture? Having savings on hand avoids racking up credit card bills and unnecessary stress.
4. Make sure your mail follows your move:
As you prepare for your move, make sure forwarding your mail is on your to-do list. Filing a mail forwarding request at least two weeks before moving day will ensure bills, packages, and other essential mail items arrive seamlessly at your new address.
5. Pack mindfully:
The burden of preparing and packing falls entirely on your shoulders when moving out of state alone. Think about how you'll transport your stuff when you move, and how you'll unload and unpack at your new place. Now is the time to declutter and donate. It may be easier to sell some of your larger furniture and excess decor, pocket the cash, and purchase new stuff locally.
6. Check out the lay of the land:
Go from tourist to townie by exploring your new city. Get outside and walk, ride, or drive around your town, taking in the sights and seeing firsthand what the locals are doing. Being able to navigate your location easily will help you feel in control.
7. Safety first:
From a safety standpoint, moving to another state alone can be frightening. Give yourself peace of mind by contacting a locksmith in your new location and setting up a time to change the locks on move-in day. Keep the numbers for your local police, fire department, and hospital in a central location.
8. Small mementos make your space feel like home:
Moving out-of-state alone or even to a new city can feel isolating. You've left friends and family behind and miss the comfort of those connections. Avoid feeling homesick by incorporating special mementos into your new decor. Bring along framed photos, artwork, and other items to remind you of joyful moments and the people who care about you.
9. Get to know your neighbors:
It's all about meeting new people when moving to a new state alone. There are so many options in person and online to make new friends. Don't be afraid to introduce yourself and ask for recommendations for the best coffee or pizza place. Or join a local Meetup to get to know people in your community with the same interests as you.
(Note: Some local meetups might not be happening during the coronavirus pandemic. When you meet someone new, suggest an outdoor hang or and virtual coffee.)
10. Be kind to yourself:
Moving is hard. Moving to a new city alone can add another layer of stress. Don't flood yourself with too many expectations. Remember, it takes time to acclimate to a new city —practice self-care by "taking a time out" if you begin second-guessing your decision to move.
Will you be living alone for the first time? Here are some things to consider:
As you embrace living alone for the first time, evaluate what will work best for you and your lifestyle.
Consider co-living:
Moving to a new city alone and then living alone once you arrive may be too big of a step at first. An excellent way to transition is by co-living. With co-living, you will have your own bedroom, but the rest of the apartment or home will be communal. These locations are often fully furnished, which takes the stress of moving your belongings out of the equation. Co-living is an ideal opportunity to form friendships quickly.
Smiling and saying hello goes a long way:
Getting to know your new neighbors on your own can be daunting. But a simple smile, wave, or saying hello can make all the difference. Keep a friendly demeanor to let your neighbor know you're interested in meeting them.
Purchasing second hand furniture:
If you're shopping for used furniture online, be careful. Check with your local police department to find out if there is a designated location in town to meet up with sellers. Never go into someone's home alone.
Shopping local thrift stores like Goodwill is a safer bet.
You're never truly alone if you have a furry friend by your side.
If your new home allows for animals, consider adopting from a local shelter. Taking your dog for a walk or to the dog park also creates a new way to meet people. If your place has a "no pet" allowed" rule, volunteering can be just as satisfying.
The bottom line
With the right planning and preparation, moving to a new city alone can be a thrilling experience. Take time to assess your needs when moving and living alone for the first time. This will set you up for success.
Frequently asked questions
Is it hard to move to a new city alone? 
Moving to a new city alone doesn't have to be hard if you stay open to meeting new people, asking for help, and exploring your new surroundings.
What do you do when you move to a new city alone? 
Get to know your neighbors and community by joining clubs, volunteering, or networking. Creating a solid friend base will help you feel a part of things.
Should I move to a new state alone? 
Moving to a new state alone is a choice that is unique to each person. Create a pros and cons list to break down what is the best decision for you.
How can I make a cross-country move easier? 
Remember, you're in charge of the process. Go into the move with an open mind about what you'll need to bring with you. Create checklists and give yourself plenty of time to prepare.
---
Everything for your move, all in one place
Curate your personalized moving checklist, set up TV & Internet, and more with a free MYMOVE account.
Save on your move and tackle upcoming to-dos with your free MYMOVE account.