Forward Your Mail With The USPS® When You Move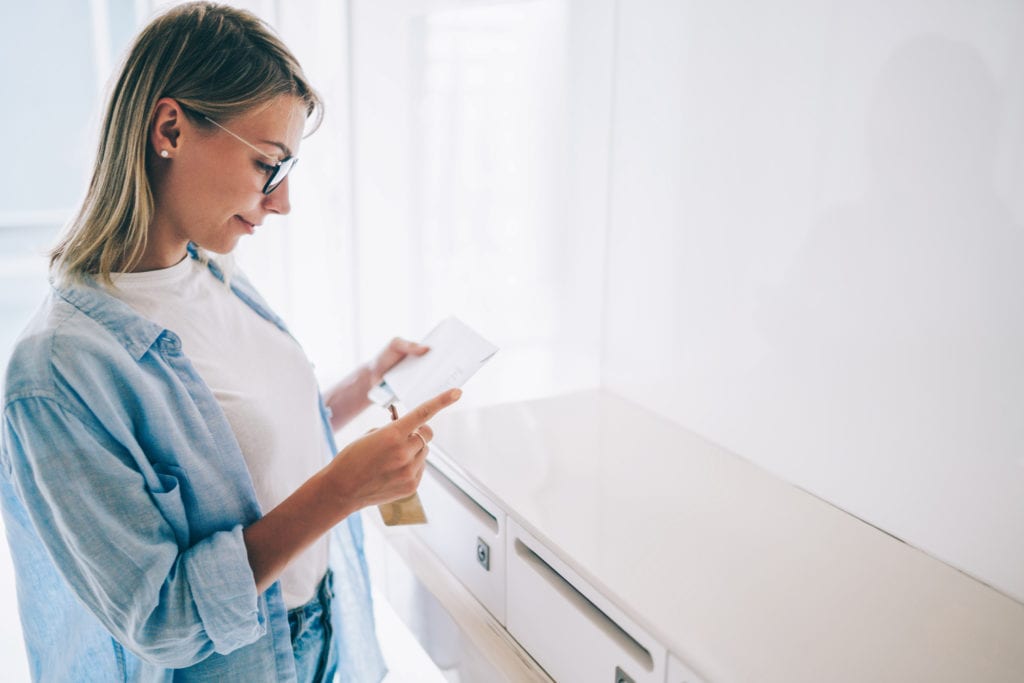 There are a lot of things to consider during a move, not the least of which is how to forward mail to a new address. When changing over services like telephone, internet, and TV, remember to register your change-of-address with the USPS for mail forwarding, too. Read on to find out how to forward mail with the USPS.
Why you should forward mail to your new address
Of course, when you go about moving all your services with you, those companies will know your new address as part of the process. So you may think you don't need the USPS® to forward mail to your new address since everybody already knows.
But no matter how many people you notify about your new address, chances are someone doesn't know you've moved. You could risk missing important bills, notices, invitations, or even packages if the sender doesn't know your new address. Completing a change-of-address with the USPS ensures that all your important mail makes it to you.
How to forward mail with the USPS®
There are three types of mail forwarding services you can select from with the USPS: temporary, permanent, and premium. Temporary and premium options are used for short-term relocations, while the permanent service is for long-term moves. Additionally, temporary and permanent mail forwarding both send mainly First-Class Mail®, but not marketing mail or packages, while the premium option will forward all mail from your old address to your new one.
Standard mail forwarding: How to change your address online
Changing your address online is as simple as a few clicks. By visiting the secure MYMOVE site and filling out a few particulars, you can get it done in a few minutes. To choose this option, you need to have a valid credit or debit card and email address.
You can establish mail forwarding for yourself, for your family, or for your business. Families include everyone in the household with the same last name. If you receive mail under an alternate or maiden name, you'll need to fill out separate applications for each one. You can choose your start date for up to 30 days before you fill out the form or up to 90 days after.
You will have to pay $1.10 on a valid credit or debit card to complete this option — this is an identity verification step to ensure you're truly the person attempting to forward your mail.
Changing your address in person
It's easy to complete your address change in person if that's what you prefer. You can visit a local Post Office™ and fill out a paper packet with all the details of your move.
You can also forward mail with the USPS® Premium Forwarding Service
The USPS also offers its Premium Forwarding Service Residential® (PFS-Residential) as an option to make sure you get all pieces of your mail. For an initial setup charge and an ongoing weekly fee of $21.90, you'll feel secure that all of your critical mail is being forwarded to your home.
How premium forwarding works
PFS-Residential® collects every piece of mail addressed to you or any members of your household, and the USPS® forwards it to your new address in a single shipment each week. The service can last for as little as two weeks and be extended as long as 12 months after your move. To forward mail to a new address this way costs an initial setup fee of $20.10 online, or $21.90 in person, and $21.90 per week after that.
PFS-Residential sends Priority Mail Express® items right away, instead of holding them with your weekly mail, while the rest of the mail is packaged up each Wednesday and sent to your new address via Priority Mail®. Any First-Class Mail® packages that don't fit into the weekly shipment will be sent to you separately with no extra charge. Any standard mail that doesn't fit into the weekly shipment will be shipped at the 1-pound Parcel Select Nonpresort rate, and payment will be due at the point of delivery.
Enroll for premium forwarding online
You can sign up for PFS-Residential® online, too. You'll need to set up an online account to do it, provide all the details of your former and new addresses and the starting date for your forwarding, and set up a payment system.
Enroll in-person at the Post Office™
Just as with the standard change-of-address process, you can sign up for PFS-Residential® at a local Post Office, by filling out the required paperwork. You'll need to be sure you bring two valid forms of ID.
Mail forwarding to a new PO Box™
If you know you'll be moving but you don't know just where yet, you can open a PO Box and start forwarding mail to it right away. To open a PO Box, first search for the most conveniently available box, set up the box online or in person, then fill out an online or paper change-of-address form as you would for any other address. Note that the premium service is not available for PO Boxes.
Other places to change your address
Relying on mail forwarding through the USPS® shouldn't be your only step when you move — update your address elsewhere with MYMOVE's change-of-address checklist.
Make an attempt to contact all of your services, including utilities, financial institutions, and government bodies such as your licensing agency, the IRS, and more so they can forward mail to a new address.
Forwarding mail serves as a backup when you move, but shouldn't be a substitute for notifying important providers yourself.
Frequently Asked Questions
Does the USPS® charge a fee for mail forwarding?
The USPS will forward your First-Class Mail® for free through a standard change-of-address form. If you fill out the form online, you'll be charged a one-time fee of $1.05 for identification purposes. The USPS also offers premium forwarding so that you can receive all of your mail at your new address. Premium forwarding does cost an initial start-up fee of $21.90, plus an additional $21.90 for each week of service.
How long does it take for forwarded mail to arrive?
Forwarded mail will begin to arrive at your new address within seven to 10 business days of your change-of-address date. If you've signed up for a standard change-of-address, the USPS® simply forwards your mail piece by piece. For customers enrolled in PFS-Residential®, all the mail for the week will be collected each Wednesday, then distributed by Priority Mail® to the new address in an expected one to three business days.
Can I forward someone else's mail that arrived at my address?
While you can't forward mail that's misdelivered to your address, if you know it was intended for a previous resident of your address, you can mark the mail with "Not at this address," and put it back in the outgoing mail. If it's been delivered to your address but is clearly intended for another, you can simply place it back in the outgoing mail or return it to your carrier.
Do I have to complete a change-of-address form if I've already notified everyone of my move?
Filling out a change-of-address form will give you time to make sure you've reached everyone with information about your move. Chances are there's still a person or business that has your outdated address, and there's no better reminder for you to tell them than receiving a piece of rerouted mail.
Can I fill out a change-of-address form for the previous resident of my address?
No, it's illegal to fill out a change-of-address form for another person unless you are the parent, guardian, executor, or authorized officer for that person. All you can do is notify your carrier or a local Post Office™ by returning misdelivered mail to them.