Where to Find Free Packing and Moving Boxes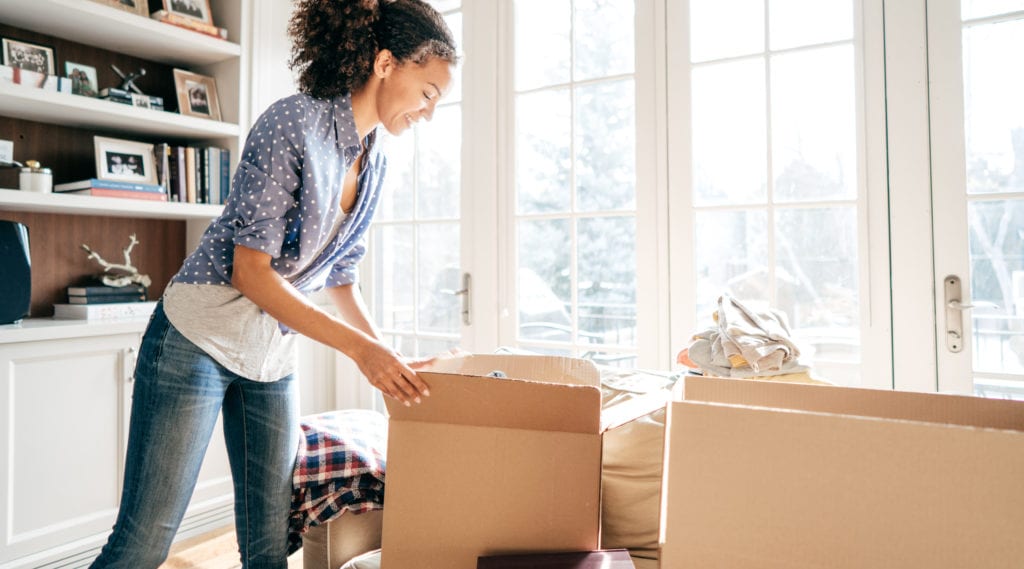 Let's face it — moving is expensive. Moving costs can vary depending on factors like the distance or the amount of stuff you're moving. And costs add up quickly. Not only are movers and truck rentals expensive, but cheap moving boxes are hard to come by. However, with a little bit of planning, and creativity, you can get your hands on inexpensive or even free boxes for moving.
Determine how many packing and moving boxes you need
Instead of rushing to the store and purchasing boxes and other moving supplies, take your time to figure out what you actually need. Start by creating a home inventory. This will help you consider every item you own, and whether or not you should keep it, donate it, or toss it. Decluttering before a move will save you the headache (and backache) of moving things you don't get any use out of.
Once you have a home inventory, it's time to go room by room and tally up the number of items you intend to keep. By making an educated guess of how much will fit in each box, you prevent the mistake of underestimating the number of boxes you may need or buying too many. Additionally, a detailed inventory makes it easy to keep track of your belongings during a move (especially if you hire movers) and will help you find important items quickly.
Pro tip: Keep your home inventory on hand. You'll want it for reference when you start shopping around for homeowners or renters insurance.
Best places to find free moving boxes
There's no shortage of places to go in your search for free moving boxes. Here's 15 places to check:
Friends and family
The easiest way to get your hands on free boxes and moving supplies is by asking people you know. Often, people will hold onto moving boxes for years following their own move. It's likely many of your friends or coworkers have some old, forgotten moving boxes hidden in their garage or attic.
Your office
Many workplaces get regular deliveries of supplies. Ask your office manager if you can snag a few boxes from the next shipment before they're discarded.
Schools
If you have children in school, you may be able to get in touch with the front office to ask if they have any spare boxes. The best time to do this is at the end of the summer or in early fall when the school year has just begun, and teachers have finished unpacking new textbooks for the year.
Local shops
Items are shipped to local stores every day in cardboard boxes. Usually, those boxes are immediately disposed of — unless someone knows to ask for them. Try stopping by bookstores and liquor stores to see if you can repurpose their trash as a box for packing.
Bix-box retailers
Stores like Walmart and Costco go through extremely high volumes of shipments and likely have hundreds of boxes lying around. Call ahead to see if the store has a policy in place to recycle their boxes. If not, you might be able to stop by and take a few off their hands.
Clothing donation centers
Goodwill and Salvation Army both receive clothing donations from the community, and they're often dropped off in moving boxes. Ask if they have any extra boxes that they don't need.
U-Haul Box Exchange
In order to reduce waste, U-Haul provides a platform for those who have recently moved to pass their moving boxes along to the next person who needs it. Users are free to sell their old boxes or simply give them away for free.
Craigslist
To find free boxes on Craigslist, choose your location and look under the "For Sale" section. Under this section, you should see a link that reads "free." Click on it, and it will take you to a page advertising free goods in your area. Use the "search free stuff" bar to look for moving boxes.
Freecycle
The Freecycle Network™ is a grassroots nonprofit made up of members who intentionally reuse items in order to keep waste out of landfills and reduce peoples' ecological footprints. Freecycle is more popular in some states than others, but it's worth seeing if there's a community near you.
Facebook Marketplace
Your Facebook account automatically gives you access to Facebook Marketplace. This functions much like Craigslist and includes posts for free materials. Check back every couple of days to see if you can get your hands on a box for moving.
Community groups
Limited community or neighborhood groups like Nextdoor are booming in popularity, likely because each group is tailored to one specific neighborhood. This means whatever content anyone adds will only be viewed by a specific area of people, making it the perfect place to ask for boxes.
Buying and selling apps
Apps like 5miles, OfferUp, and Letgo are filled with people who want to get rid of things they don't need. Take advantage of it and sift through the app's free materials section for boxes and other moving supplies.
Your local recycling plant
Depending on your city and state, you may have a local recycling drop-off point. As long as there is not a "no trespassing" sign, you can usually pick up whatever someone else has dropped off. Just make sure to check the hours online before you go.
Garage sales
In most communities, Saturdays and Sundays during warmer months are filled with local garage sales. Call ahead of time to ask if boxes are on the list of items that need to go. The garage sale hosts might sell you cheap moving boxes, or they'll be happy to get them off their hands and will give them to you for free.
Your local newspaper
This might sound old-school, but many local newspapers now operate online classified ads sections. Check these postings for community members who have moving boxes they need to get rid of.
Still don't have enough? Here are some places where you can buy cheap moving boxes:
If your search for free moving boxes comes up short or you need to run last-minute to a store, there are places to buy boxes that are reasonably priced. These boxes will have the benefit of being brand new, so you won't have to worry about their condition.
Here are a few places you should check out:
The bottom line
The key to finding free moving boxes is to plan ahead of time. The more time you have to look for boxes, the better chance you'll have of finding someone who simply wants to get rid of them. However, if you're pressed for time, there are still ways to get cheap moving boxes without adding a fortune to your overall moving costs.
Frequently Asked Questions
Where can you get free moving boxes?
There are many places to get free moving boxes. Check online sources like Craigslist and Facebook Marketplace, ask friends and family, and stop by local businesses to find spare boxes people don't want anymore.
Does Walmart have free boxes for moving?
Walmart receives hundreds of boxes each day in shipments and may have some free moving boxes they'd be willing to give you. Call ahead of time and ask politely.
Does Home Depot give free boxes?
Home Depot sells cheap moving boxes, so they may not want to give you any for free. However, it's worth a phone call to check.
What should I do with my moving boxes after I move?
If you manage to find free moving boxes, pass it forward! Offer up your boxes for free on a reselling site, community app, or through the U-Haul Box Exchange.
---
Everything for your move, all in one place
Curate your personalized moving checklist, set up TV & Internet, and more with a free MYMOVE account.
Save on your move and tackle upcoming to-dos with your free MYMOVE account.