Dorm Decor: Damage-Free Ways to Bring Your Personality to College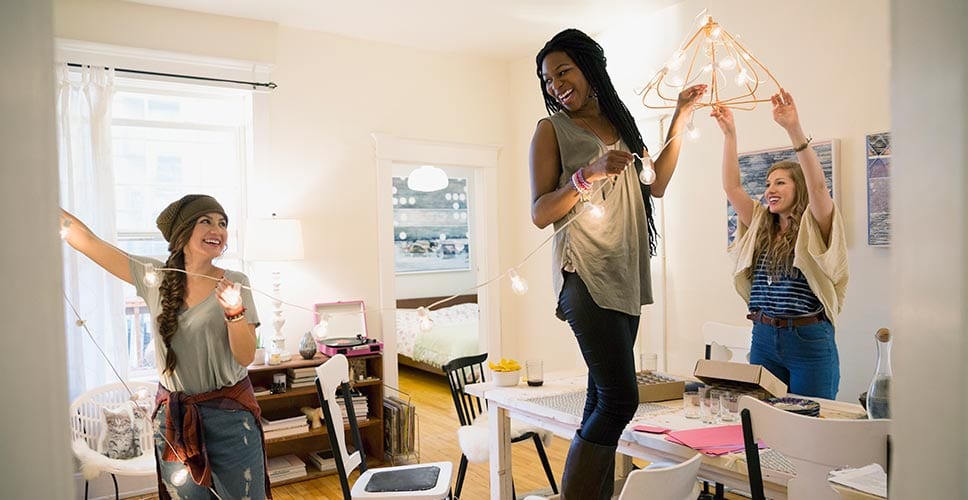 You've just moved into your first very own place, and the excitement is not lost on you. Well, except for the fact that you're not only sharing your place with someone – you're sharing a room.
There's no experience quite like dorm living, but there's also no one quite like you. We totally get that you've got tons of creative college dorm ideas and you're dying to customize your side ASAP – keeping damage-free decor hacks in mind.
Cue our guide of dorm room ideas to find out how to bring your personality with you to college and into your dorm. We can't promise your roommate won't want to spend all their time on your side of the room. Sorry!
6 ways to make the most out of your dorm room decor
1. Improvise your headboard
Many dorms aren't blessed with some of life's simple pleasures – headboards first and foremost. Improvise by hanging (with removable hooks) a large piece of art or two slightly behind or above the bed. Maybe even use some repurposed wood to make a removable headboard and add ambiance with twinkle lights! If you want to get as close as possible to the real deal, use a faux peel-and-stick headboard to have those walls speaking your language. Plus, this removable headboard works double duty by serving as funky dorm wall decor.
Since it's likely you'll crave privacy, create the illusion that you have some (because, let's face it, it is an illusion). Use command hooks to cascade material above your bed or create a curtain canopy for an airy feel. Looking for a softer option? Hang a colorful wall tapestry.
2. Use your bed to create more storage space
Don't forget to up your bed game: risers under your bed frame posts will expand your storage space – and you're going to need it after you've exhausted the one armoire. While you're at it, Amazon Prime yourself a bedside pouch to keep essentials at your fingertips when you just can't get up. The best hack of all? A bed that makes itself. Check out this zip-up bedding that'll force you to make your bed (a.k.a avoid ticking off your roomie). Not that you would ever.
3. Cover walls in creative ways to make them your own
Most dorm rooms come with the disclaimer that you're not allowed to hang things or it's practically impossible (brick is a little bit of a diva). Don't let this rule shatter your gallery wall dreams just yet. Washi tape just became your best friend – and it'll not only keep your favorite pictures up, but it'll give them an artistic edge. Choose a variety of designs and colors for instant frames that'll showcase your personality and make your college dorm decor stand out. If your Instagram is a snapshot of your favorite photography, print some to use as the foundation for your gallery wall. Here are 13 services you can use to print them. No filter necessary.
4. Maximize your small space with versatile items
Decorating isn't as fun when it comes to eye sores like outlets, chargers and that mini fridge your family obligated you to take, but finding ways to use them wisely goes a long way in a small space. Functional dorm room decor like desk lamps and side tables with built-in charging ports will help streamline your many cords and limited outlets. Anchoring a magnetic dry erase board onto your mini fridge will give you a place to jot down random to-dos in a place you're forced to see it – on the door you open the most. Speaking of doors, your dorm or bathroom door can become the backdrop for even more organization. Hang an over-the-door full-length mirror on one and a shoe or toiletry organizer on the other. That is, if you win the coin toss for it.
5. Use a file holder for anything other than files
Let's face it: as a college student, most of your files are going to be electronic-and you're not exactly a file-sorting connoisseur anyway. That file or magazine holder can be used in so many other ways. More dorm room ideas to get your creativity flowing: to organize hair dryers and straighteners; to divide purses; to hold water bottles; flipped sideways as a corner wall shelf; and even as a toilet paper holder. File that in your "to-do" section.
6. Divide and decorate
Back to the whole privacy illusion concept. If there's one piece of furniture that stands out in terms of dorm room ideas, let it be a shelf that can double as a room divider. IKEA shelves (such as the KALLAX) work wonderfully for this. If you're feeling generous, offer your roommate a few shelves to display their own decor on-or even merge pieces from both of your lives to create your dorm's new story. They might just become your new best friend.
The bottom line
Moving out on your own can be tough, but these dorm room ideas can help you add a personal touch to make a generic dorm room feel like home. These days, there are plenty of fun, damage-free ways to infuse your personality into your dorm room decor. From bed accessories to multipurpose items to room dividers, it's easy to create a cool vibe without nails, screws, or power tools. These stylish dorm room ideas will keep you on-trend all school year long.
Frequently asked questions
Are there banned dorm decorations? 
Most colleges and universities prohibit students from bringing items that could be a fire hazard, such as candles, incense, hot plates, and space heaters. You should also stay away from anything illegal or dangerous, including weapons and drugs.
Should I talk to my roommate about dorm room ideas? 
It's a good idea to get in touch with your roommate before the school year begins to talk about your college dorm room ideas and determine what each of you will bring. That way, you won't miss any essential items or double up on anything.
What should my budget be for college dorm decor? 
Since you'll probably only be living in your dorm room for a year, you can keep costs low. It's easy to find affordable items online, or you could even check out second-hand shops in your area.
This article was originally published on October 26, 2018. Updated on June 29, 2020. 
Taylor Freitas contributed to this post.
---
Everything for your move, all in one place
Curate your personalized moving checklist, set up TV & Internet, and more with a free MYMOVE account.
Save on your move and tackle upcoming to-dos with your free MYMOVE account.