How to Host an Estate Sale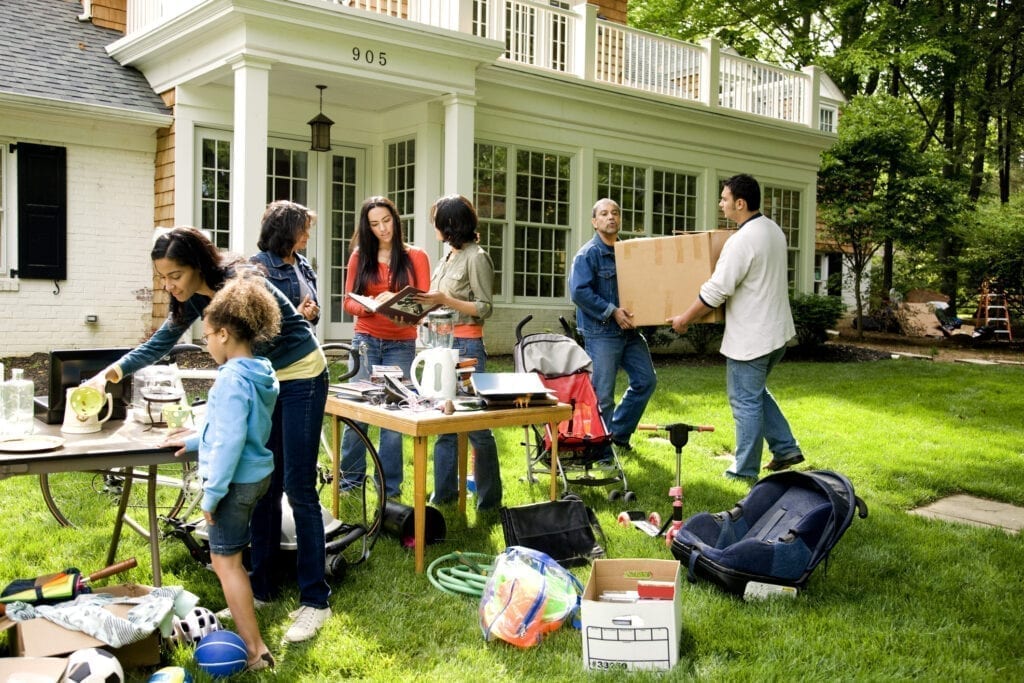 A moving estate sale can be a good way to find homes for possessions that the deceased has left behind, Depending on where you live, holding an estate sale may require the executor of the estate to request permission to hold the sale, so definitely ensure that this permission is secured – talking to your estate lawyer or other estate professional can help you determine if there are any other legal requirements before holding a moving estate sale. Once you've gotten the legal permission squared away, here's how to prepare for and hold an effective estate sale.
Before you throw a moving estate sale
Take inventory
Estate sales often take more preparation than the average garage sale. Many items in the estate shouldn't be placed up for sale because they are either already spoken for, willed to someone in the family, or are far more valuable to the family members than they'd be in a sale. Take time to remove from consideration any item that fits in these or other important categories.
Once you've decided on what items are eligible for selling, you may want to consider whether to host the moving estate sale yourself or work with a professional liquidator or estate sale company. While they may take a portion of the proceeds or a flat fee, the cost could be worthwhile if you and your family don't have the time to prepare the rest of the sale. If you do have the time, however, the steps outlined in the rest of this article are useful for holding the sale yourself.
After you've decided who is responsible for hosting the moving estate sale, the remaining items should begin to be organized and inventoried. The process of pricing for a moving estate sale can be time-consuming, so working from an updated electronic inventory over time can let you do this work incrementally, saving your work and adding price tags as you go.
Research your pricing
Many estates contain items that can be evaluated for pricing using a bit of internet research, and you may decide that a few hours on eBay and comparing prices with pieces listed on existing estate sale websites is all you need to feel confident in setting your own prices.
If you decide to go this route, make sure you locate prices of at least three pieces that resemble the item you're appraising. You want to get your money's worth, but you also want items priced to sell, or else you'll be responsible for storing them.
Some estates will have artifacts or antiques that are potentially very valuable. If you have name-brand furniture or items with a designer history, it could be worth your time to hire a professional appraiser.
If your internet research reveals that one or more objects for sale could be worth substantially more than the cost of an appointment with the professional appraiser, it's often worthwhile to get their opinion on pricing and see about alternative sales opportunities (selling directly to collectors or other markets.) Keep in mind, you want your appraiser to be able to readily tell you how much their services cost, rather than taking percentages from the sale.
Prepare your estate sale items
It often pays to make your estate sale items look as good as possible and to ensure that the tagging you use doesn't damage the item. Consider secure but removable options, like painter's tape or a tag that doesn't puncture upholstery or leave a residue.
Especially for high-dollar items, take the time to clean the pieces the recommended way for their composition (don't Lysol wipe wooden finish when you should use wood polish, etc.). A few new cans or bottles of cleaner are worthwhile if they make an item really attractive to buyers.
Finally, you'll want to stage the estate sale in a way that makes it possible to walk through and view the items in their natural habitat. Moving estate sale items are often staged in the room where they'd be used, so a couch in the living room and a table in the dining room, etc.
For smaller items, especially easy-to-pocket items, create a display in a room where you or another person working the estate sale will always be present to discourage any theft. While you may not deal with any potential thieves, you'll save yourself time and stress if you have someone circulating who is clearly from the family. It's recommended regardless that you don't display small items in areas where they are likely to walk off unnoticed.
Spreading the word
If you have friends or neighbors who regularly visit estate sales in your area, start by asking them how they find out about estate sales. They are your target customers, so advertising strategically where they will see your information is valuable.
You can use community bulletin boards, yard signs, social media marketplaces, and Craigslist to share the word about your sale. For both social media and the more tailored advertising (through an estate sale website), you want to put up some tantalizing photos of the more impressive items in your estate sale, since people are more likely to come and look through all you have to offer if they have their eye on a particular piece.
If all of this work seems like more than you feel equipped to handle, the spreading-the-word component is one place where professional estate sale companies can really shine. It's in their best interest for your sale to go well, so if you don't have the time to devote to cleaning, pricing, and marketing for the moving estate sale, consider whether the costs of a professional estate sale company would be worthwhile to move forward. They will often have a mailing list or another way to get information out to their loyal following, which usually guarantees at least some attendees.
The bottom line
You can choose to take on the moving estate sale tasks yourself and quite frequently you'll find success, you just have to be willing to take the time to evaluate the items you want to sell, price them thoughtfully, and be willing to negotiate on the day of the sale if you have some willing buyers. However, professional estate sale companies are available and are motivated to bring their expertise in sales to the table. For moving more items and getting more visitors to your sale, as well as saving your time, they might be the way to host your moving estate sale.
Frequently asked questions
Both professionals and amateurs can list items for sale on online auction sites. For larger items, however, prohibitive shipping costs can sometimes make holding in-person sales preferable.

EstateSales.net has a search engine for finding estate sale companies near you. EstateSales.com can also connect you to auction and liquidators who can help you hold an estate sale.