12 Dorm Room Ideas to Make Your New Space Feel Like Home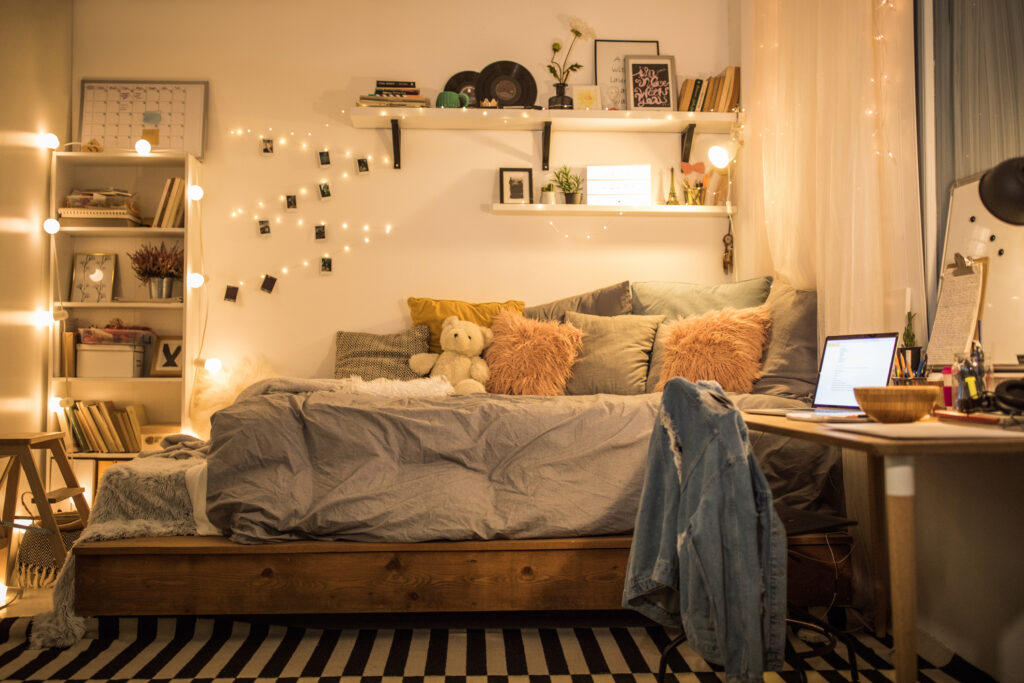 Now that high school graduation is complete, it's time to research dorm room ideas to make your dorm feel like home. The great news is your new room is a completely blank slate. Of course, you need the dorm room essentials, but you also want your room to feel like home. Here are 12 fabulous tips to create a space you'll want to spend time in, even during those dreaded all-nighters.
12 brilliant dorm room decorating ideas to make your space feel homey
1. Create a photo wall
Everyone gets homesick, so reminders of memorable moments with family and friends can help brighten up your dorm room. Photo walls are a fantastic way to cover those dull walls.
Pinterest inspiration: Mix up a few different displays. Attach photos directly onto your wall in a grid pattern or heart shape. Or create a "clothesline" photo collage with wire and mini clothespins.
2. Bring some plants
Adding greenery to your dorm room will help it feel fresh and less basic. Houseplants can be good for your health, so bring a few low-maintenance varieties. No green thumb? Air plants are perfect. Pick out a few cute pots to rest on your nightstand or hang from a hook.
Pinterest inspiration: Create a macramé plant hanger for a bohemian vibe. Grab jute, scissors, a small pot, and a command hook if you'll be hanging it from the wall.
3. Light up the night
If your room has fluorescent lights, a bedside lamp adds a softer glow that mellows, instead of you relying exclusively on harsh overhead lighting. A touch lamp with three levels of brightness is good for different times of day.
Pinterest inspiration: The right lamp should definitely be on your dorm room decorating list. For extra convenience, try a multi-functional one that comes with USB chargers and organization cubbies.
4. Slide into soft sheets and a comfy comforter
A comfortable set of sheets, cozy quilt, or comforter helps keep you sleeping oh-so-soundly. If possible, bring the same brand bedding you use at home. Most dorm beds are Twin XL, so make sure to pick up the proper sizing. Keeping with your color scheme is super easy with bed-in-a-bag options.
Pinterest inspiration: You'll be spending a lot of time in and on your bed. Pick out bedding that looks and feels great, from boho-chic to perfectly plaid.
5. Loft your bed to create a study nook
Many colleges offer the option to set up dorms in a loft layout. Once you have the dimensions and list of furniture provided, you'll have a better idea of what's needed to create the perfect dorm room nook.
Pinterest inspiration: Create a nook underneath your lofted bed and add a study desk to power through homework, a folding gaming chair, or bean bag chairs for much-needed breaks.
6. Add a mirror
Mirrors aren't just for checking your look, they also make your room feel bigger — super important in small spaces. Pick up some peel-and-stick mirrors to create a unique pattern on your wall or door.
Pinterest inspiration: Whether you're into grid patterns or a more free-flowing look, removable mirrors in a variety of shapes and sizes help reflect your style.
7. Create a homey feel with curtains
Is your view less than stellar, or your dorm on the first floor? Curtains add privacy and the feel of a finished room. If you like to sleep in, try light-blocking curtains. For a brighter, airier feel, choose sheer curtains to gently filter light.
Pinterest inspiration: Curtains don't have to break the bank. You can DIY curtains with a long length of fabric (check for discontinued fabric discounts), painter's canvas drop cloth, and shower curtains.
8. Add a headboard
Many college dorms have cement walls — not very comfortable to lean against in bed. Add a comfy headboard to your dorm room decorating plans. Making your own headboard saves money and lets you customize the size and style.
Pinterest inspiration: For a DIY upholstered headboard, grab some nailhead trim, fun fabric, batting for padding, and some fiberboard.
9. Add some twinkle with fairy lights
Proper lighting can be hard to come by in a dorm room. Add festive twinkle fairy lights to your dorm room ideas for a feeling of whimsy. Twinkle lights come in a range of sizes and even color-changing options that can sync with the music.
Pinterest inspiration: String fairy lights across your wall or around your photo collage. Use them to create mood lighting when hanging with friends.
10. Add a plush area rug
Does your dorm room have cement floors or thin, industrial-grade carpet? That's not very cozy for getting in and out of bed. Adding a colorful plush area rug next to your bed adds a pop of color and softness underfoot.
Pinterest inspiration: Make your own area rug. Shag rugs are all the rage and simple to create. With yarn, a latch hook tool, and latch hook rug canvas, you'll have a statement piece for your dorm floor.
11. Create a place for friends to hang
Dorms are traditionally small, so you may need to get creative with seating. Storage ottomans are dual-purpose for seating and tucking away blankets, remotes, or books.
Pinterest inspiration: Create your own no-sew storage ottoman with upholstery fabric, a heavy-duty stapler, and a wooden crate. Or get a pre-fab shelf ottoman for storage.
12. Make your bed extra comfy with pillows
When dorm room decorating, an easy way to add character is with throw pillows. Whether it's a cute Dorm Sweet Dorm or a cheeky Call Your Mother, pillows are a quick way to incorporate your fashion sense.
Pinterest inspiration: Pillows are fairly inexpensive and can be bought individually or in pairs. Or, create your own with fun fabric, fringe, and a pillow insert.
The bottom line
The best college dorm decor not only has personality but also creates a welcoming "home away from home" space. Before move-in day, take time to plan your dorm room ideas. Look online for inspiration — and sales.
Frequently asked questions
How can I decorate my dorm room for cheap?
Before coming up with dorm room decorating ideas, set a budget. If you can connect with your roommate before move-in day, talk about sharing costs such as refrigerators and microwaves. With a little DIY, you can turn Dollar Store items into fun decor.
What should I decorate my dorm room with?
Pinterest is an awesome resource to create a board of dorm room ideas. Keep an eye out for summer back to school sales. Many large retailers have a wide variety of bedding and decor.
Are there off-limit dorm decor items? 
Your college will provide a list of what's permitted in rooms. While you may have your heart set on a tie-dyed tapestry, unless it's fire retardant, you may have to leave it home. Check with your dorm advisor to confirm what you can bring.
How hard is it to decorate my dorm?
Plan to spend a few hours during your move-in day dedicated to dorm room decorating. Find out if your dorm has an elevator, which will make lugging all of your furnishings easier. Bring extra removable hooks and hanging items. Once you settle in, you may want to rearrange photos or posters.