17 Cute Dorm Room Ideas For Decorating Your Small Space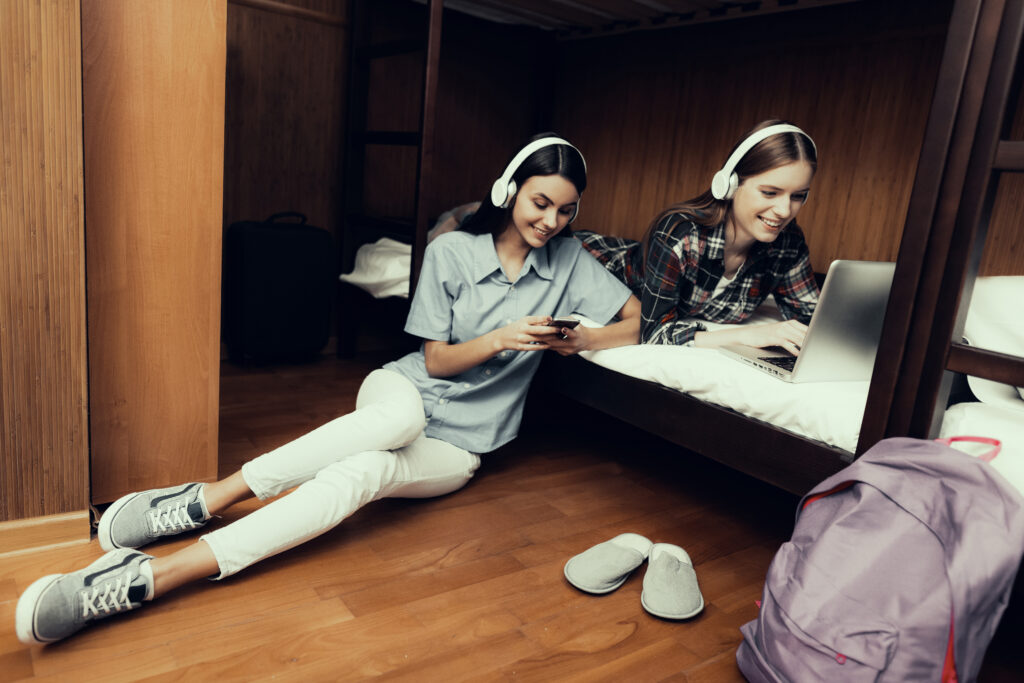 Personalizing a dorm room is an effective way of both making it homey and easing the transition to college life. However, most dorm rules don't allow you to change the room's furniture, layout, or wall color. So in this post, we share cute dorm ideas that will transform the dullest dorm room into a comfortable and vibrant space.
17 cute dorm room decor ideas to inspire your home away from home
1. Think multi-functional
One of the biggest challenges when it comes to dorm room space is making everything fit. You can solve this challenge by using multi-functional furniture. For instance, invest in a bookshelf that doubles up as a reading nook.

[deals-hub-ad]

An ottoman is also an excellent multi-functional piece of furniture. It's a coffee table, footrest, seat, side table, and storage space.
2.Opt for a loft bed
A loft bed is more or less like a bunk bed without the lower bunk. Use the space below for a storage area or create a cozy study and reading nook.
3. Add a comfy seating area
Most dorm rooms already have a chair and a desk. But most dorm furniture is notorious for being uncomfortable and uninviting. One of our favorite cute dorm ideas is to invest in stylish chair pads or even faux sheepskin. Adding a fabulous footstool or footrest makes a space inviting and keeps you comfy.
4. Play around with colorful accents
Your dorm room should be a sanctuary you love returning to. Choosing the right color scheme will help you infuse some personality into typically drab dorm rooms. Avoid randomly picking things you think will match. Find cute dorm room décor sets or themes that define your personality and uplift your spirits.
5. Coordinate the colors
Whether you have a roommate or not, you need to coordinate the colors. For instance, if you love red, your dorm room will look overwhelming if everything is red. Fortunately, Pinterest is full of dorm room coordinating color schemes.
6. Invest in an area rug
Area rugs add a decorative touch to your space without being overbearing. They also create comfort and warmth in the space, especially during the colder months. However, make sure you choose the correct size.
7. Add some greenery
Although adding flowers to your dorm adds vibrant color, they can be hard to maintain — and what if your roommate has allergies? Adding an easygoing green plant or two makes a space look fresh and polished. Greenery also boosts your productivity and lifts your mood. Take advantage of your dorm room's vertical space by adding a few hanging planters.
8. Add wallpaper
Chances are you're not allowed to paint your dorm room walls. But you can add a personal touch with removable wallpaper. You can also make your own wallpaper using fabric sheets sprayed with liquid starch.
If installing wallpaper sounds too intimidating, dorm-safe wall decals make cute dorm decorations. You can use message boards, your favorite flower, animal or character, or a picture of your favorite view. All you need to do is peel and stick them.
9. Hang a few tapestries
Wall tapestries add a splash of color and can help you set a room's theme. You can also use them as a room divider for more privacy. To help with studying, choose something inspiring yet decompressing.
10. Highlight wall photos with fairy lights
Highlight your favorite pictures and quotes using a strand of fairy lights. These come in a wide range of colors and styles and will add life, light, and sparkle to your dorm room.
11. Create a chalkboard for your accessories
Most dorms do not allow you to drill holes in the walls. However, you can always get a chalkboard with hooks to hang all your necklaces and earrings. You can also write inspiring quotes or even your to-do list on your board. No need to drill holes into the wall. Use heavy-duty mounting tape.
12. Include throw blankets and plenty of throw pillows
Throw blankets have a way of making any space appear homey and warm. Fleece blankets are perfect for cold winter nights while quilted throws are lightweight, breathable, and perfect for the summer or spring. Crocheted throws can be used all year round.
You can also cozy up your dorm room space with a variety of throw pillows. These should complement the colors of your bedding, curtains, area rugs, and walls. Go with one color palette or use the basic formula of a solid print, simple print, and busy print. Remember that throw pillows are only meant to add some comfort and pull together your dorm room's décor, so avoid going overboard.
13. Invest in an oil diffuser
Considering you'll be spending a significant amount of your college life in your dorm room studying, sleeping, or hanging out, an oil diffuser can help keep small spaces smelling pleasant and welcoming. Essential oils such as lavender can also help promote sleep and relieve stress.
Make your dorm room feel spacious and less cramped by keeping it organized. Continually get rid of stuff you're not using, reorganize the desk, and schedule a day each week to tidy up.
15. Add some functional lighting
Good lighting is key both for focused studying and for mood. Choose a quality desk lamp with an adjustable head or arm to re-direct the lighting depending on your needs.
16. Use washi tape to spice up the door
Most likely, all the doors in your dorm are the same color and design. Make yours distinct by using washi tape, which is easily removable. Switch your exterior look whenever you want.
17. Add mirrors
Adding mirrors to a small space is the easiest way to create the illusion of more space. Apart from adding depth, they also bring in more light. A floor-length mirror is cool and functional.
The bottom line
Dorm rooms can be uninspiring places at first, with doors, floors, furniture, and walls that are downright drab. Make your dorm room space functional and beautiful with any of these cute dorm ideas. Infusing your personality in your dorm room's décor will make it feel homey and comfortable. Whether you're a minimalist or you go all-out, make your space exude your style and personality.
Frequently asked questions
What should every dorm room have? 
Most colleges have a list of items that are permitted and not permitted. At a minimum, you'll need to bring bedding and bath supplies, laundry and grooming supplies, desk supplies — plus, any decor you want.
How can I make my dorm cute?
For starters, keep your dorm room space clean and organized. For cute dorm ideas, try wall art, stylish storage, an area rug, throw blankets and pillows, and decorative touches that show your personality.
Where's the best place to buy dorm room decorations? 
Some of the places to find affordable and cute dorm ideas are Amazon, Dormify, Pbteen,  Shein, and Target.