10 Things Nobody Tells You About Staging Your Home For Resale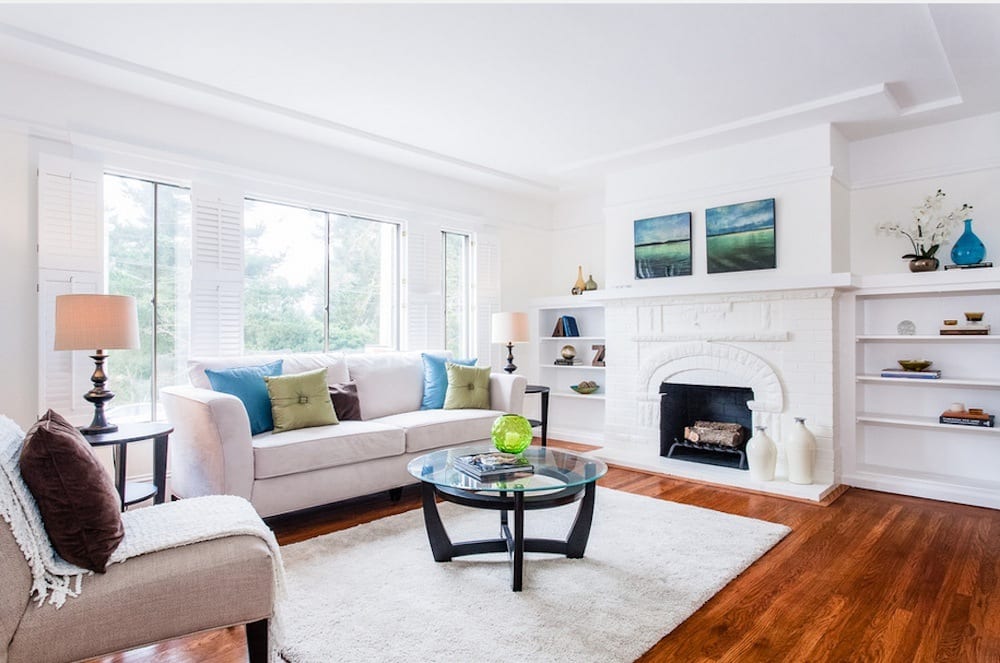 Though it may not be realistic, every home buyer dreams of purchasing a property that looks like it belongs in the pages of Better Homes and Gardens. While you don't necessarily need a state-of-the-art kitchen or fully remodeled master bathroom that looks like you hired an interior designer in order to find the perfect buyer, looks do make a difference. Staging your home, or making it look as aesthetically pleasing as possible, is one of the first steps to putting it on the market. Since many eyes will be on your home during showings and through promotional materials, this is an area in which you'll want to put your best foot forward. Most people know enough to clean their home before potential buyers come to view the property, but here are the a few tips that go beyond common knowledge. Use these tips to set your home apart from the rest.
1. The Exterior Matters Most
The exterior is the very first impression that buyers will have of your property and, if they don't like what they see, they are not opposed to walking away without finding out what the interior has to offer. Make sure your exterior leaves a lasting impression by consistently maintaining the lawn and landscaping, power-washing any siding, and giving shutters a fresh coat of paint. Don't hesitate to add accessories like a doormat or wreath on the entranceway to add an extra welcoming touch. If you don't have a green thumb, it may be a good idea to reach out to a landscaping company for some suggestions. American Society of Landscape Architects (ASLA) recommends that homeowners invest 5-10 percent of the home's value in landscaping in order to achieve the best return.
2. Depersonalize Your Design
Staging your home is different than any other interior design scenario in that this is one occasion where you want to be careful with how much of your personal style shines through in the space. Many different groups of people will be viewing your home – from couples looking for a starter home to established families looking to downsize. It's inevitable that everyone will have different opinions on design. This is an important tip about buying an older home, as often the decor may only reflect your nostalgic design style. In order to appeal to as many of these groups as possible, aim for a neutral appeal. Put away statement decorations and family photos, opt for traditional furniture, and choose traditional colors over trendy ones.
3. Don't Leave Walls Bare
In the same vain, when staging it can be tempting to remove all design elements from your home while starting to pack. Put a few things away, but don't go overboard. Buyers like picturing themselves in a home that looks lived in. Help maintain that homey feel by selecting a few of your most classic wall hangings and leaving them up until the home is under contract. For the greatest visual impact, choose wall hangings that play off of colors already present in the room, hang pictures so they're visually within four to six inches of nearby furniture and, if you're using multiple pieces, maintain consistency in the theme.
4. Create Furniture Groupings
Sometimes when sellers are trying to make a small room seem like it's more spacious, they have a tendency to push all of their furniture against the walls to leave a big open space in the middle. This type of arrangement may leave a lot of open space but ultimately leaves the interior design looking unfinished – a big turn off for buyers. In this situation, it's better to create furniture groupings. First, envision the way the space should be used. Do you have a huge flatscreen TV that requires a lot of seating? Is there a corner in your living room that would serve perfectly as a reading nook? Group the furniture in ways that would make sense for the intended use. Then, make sure that there are clean and direct pathways through the room. You want potential buyers to be able to envision themselves living in your home and one of the quickest ways to do that is by creating a cozy seating area that's fit for conversation.
5. Use Paint To Maximize Space
If you do find yourself needing to make a room appear bigger, the right paint color will do the job. Paint the space that you need to enlarge the same color as the room that is adjacent to it. The matching colors will help potential buyer's eyes flow seamlessly from one room into the next and make both rooms seem like one big space. The shade you choose also makes a difference. While bold colors succeed in making a statement, they tend to make rooms feel smaller and more closed off. When you're trying to create the illusion of more space, opt for lighter colors that will reflect the sunlight. Before painting, be sure to try a few sample colors. Put a small square of each wall. Then, check on them throughout the day to see how they look in varying amounts of light.
6. Add Extra Lighting
Lighting can make all the difference between a good showing and a bad one. You want to ensure that potential buyers can actually see all aspects of your home. Opt for more lighting whenever possible. Natural light is a huge plus where potential buyers are concerned. Whenever you have a scheduled showing during the daytime hours, pull back the curtains and open up the shades to let the sunlight fill the room. Virtually Staging Properties even recommends forgoing traditional curtains for treatments that hang above the windows. In terms of artificial lighting, there needs to be enough to make your home feel cozy during night showings. Pick up a few floor lamps to shine light into any dark corners and routinely check lightbulbs and make replacements as needed.
7. Clearly Define Every Space
Many families have an extra room that is just used for storage or if the house is small, a room that serves multiple functions. While that particular use of space may suit your needs perfectly, it comes off as confusing to possible buyers. Each space in your house should have a singular, clear purpose. For instance, with just a desk and a few bookcases, a messy storage area can be transformed into a home office. Or, a single bed and dresser can pull together a quick guest room. Once you've decided what function of the space will be, take time to de-clutter. Clean out any ancillary belongings and leave the use of the space easy to guess with just a glance.
8. Assume Every Space Will Be Viewed
Sellers like to assume that buyers will stick to the main rooms of the house during the showing. When they need to get out of the house for a showing in a hurry, they'll throw unfolded laundry and other items into a closet, hoping they won't be seen by prying eyes. In reality, potential buyers will look everywhere. Since they're trying to visualize themselves living in the property, they want to gather as much information as possible about the home. They're not afraid to look in closets, crawlspaces, or storage areas. Closets are essential to home buyers and should be clean and organized before a viewing. See 30 of the best walk-in closet ideas on Freshome, here. Make sure these spaces are as presentable as possible. A good rule of thumb to follow is: If you wouldn't feel comfortable showing this area to a guest, it's not organized enough.
9. Organize Personal Items With Storage  
Chances are that you'll still be living in your home while going through the showing process. You don't want personal items like toys, mail, or pet items to be cluttering up your property when potential buyers are taking a look. The easiest way to clear up your home in a hurry is by investing in proper storage. Put a chest at the foot of the bed or line shelves with cute baskets to create a cohesive look while hiding your belongings from view. If you have quite a few items that need storing,  Wendy Van Cott Speight, owner of DECO-The Design Company, recommends renting a storage pod for the time that your home is on the market. Those storage pods also do double-duty since, once the home is sold, you can have it shipped to your new address instead of renting a moving van.
 10. Fresh Touches Impress Buyers
If you really want to go all out when staging you're home, bring in some fresh touches. A new coat of paint to keep things looking new or a vase of fresh flowers proudly displayed on the kitchen table is all it takes. Buyers will pick up on the extra effort to make your property feel homey and it might just be that small detail that gets your house to stand out among the crowd. Staging your home doesn't have to mean a huge interior design overhaul. Like a date or a job interview, it just means sprucing up enough to make a good first impression. The tips in the list above are quick fixes that will make a world of difference in how potential buyers view your property. Follow them if you want your home to be the hottest property on the market.