How Much Does A Mobile Home Cost?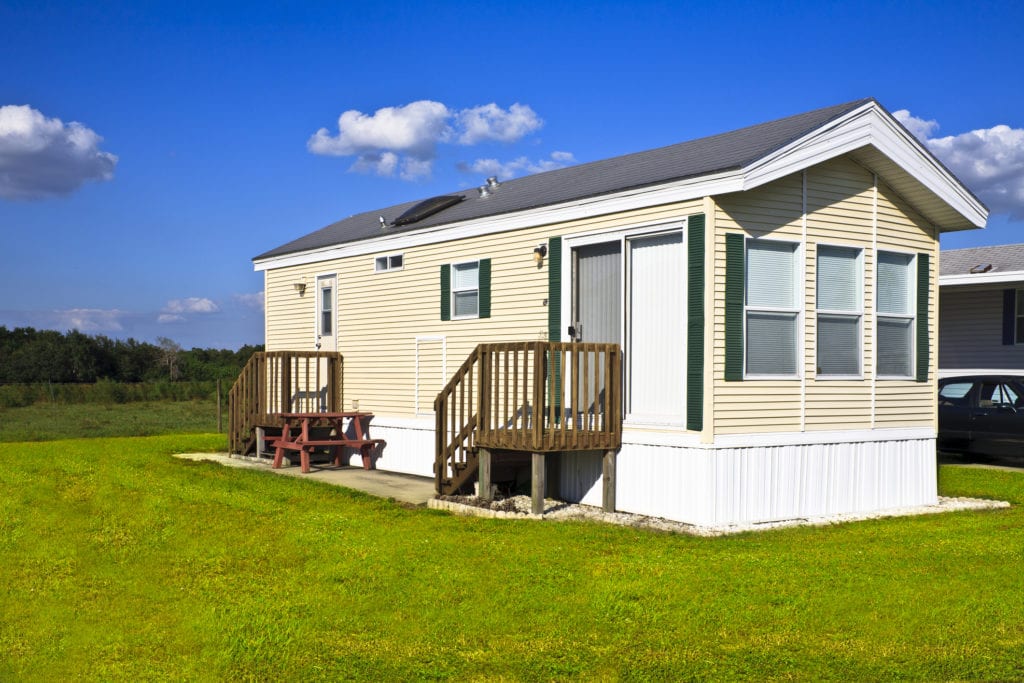 Mobile homes have come a long way since their inception in the 1870s. While these early versions were fairly popular, the current automobile-pulled mobile homes first appeared in America in 1926. At the time, they were referred to as "Trailer Coaches" and were used for recreational purposes as an affordable way of camping or touring the country. After World War II, millions of people who had been part of the military came back to the United States anxious to establish themselves. The bulge in the population brought about unprecedented housing demand. As Americans were coming out of the Great Depression, most of them could not afford regular houses. Not only was the mobile home cost relatively low, but families could also move their trailer home to places where jobs were available.

Eventually, communities featuring these types of homes became a common phenomenon across the different states. In 1976, Congress sanctioned a federal law to regulate the quality and safety of trailer homes.

[deals-hub-ad]

How much is a mobile home? According to the United States Census Bureau, the average cost of a trailer home or mobile home is $81,700. However, different manufacturers have diverse price points depending on the size and structure. Some of the states with the most expensive mobile homes are California and Colorado.
Cost of the structure
The two most common types of mobile homes are single-wide and double-wide trailers. Multi-wide or triple-wide trailers are also available. The square footage of each type varies considerably as different manufacturers offer different models and dimensions.
A single-wide mobile home provides between 600 to 1,300 square feet and their dimensions are 90 x 18 feet or less. The average cost of this type of trailer home is $40,000 if it's new. Used single-wide homes cost between $10,000 to $25,000. As the name suggests, a double-wide trailer is meant to be twice the size of a single-wide mobile home. Their square footage ranges from 1,000 to 2,300. An average double-wide trailer is 56 x 26 feet and it costs about $75,000. A triple-wide trailer has the maximum square footage, with the largest one being about 3,000 square feet. The average cost for this kind of trailer home is $100,000.
Cost of the land
Once you have chosen your mobile home, you can either purchase land or lease a lot in a local trailer park. The cost of either option depends on your location. For instance, a plot of land in California can cost you as much as $2.5 million, while the same-size lot could be as little as $20,000 in Arizona. The average cost of renting a lot is about $380 per month. However, this cost may increase if you have access to park amenities such as recreational areas, swimming pools, parks, and so on. Try to be mindful of purchasing a lot owned by a private equity firm.
What can impact mobile home cost?
How much is a mobile home after the cost of the land? Apart from the price of the unit and land-related costs, other factors that may influence the cost of a mobile home are:
Delivery
Most mobile home manufacturers offer free delivery, provided the site is within a specific radius. You will be responsible for any additional expenses incurred beyond this radius.
Utility connections
Once you've purchased your mobile home, connecting to common utilities such as cable, electricity, internet, sewage, and water will influence the final cost. The cost of the utilities varies from one location to another. However, the costs are significantly lower if your mobile home lot is within a mobile home park where the utilities are already set up and just need to be connected. Should you decide to put up your mobile home yourself on a piece of land you've purchased, you will have to shoulder the costs of establishing and connecting to key utilities. Getting permits, especially if the land has never been built on before, will quickly add to the cost of owning a mobile home.
Customizations
Most mobile home manufacturers have room for customized exteriors and interiors. On the exterior, you can add siding or even decorative doors. Interior customizations include adding appliances, built-in desks, a fireplace, or shelving. All these come at an additional cost.
How much does it cost to move and set up a mobile home?
While mobile homes are affordable and convenient, they are not as easy to move as the name implies. Moving a trailer home not only requires careful planning, but you'll also need the right equipment (preferably from a moving company), permits, and insurance.
The cost of moving ranges from $1,000 to $20,000 or even more depending on such factors as the distance and the size and condition of the home.
Most moving companies charge separate fees for disassembling and setting up your mobile home. These services may include removing and reinstalling such features as a porch, the skirting, or utilities.
Financing options for your mobile home
Just like conventional housing, there are different ways of financing your mobile home.
A mortgage loan: The advantage of applying for a mortgage to buy your mobile home is that you could qualify for better repayment terms, significantly lower interest rates, and even tax deductions.
Personal loan: Compared to conventional homes, mobile homes are much cheaper, which makes it easier to finance one through a personal loan as opposed to a mortgage or specialized loan. You typically do not need to provide collateral for personal loans. However, personal loans tend to have higher interest rates compared to mortgage loans.
A chattel loan: This is a special type of loan that caters to mobile homeowners who lease the lot on which the home sits. The down payment of a chattel loan can be as low as 5%. However, its interest rate is quite high.
The bottom line
Mobile homes range from less expensive narrow structures to large, airy rooms with upscale amenities like walk-in closets, gabled roofs, recessed lights, and other accessories that you would find in a regular home. While they have their downsides, they can be an affordable housing option.
Frequently asked questions
How much does a permanent foundation for a mobile home cost?
It's difficult to point out the exact cost of a permanent foundation for a mobile home as there are various types. The final cost will also depend on your location.
Is it worth buying a mobile home?
Yes. Most mobile homes are a low-cost option compared to stick-built homes. Homeownership can be easier to achieve with a mobile home. Their cost per square foot is also lower.
Is it cheaper to buy a manufactured home?
Yes. Most potential mobile or trailer homebuyers choose manufactured homes due to their relative affordability. Their quality can also be better than that of many traditional homes as they are governed by HUD building codes.