How Much Does It Cost to Move a Mobile Home?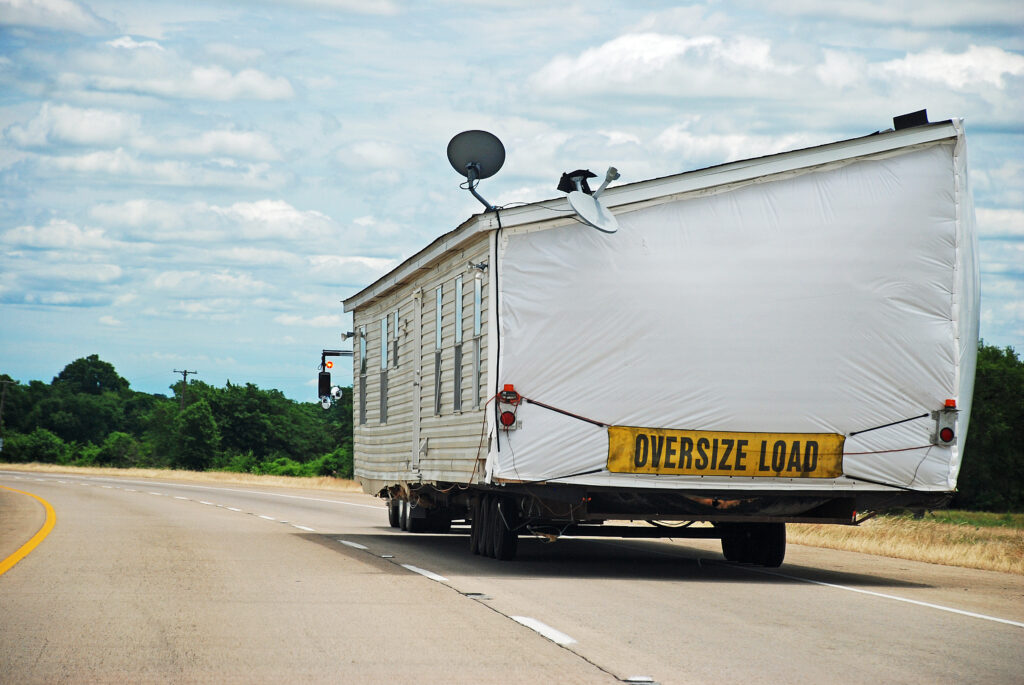 If you're looking to move a mobile home for the first time, it's not as easy as hitching it to a truck and pulling it to your destination. There are several questions you need to answer before you start the move. How much does it cost to move a mobile home? What kind of permits do you need? What kind of mobile home do you have and how big is it? What's the condition of the mobile home? You need to consider all of this and more when calculating how much it will cost to move your mobile home.
What costs are involved in moving a mobile home?
The first thing to consider when budgeting for moving a mobile home is how much the mobile home movers will cost. While technically you can move a mobile home yourself, it's not allowed in most states. Movers train to do this type of work and they do it much more often. Additionally, companies that move mobile homes have insurance should anything happen, which you won't have if you're attempting to move your own mobile home.
The first question mobile home movers will ask you is what kind of mobile home you have. Single-wide? Double-wide? Something else? You'll know based on the dimensions of your home.
You'll also need to share specifics such as the exterior of the home — metal, vinyl siding, etc. and what year you bought your home. The movers will want to know the condition and the year can help estimate that.
The final question is the most important: How far will they be moving you mobile home? Are you going across the state or across the country? All of these questions help the movers determine a price estimate for your mobile home transport.
What goes into the cost to move a mobile home?
The cost to move a mobile home can range from $1,000 to upwards of $20,000 depending on the condition of your home, size, length of the move, and more. If you're moving your mobile home less than 100 miles, it can usually be done by movers for less than $5,000. For longer moves, you can expect extra fees of $6 to $15 per hour in transport costs.
Here are some factors that will affect the cost to move your mobile home:
Double vs. single wide: The size of your mobile home will determine how much a move will cost.
Vinyl vs. metal: Whether your home is made with vinyl or metal siding and skirting also factors into the price of the move.
Moving to/from a basement/crawl space: Is your mobile home built on a basement or a crawlspace? Or do you plan to place your mobile home onto a lot with a basement or a crawl space?
Extra luxuries: Does your home have an air conditioner, awning, shed, or deck? The mover will need to know, and most likely, these will increase the price. Those add-ons will need to be factored into how they move your home.
Distance to travel: This is one of the biggest factors in how much moving your mobile home will cost. Are you moving your house in-town or across the country? Estimate how many miles you're going to travel before you talk with movers.
Cost of a permit by state (usually between $15 and $100): While the fee for a mobile home moving permit might not be huge, it is still something for which you'll budget.
Extra services: Do you want the movers to clean up the lot after they move your home or other perform services? Make sure you calculate those costs into the budget.
Condition of the home: The age and condition of your mobile home also factors into how much the move will cost. If the movers need to secure your home more than they usually would, the price may go up.
Do I need mobile home movers or can I do it myself?
If you're wondering how to move a mobile home yourself, it's a tricky subject. While it may seem like it would cost less to move a mobile home yourself, that is not always the case. There's a lot to consider: The mobile home has to be up to code; you have to have the proper permits and certificates for the place you're going; and you will probably want to have insurance on the home while it's in transit.
These are all things moving companies deal with every day and paying them to help you with this process can make it much easier. A mover can ensure the house is up to code, gather the permits, and have their own insurance that will cover any issues if your mobile home is damaged while it's being transported.
But it's not just the permits and insurance that make working with movers the preferred method. Most states actually require you to work with licensed movers. This is to make sure the home gets there in one piece and to ensure other drivers are safe.
Mobile home movers must apply with the state for a license to do their job, so they are regulated and tested to ensure they're doing their job properly. You may pay a heftier price for their service, but it's more than worth it.
How do you find the right movers for you? Research. Look into a bunch of movers in your area, look at the differences in cost, and then meet them. Ask for referrals from past customers — if they don't have any or are reluctant to offer them, that could be a red flag. This is your home; you want to be sure they know what they're doing.
How can I avoid paying too much when moving a mobile home?
Avoiding paying too much is all about doing your research. Look into as many mobile home movers as you can. Get estimates, look at reviews, get referrals, and check them out. The more movers you look into, the better idea you'll have of your estimated costs. From there, you can decide which mover is giving you the best deal.
You also want to check out what the moving company is including in their price. Are they cleaning up your plot after they move the home or do you have to do that? Will they move sheds, awnings, or decks you've added on to your home? You'll want to know if they offer these options and if so, will it cost you more money?
It's also very important that you ask about the mover's insurance. It might be factored into the price, but not always.
After looking at the prices and everything that goes into moving a mobile home, you might be wondering if simply buying a new home at your destination is cheaper. It's possible — but it depends on where you live as prices change regionally.
According to the Census, the average price of a single wide mobile home in the Midwest was $53,800 and $61,200 in the Northeast. If you compare that to the price of moving a mobile home, buying a new one is much more expensive. Additionally, that mobile home price does not calculate into the price of the land you're putting the home on.
Frequently Asked Questions
How much does it cost to move a mobile home?
The cost to move a mobile home can range from $1,000 to upwards of $20,000 depending on the size of the home, the condition, how far you want to move it, what materials your home is made out of, plus a lot of other factors.
Do I need a permit to move a mobile home?
Absolutely! Almost every state requires you to get a permit to move a mobile home to a new lot whether that be in-state or to a different state. Mobile home movers will acquire these permits for you should you choose to hire them.
Is moving a mobile home safe?
It should be if you hire the right people who will insure the trip and account for safety variables. Professional movers will make sure your home gets to its destination safe and sound.
Can I move a mobile home myself?
Probably not since it's prohibited in most states. Companies that move mobile homes and who install homes know more about the process and how to do it right. Getting help makes the process so much easier.
Do different states have different laws pertaining to moving a mobile home?
Yes, and you need to check them out when moving from one state to another. You don't want to have to pay a fee or get in trouble because you didn't know what the state required. Your mobile home moving company should know what permits and certificates you need, but doing your own homework is important, too.