Townhome or House: 8 Factors You Need to Know to Decide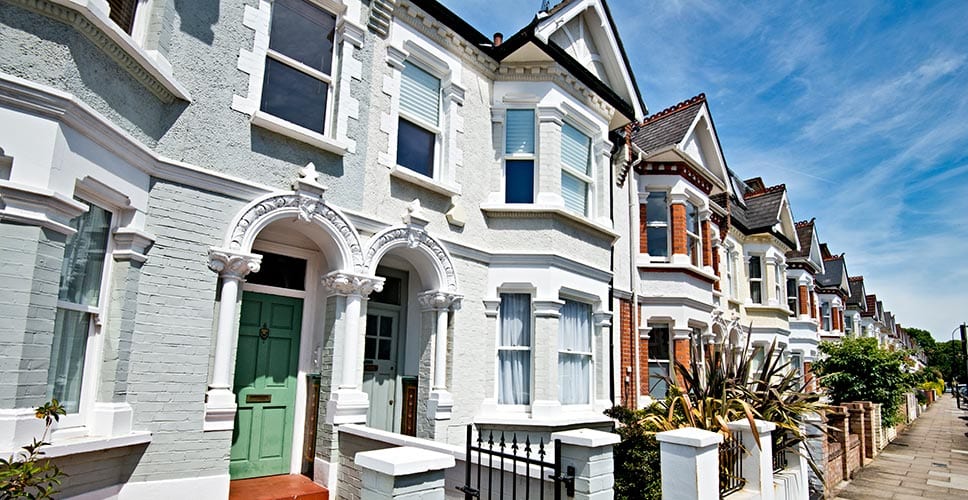 Congratulations! You've decided to send the rental life packing and settle down in a place of your own. The next thing to decide: Which type of place is best suited for you. Townhome or house? Spoiler: There are benefits to both!
Having trouble choosing? We're here to help with some tips, facts and expert opinions regarding the most important factors to consider.
1. Square Footage
There's not a significant difference here. According to the American Enterprise Institute (AEI), the median size new house build is 2,467 square feet. Townhomes built today aren't much smaller, averaging 2,220 square feet. The square footage between the two may not differ much, but a townhome shares walls with neighbors and, depending on the construction, you could hear your neighbors' music, heated discussions, or barking dog.
2. Green Space
Do you want a big yard that a single family house boasts, or just enough green space to relax in a lounge chair? Townhomes generally sit on a postage-stamp-sized lot (a slight exaggeration). If you're not a fan of mowing or trimming the hedges, a townhome may fit the bill, as these things are generally handled for you and included in the homeowners' association fees (HOA).
3. Townhome HOA Fees
Most townhomes are in planned communities with a homeowners' association. Simply put, this means you'll pay monthly dues (in addition to your mortgage payment) to maintain the property, the land, and the common areas within the community.
"A townhome development with full amenities, such as a gate (and sometimes even guarded entry), fitness facility, pool, and clubhouse will be higher," says Jane McAuley, a Realtor with Coldwell Banker. "Most townhome communities cover water, trash, and sewer, but some developments also include gas, cable, and internet. That can be a huge savings on the homeowner's monthly expenses."
4. Single Family House HOA Fees
Single-family houses in certain subdivisions or gated communities can also be part of an HOA. Monthly dues are required here as well, but the HOA rules and regulations will likely be less strict. For example, you may be able to choose your own exterior paint color, but be required to have the same uniform mailbox as everyone else. You'll probably have to mow your own lawn and clear your driveway of snow but the community roads will be serviced by the HOA. Make sure to ask these important questions before buying a house in an HOA.
5. Are You a High or Low Maintenance Homeowner?
Owning a home comes with its fair share of ongoing maintenance. For weekend warriors, fixing the eaves or patching the roof is just par for the course. The townhouse owner has a lot less to worry about.
"Generally, the homeowner is responsible for walls-in, and the HOA is responsible for all exterior features of the building — including the roof, paint, lawn, termite, and pest control," says McAuley. "As an example, the HOA would be responsible for spraying for pests outside of the home, and the homeowner would be responsible for pest control inside the home."
6. How Do You Feel About Rules?
Owning a single-family home means you're king or queen of your own Camelot. You can paint your house purple, park an RV in your driveway, board two rottweilers and a cat, and prominently display an inflatable Santa Claus in the front yard during the holidays. Townhouses in HOAs may cramp your lifestyle if you like a little more freedom.
"They typically cover architectural restrictions, paint colors, landscaping limitations, parking, and pet rules, to name a few," says Mary Ann Graboyes, Realtor at Keller Williams Real Estate in Blue Bell, Pennsylvania. "Before purchasing a townhouse, it makes sense to get a copy of the HOA rules so you can make an informed decision to buy."
7. Taxes, Taxes, Taxes
The land a single-family home sits on generally means higher taxes in comparison to a townhouse, which more than likely sits on less land.
"Taxes are based on county assessments, taking into account several factors. Those factors include land, square footage, and recent sales, so the fact that most townhomes do not have the land that a single family home does might reduce the tax base," says McAuley.
Here's what you should know about taxes if you are a first-time homebuyer.
8. What Kind of Neighborhood Are You Looking For?
Houses are abundantly available in just about any type of neighborhood, but townhomes are primarily built in medium-density neighborhoods, offering the convenience of shops, grocery stores, and restaurants within walkable distances.