Buying a Home for the First Time? Here are 10 Tips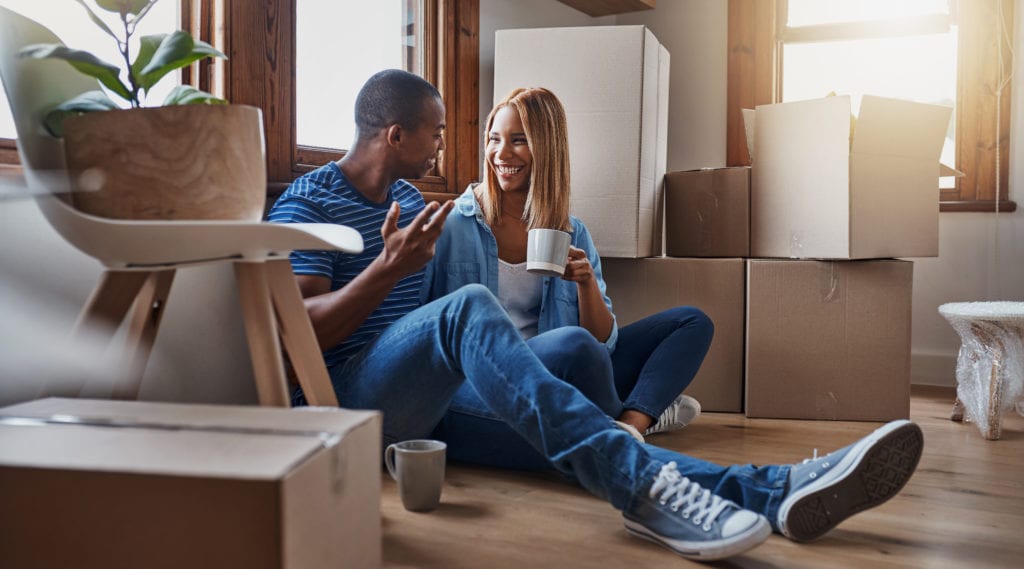 The fact that you're reading this means that you're thinking about buying a home for the first time. Congratulations potential first-time homebuyer!
We know you've probably heard lots of high-stress stories about buying a home that are making you question if you're even ready for this major life decision. Well, MYMOVE is here to tell you that with the right research, planning, and our first-time homebuyer tips, your first time buying a house can be an awesome and smooth experience. So, let's make it one, why don't we?
Here are the best tips you need to know as a first-time homebuyer.
 10 tips to follow when buying a home for the first time
1. Ask yourself, "How much house can I afford?" 
This is one of the most important questions that all first-time homebuyers will have to answer. When home shopping, it's critical to know what home prices you should be searching for — before you start house hunting. You don't want to fall in love with that $500,000 dream home when you can only afford $150,000.
To determine what you can afford, add up what you earn each month. Then add up your monthly expenses, including credit card payments, student loans, groceries, utilities, etc. To figure out how much house you can afford, plug your numbers into a house affordability calculator to get an idea of a monthly payment you can afford.
Once you know your suggested monthly payment, you can use a mortgage calculator to determine the cost of the house.
2. Don't forget to factor in other expenses related to buying your first home
The calculator will include the required homeowner's insurance and property taxes in your monthly payments, which you'll have to pay along with your mortgage. But those are just a few of the many expenses you'll need to take into consideration.
You'll want to put aside some money every month for other expenses associated with homeownership, like home maintenance and repairs, and community fees. The amount varies based on your living situation, but factor in at least $100/mo. just to be safe.
3. Search for first-time homebuyer grants, programs, and loans
Now that you've got a good idea of what you can afford, it's time to look at your loan options.  Since this is your first time buying a home, there are federal assistance programs and first-time homebuyer grants that may be available to you.
Here are a few popular programs, grants, and loans available to first-time homebuyers:
National Homebuyers Fund: This is a location-specific grant program providing downpayment assistance to qualifying first-time homebuyers. This grant does not have to be repaid and offers up to 5% of the loan amount to help with closing and other associated costs.
VA loans: For veterans or active duty military, VA loans typically offer 0% downpayment loans. The VA also offers grants to disabled veterans to assist with the purchase of their home.
USDA loans: USDA loan programs are specifically for those who wish to live in rural areas but do not have the income available for a downpayment.
FHA loans: These loans are available to people who cannot afford a 20% downpayment and may not have high credit scores. Depending on your credit score, FHA sets a down payment option as low as 3.5%.
HUD Good Neighbor Next Door loans: This program isn't limited to just first-time homebuyers, but it's only available to firefighters, police officers, teachers, or emergency medical technicians and is location-specific. With the proper commitment, this program can save a homebuyer up to 50% off the list price of the home.
Local first-time homebuyer grants: There may be first-time homebuyer grants available to you that are specific to your state or county. Ask potential lenders for details on the grants available in your area.
4. Start improving your credit score today
Your credit history is one of the deciding factors for loan approval. Although you can buy your first home with less-than-perfect credit, it's likely it will cost you more in interest over the life of the mortgage. Don't neglect your credit score until it's time to buy your first home.
Consider the following steps to start improving your credit score today:
Step 1: Order and review your credit report. You can get a free credit report to make sure what's on there is accurate. Dispute any errors in your credit score right away.
Step 2: Pay down your debt. Lenders and the credit bureaus will look at how much debt you have in relation to how much money you make. Known as the debt-to-income ratio, paying off as much debt as you can improves your credit score — and your chances of being approved for a home loan.
Step 3: If you have a good history with your credit card provider, request a credit line increase. But don't spend more! Having more credit available than you actually use will bump up your credit score.
5. Get pre-approved for a loan before you start looking for houses
Getting pre-approved for a loan tells sellers that you are a serious home-shopper and gives them the assurance that your loan would likely be approved if you go under contract on their home. It will also save you from the disappointment of finding a home you love and not qualifying for the loan.
Here's how you get pre-approved for a loan: 
Choose a lender to seek pre-approval with. Keep in mind that you're under no obligation to proceed with a loan with a vendor just because they pre-approved you.
Complete a pre-approval application that includes the loan amount. The application will ask for basic information, plus your financials, like your income and expenses.
Wait while the lender does a hard inquiry on your credit report. The lender will then contact you to tell you if you're pre-approved or declined. You can provide your pre-approval status to sellers when you make an offer on their home.
6. Start saving for your down payment early
Although there are some mortgage options that require no down payment, most mortgages do require one. But what is a down payment, really? A down payment is an amount of money you must pay in a lump sum to the seller. The standard conventional loan down payment can be up to 20% of the home value. That means if the home costs $150,000, you will need $30,000 to pay as a down payment. Sounds like a lot of money, huh? We get it.
If you don't have enough for a down payment right now, we recommend creating a budget and savings plan before you even start looking for a home. Once you've achieved that savings goal, you can proceed with your home search.
It's in your best interest to save 20% — even if your mortgage lets you purchase the home with less, you'll have to pay an additional Private Mortgage Insurance (PMI) every month until you've paid the loan down to 80% of the home value. Save yourself on the extra insurance by having a 20% down payment ready.
7. Decide on how you will search for your first home
Having your own real estate agent can be invaluable and is highly recommended. The agent can guide you through the ins and outs of searching for, negotiating, and buying your first home. They'll be 100% on your side to ensure you're getting the best first home for the best price.
You can also house hunt online or by downloading house-hunting apps from companies such as Zillow, Trulia, Homefinder, or Opendoor. These real estate apps and house hunting services make the home-buying process virtual, so you can check out homes and even buy one, all from your smartphone or computer.
8. House hunt with an open mind
It's normal to go into the home-buying process with many hopes and dreams for your first home. But be sure to go into the process with an open mind that's willing to shift and move based on your affordability and availability of homes.
Things to consider when shopping for your first home:
Make a "must-haves" list: What are some non-negotiables you have for your first home? Perhaps you have a dog and must have a fenced-in yard, but don't want to drain your savings on getting one installed. Perhaps you must have at least two bedrooms. Does the home need to be within a certain proximity of your job due to gas costs? Does the home need to be turn-key ready to move in?
Make a "would love to have" list: These are things you want but are not deal-breakers. This might include things like an open floor plan, big bathrooms, hardwood floors, particular paint colors, etc.
Be willing to expand your search location: Five minutes in one direction or another can make a big difference in home prices. Just don't forget to consider added fuel costs if you expand your search very far from your job location.
Consider DIY options: With a tremendous amount of resources now available online for DIY'ers, don't rule out home options with small issues that you might be able to easily and cheaply fix yourself. If you're a visionary and know your way around home renovations, maybe consider a fixer-upper!
9. Know that it's alright to slow down the process
Once you've found the perfect first home for your needs, it's normal to want things to move quickly so you can get the keys and officially make it your own. It's also possible that you may feel rushed by the sellers or even by your real estate agent.
Just remember, buying a home for the first time means signing up for one of the biggest debts most people will ever have, and it's important not to rush. Instead, take your time, and be sure you understand and feel comfortable with the big commitment you're about to make.
10. Don't forget about closing costs
In addition to the purchase price of your new home, you will want to be prepared to pay closing costs to your lender. Most closing costs range from 2% to 5% of the loan amount. Closing costs are the costs associated with the loan process and might include:
Appraisal fee
Title search fee
Origination fee
Inspection fee
Escrow funding
Homeowners association fee
Closing fee
Also, watch out for potential fees — some of which might even totally surprise you (like credit report fees, pest inspection fees, loan discount points, and even underwriting fees). There are also other costs you may not think of, so be sure to do your research!
The bottom line for first-time homebuyers
Buying your first home is an exciting step. Just because it's a big step doesn't mean that it has to be stressful. You'll need to plan ahead by working on improving your credit score, saving for a down payment, and looking at loan programs to find the best one for you. Once you're ready, you can get pre-approved for a home loan and start the exciting process of finding and buying a home for the first time.
Frequently Asked Questions
What credit score do you need to buy a house for the first time?
The higher your credit score, the better terms and interest rate you'll likely get on your mortgage. Credit scores may vary by the mortgage lender, but you should aim for a score of at least 680. If your score is lower, you may still qualify for a home loan — the FHA has mortgage loan programs for individuals with low credit scores.
What is the maximum income to qualify for first-time homebuyers?
There's no maximum limit to how much you can earn in order to qualify. On the other hand, you'll be required to show you earn a minimum amount. Lenders will likely consider your debt-to-income ratio to decide if you can afford the payments.
How do I find a realtor as a first-time homebuyer?
The best way to find a first-time homebuyer agent is to ask other friends and family members for recommendations. Make sure you meet with more than one so you can choose the agent that works best with your personality and needs.
Cynthia Paez Bowman contributed to this article.
---
Everything for your move, all in one place
Curate your personalized moving checklist, set up TV & Internet, and more with a free MYMOVE account.
Save on your move and tackle upcoming to-dos with your free MYMOVE account.