What to Know Before Buying a Fixer-Upper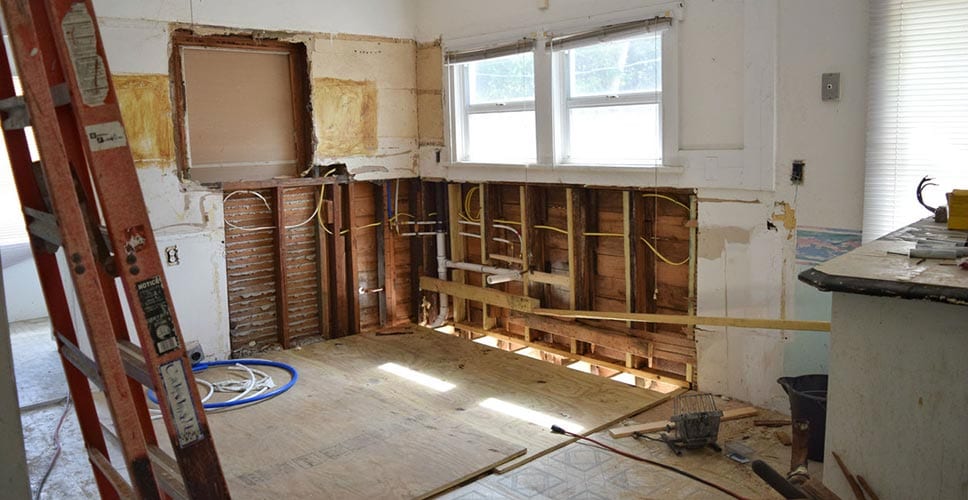 You know the phrase, "Don't judge a book by its cover." The house-hunting equivalent: "Don't judge a house by its price." A perfectly-priced fixer-upper that initially seems lovely could require substantial repairs and renovations and wind up costing far more than the sticker price.
Buying a fixer-upper can be a great opportunity, as long as you're aware of the problems and what it will take to correct them. That means you have to be sure you check out everything you need to check out before signing on the dotted line.
Inspect and evaluate
Fixer-upper or not, every homebuyer should hire a home inspector before purchasing, and many mortgage lenders will require it. Find someone who has experience with the structural integrity of homes built in different years and decades. Ask for references, make a list of specific areas you want inspected, and be sure you attend the inspection.
Mark Ainley, co-founder and owner of GC Realty & Development, has redeveloped more than 250 homes in the past decade. He says, "It's easy to only focus on the interior and create a budget based on that scope of work and completely neglect the scale and cost of redoing the siding or adding a new roof."
3 areas of the house that must be sound:
If any of the following needs extensive work, you may want to pass on your purchase:
Foundation: Is it solid? Are there cracks in the basement wall or floor? A shifting foundation can cause a host of problems.
Membrane: This includes the cladding and the roof — it's essential for keeping water and pests outside and heat inside.
Structure: How sound are the walls? Will the building stand, or does it need major renovation to ensure the safety of residents?
Patrick Liska, a general contractor with more than three decades of experience, advises closely examining areas that will cost the most to replace and can do the most structural harm if not properly addressed.
"Old galvanized pipes, for instance, could corrode more and burst, causing a lot of water damage," he explained. "Old wiring, such as knob and tube or cloth-covered wires, can cause an electrical fire because [it] can't handle the demand of today's appliances."
Bottom line: If any of the above issues come up in the home inspection, figure out what the fix would cost and re-evaluate your decision to buy the home.
4 not-as-serious, but still important areas that should be closely inspected:
Doors and windows: Check for cracks in the windows. Do any doors or windows need to be replaced?
Electrical: Is the home properly wired to accommodate modern power consumption? Is sufficient power available in all areas?
Heating: What type of heating unit or furnace is in place? How old is the unit and how well has it been maintained? Is it functioning properly?
Plumbing: If there is a well or septic system, does it function properly? Has it been adequately maintained? Are there leaks or issues of insufficient water pressure?
Keep in mind: While sellers are not required to make repairs, given the scope of the work, it's perfectly acceptable for you to negotiate repairs before you close — or at least price concessions to cover them. If you plan to pay for repairs, obtain quotes from several experts so you receive the best deal.
Cosmetic upgrades:
Most often, the term "fixer-upper" means there are cosmetic changes — replacing old flooring, dated wallpaper, and/or outdated fixtures — a new owner will likely want to make. It's easy to assume the lower cost of a fixer-upper will balance the amount needed for repairs or remodeling, but you should verify that assumption before making an offer.
To have an accurate understanding of the cost associated with turning a good home into your dream home, follow these steps:
Make a list of improvements.
Prioritize the list to differentiate what you need over what you want: That deck for summer grilling sounds tempting, but it might be best to replace those filthy kitchen floor tiles first.
Take your list to several sources and get quotes. Average the quotes and ensure that you're able to finance the renovations as part of your mortgage or that you'll be able to obtain a second loan.
Be honest about what you can do yourself:
Popular remodeling shows make home improvement look easy. Without the know-how, a DIY project can be disastrous. Before you buy, ask yourself:
Do you really have the skills for the project? Painting is easy. Electrical work, not so much.
Do you really have the time and desire? Can you take time off work for the project, if needed? If not, how do you feel about working on (possibly many) hard-earned weekends?
The big takeaway (and we know it's hard): Don't fall in love with the home too soon. Even if the price of the home appears to be a great deal for the location and size, renovation costs may put it out of your financial reach.