Contemporary Bay Window Ideas for Your Modern Home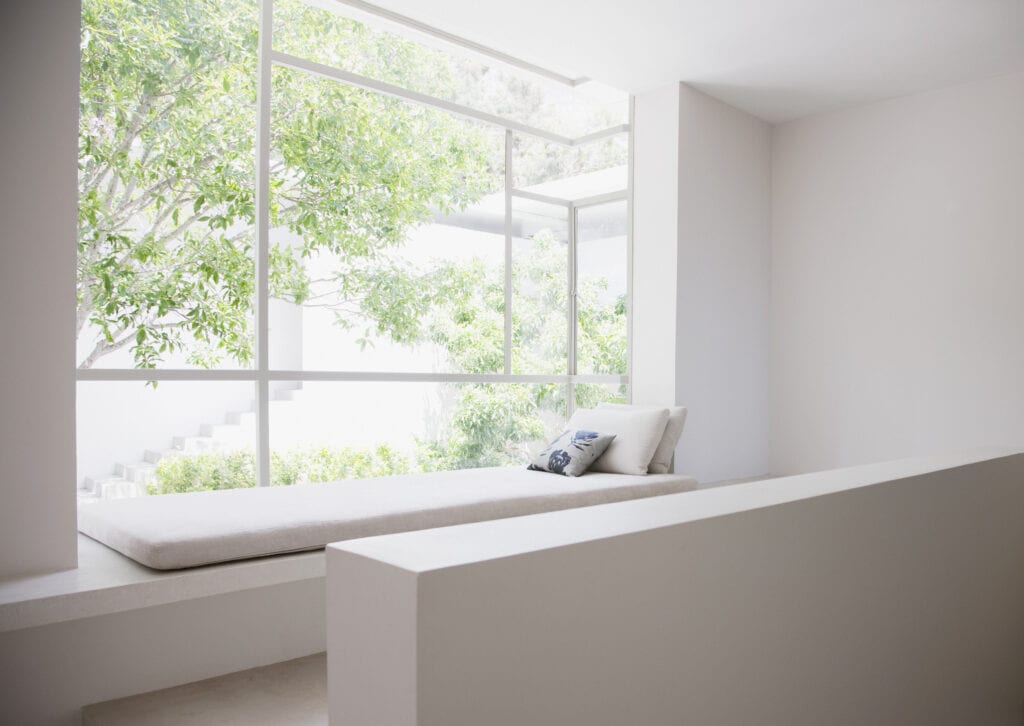 Bay windows are a versatile home upgrade for many reasons. Some people think of them as traditional and outdated, but we think their many benefits make them worth considering — which is why we present these contemporary bay window ideas.
Sure, there are some drawbacks to having bay windows; these include the expense and difficulty of finding good window treatments for them. Also, the space can be awkward, interfering with outdoor areas or leaving little useful room inside the window for little else than potted plants.
However, today's bay windows are worth adding to a space for many reasons:
They add extra square footage (and value) to your home.
They add light to a room, thanks to the panoramic glass that lets the sun shine in from different directions.
They can open and close, adding ventilation to the space.
They can be versatile if they are well planned. Some common bay window uses include a daybed, reading nook, bench, storage unit, built-in shelving, dining/kitchen banquette or a combination of these.
We've rounded up some of the best contemporary bay window ideas from around the world. If you're considering adding them to your home, here are seven elements you should keep in mind.
Contemporary Bay Window Ideas
1. They can offer a dramatic architectural feeling to a room.
A bay window can successfully highlight a room's unusual bones and architectural elements. When working with a striking space, it's important to consider how the bay window design will affect or enhance the space. When in doubt, use a free online room planner to view various bay window layout options and make the best choice for your space.
2. They can be the focal point of a room.
The right bay window can draw the eye to its warm, inviting nook. We humans are attracted to cocoon-like spaces. To really build on the focal-point aspect of a bay window, consider using rich colors, textural fabrics and plenty of pillows to encourage lounging.
3. They can be the perfect place to incorporate storage.
Use the negative space in the bay window design to build in hidden storage. Open shelving is common, but it can collect clutter and dust. Drawers, or cabinetry with doors, add plenty of space while maintaining a clean, uncluttered look.
4. They can be accessorized to pull together a space.
Use colors, patterns and textures that are inviting and tie in with the whole room. Some good accessories for the space include:
luxurious window treatments
5. They can have a minimalist and contemporary vibe.
When adding a bay window to a room, consider using a simple, straightforward design. Clean lines and angles are more contemporary and easier to work with than some of the rounded or octagonal bay window shapes.
Keep storage and cabinetry understated by hiding hardware and using European hidden hinges. Choose the latest fabrics and accessories to dress the space beautifully but sparingly.
6. They can be a comfortable place to lounge.
For the ultimate sense of luxury, invest in soft and durable fabrics; the highest-quality foam you can afford for the seat cushion; and large, fluffy goose-down pillows. Round bolsters are another contemporary element that make for comfortable (and supportive) pillows for your bay window lounge.
7. They can beautifully showcase a view.
A spot featuring a beautiful view is the perfect candidate for a bay window. They open up the space in all directions, thanks to the expanse of glass. A strategically placed bay window can frame your view like a beautiful frame enhances a work of art — not to mention the bonus of having a comfortable spot from which to admire the landscape outside.
Use these contemporary bay window ideas to create a bright, beautiful space. Today's designs no longer demathat you sacrifice beauty, form or function; you can have them all!