Black Windows Are The Next Big Trend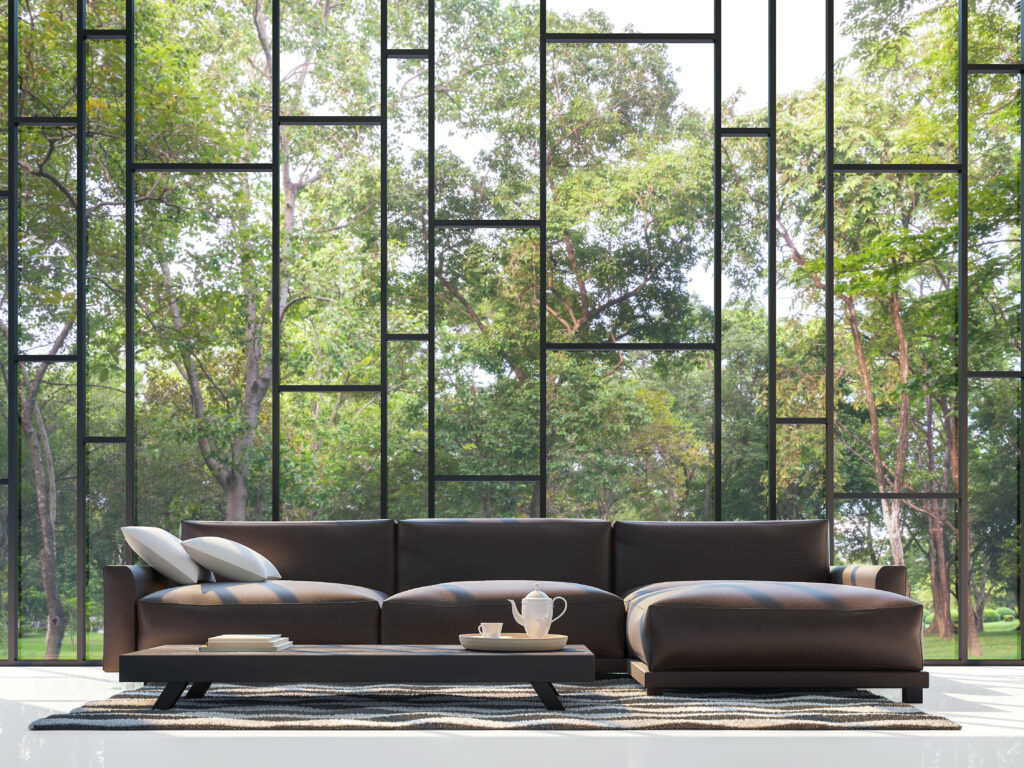 As you browse through interior decorating catalogs and magazines, you'll notice that black windows are a trend designers are embracing. Over a decade ago, you could see black frame windows on the outside of many homes. Now, those black window frames are also a gorgeous addition to interiors. While black windows harken back to century-old factory buildings, a black window creates a contemporary and industrial appeal to your home.
Benefits of choosing black frame windows
Black window frames are emerging as a go-to trend for decorators and builders throughout the country. Not only are they an exciting change from a traditional white window frame, but they also dress your home up inside and out. Let's look at some other benefits of selecting black windows:
Bold contrast creation: On the inside of your home, black windows help develop a noticeable contrast with white or light wood cabinets and light-colored countertops
Curb appeal enhancement: Whether you're putting your home up for sale or completing a much-needed renovation, adding black windows will help enhance your home's curb appeal when you match the entry door with the window frames and grilles
Dramatic effects: Black frame windows add that pop of drama some rooms need — mainly when your interior design features a black-and-white theme or other light colors that will pop against the darkness of the black
Drawbacks of black frame windows
If you're designing an open-space room where white is the prominent color, a black window frame might look out of place. When you're working with an open-plan, white is your best option. Here are some other drawbacks to using black frame windows:
Additional expense: While wood and aluminum are the most cost-effective options, selecting black steel window frames is more expensive but if you're creating an industrial look, then steel is the best option and worth the money
Heat absorption: If you're living in a warmer climate, remember that black window frames absorb more heat which means a heat transfer into your home
Lack of cohesion: When selecting black windows, you'll want to consider how they'll look from the outside as well as the interior and if there's a lack of cohesion between interior and exterior designs, select another option
Factors to consider when installing black windows
Black windows are a beautiful choice for modern and industrial designs for both the interior and exterior of your home. But, they also work well with a variety of other home styles as well. You can professionally install black frame windows on a variety of homes, from craftsman to ranch-style.
Remember, your choice of material will increase the cost of the window and its installation. For example, black steel windows are the most expensive choice compared to the more affordable aluminum or wood options. If you choose a black frame window with white vinyl on the inside, consider painting those finishes to match the exterior.
Tips for decorating around black window frames
The first thing you'll notice when decorating around black window frames is that black will always be part of your design scheme. For example, selecting white wooden blinds is a mistake. The main reason is that they cover the black windows and, in doing so, the room starts looking too busy. Instead, opt for Roman shades or drapes. Here are additional tips for decorating around black window frames:
Include window boxes outside: If the windows with black frame windows are small, dress them up with decorative window boxes
Keep the windows bare: When black windows are uncovered, they look better, and they also become the room's focal point
Repeat black in the interior: If you don't repeat black elements in your decor, then black windows will start to look out of place
Best companies that sell black frame windows
Anderson: When you select the 400 Series Casement Window, it features a wood interior and vinyl exterior construction. Energy-efficiency is built into every window and Anderson will work with you to find the best performance. The durable vinyl exterior finish helps protect this black frame window from damage. The Anderson 400 Series costs between $120 and $340, with installation costs ranging between $150 and $300.
Marvin: When you're looking for a contemporary window featuring a narrow jamb and flush exterior, the Ultimate Casement Narrow Frame is an excellent option. The price for each black window ranges between $350 and $750, with installation costs ranging between $100 and $400. It features a light wood interior and black aluminum exterior that won't chip, fade or peel. The energy-efficiency of these windows includes two panes of glass featuring Low-E coatings, as well as argon insulating gas.
Pella: The Pella Impervia Window features incredible durability, high-quality materials and beautiful finishes. Each Pella black frame window costs between $600 and $1,000, with prices ranging up to $2,000, including installation. This window's Duracast fiberglass composite ensures no warping occurs in the summer. That composite also protects this window from becoming brittle when winter comes. Its interior and exterior frame features durable powder-coating on an aluminum finish. The Pella Impervia also offers energy-efficiency that meets or exceeds Energy Star guidelines.
The bottom line on black windows
Your choice of windows has an impact on your home's interior and exterior appearance and selecting black windows gives your home a modern and contemporary look. Depending on the manufacturer you choose, black window frames can give your home an expensive look at an affordable price. For example, Andersen windows are the most budget-friendly without sacrificing quality or appearance
Vinyl black frame windows require little maintenance, if any at all, and if you have brickwork on your exterior, the black window will offer a beautiful visual complement. Avoid using black windows on period homes, though, because it could look out of place with the original design.
Create a magazine-worthy look in your home by incorporating black windows into your home's next upgrade, addition or renovation.
Frequently Asked Questions