10 Tips to Obtaining an Urban Loft Feel in your Home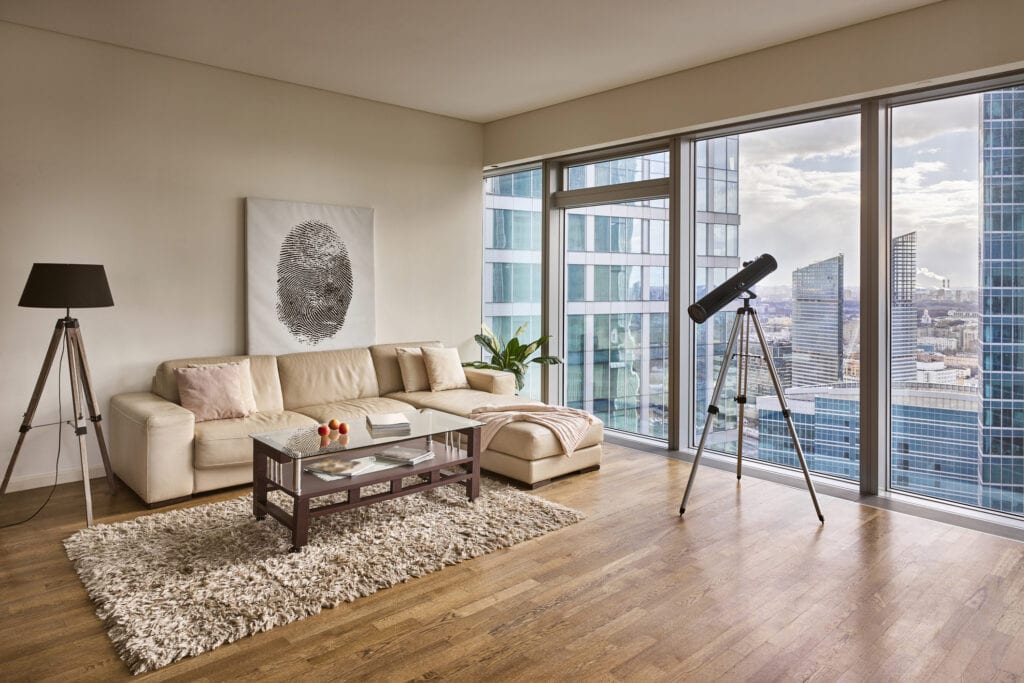 Recently, the interest in urban lofts has gained popularity amongst urban goers and rural home owners.  Exposed flooring and overhead mechanical ductwork bring the contemporary feel of the city to your home. What is it that makes urban loft living so desirable? I think it's the feeling of a cosmopolitan lifestyle looking over a city with industrial décor with a soft edge interplayed is the appeal.  If you want to bring the urban loft feel into your home, follow these 10 tips to feel on top of the world!
Vostok / Getty Images
1. Modern furnishings
Minimalistic and modern furniture is the idealistic 'look' of an urban loft. Clean lines of seating areas, décor, and few decorative items are key.  Use simple forms and allow for plenty of space to walk around furniture to take full advantage of space, height and views.
2. Exposed heating and air ductwork
Since most urban lofts are inside of warehouses or urban industrial buildings they have been turned into residential spaces and high ceilings are the norm.  For heating and air ductwork, leave the pipelines exposed and consider painting black, brown or leave with metallic finish for a truly industrial feel.
3. Leave floors bare
Urban loft living brings the industrial nature into your daily living with finishes that are exposed, bare and 'unfinished'. For flooring consider leaving concrete exposed and adding a concrete stain to seal it, and add a patina of color. Hardwood flooring and slate are also typical for flooring. To soften sitting and conversational areas add area rugs to match the décor.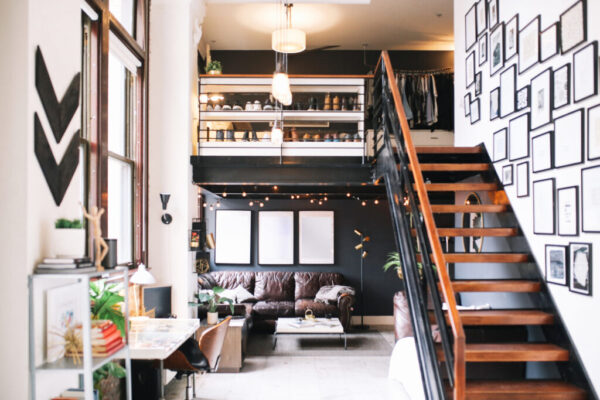 lechatnoir / Getty Images
4. Simple window treatments
The view takes center stage in an urban loft.  Ensure your window treatments don't interfere with the view by choosing simple sheer fabric or sheer blinds for covering.  Depending on the height of your home and privacy issues you may not need window treatments. For homes with tall windows consider motorized treatments that are remote controlled.
5. Open space means less storage
In urban lofts the feeling of multiple rooms occupying one open space is the appeal.  Although, when considering storage bookshelves, armoires and storage units will need to be low in height or back up against walls.  Take advantage of multifunctional ottomans, storage benches and furniture that doubles as display and storage.
6. An open kitchen is great for entertaining
To get the urban loft kitchen feel in your home leave one side open to the living and dining spaces. The appeal of urban living is to be able to entertain and interact with your guest while you cook and prepare food and drink.  Industrial and professional stainless steel or black appliances pulls the entire look together, coupled with an eye catching range hood.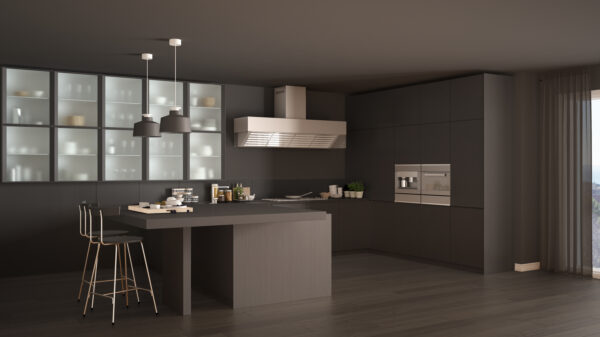 ArchiViz / Getty Images
7. Artwork and color
Urban living can still have beautiful colors amidst the greys and blacks of industrial finishes. Choose furniture that has punches of color along with colorful artwork to adorn the walls. Add colorful area rugs, throw pillows and decorative décor for table tops and display areas.
8. Consider lighting
In the daytime natural light pouring into your space is an asset. In the evening hours, ensure you have ample lighting throughout your home. If your ceilings are very high, wall sconces, floor lamps that extend over couches and table lamps should be considered.
9. Multiple levels create the true urban loft experience
For lofts that have the option of having another split level for a bedroom, bathroom or entertaining space have a great experience. To look out over the main living floor and to see great views outside. Remember that this also can be a noise problem for multiple people sharing a loft.  In your home, consider this lifestyle before opting for a multilevel – open urban living environment.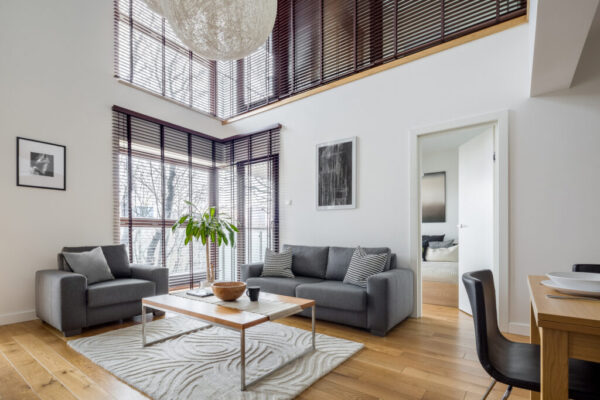 in4mal / Getty Images
10. Bring nature in
To stay well balanced with nature, bring live plants, running water fountains and nature inspired materials into your urban loft. Even though you feel far above the city below, your home and you will always benefit from nature at hand.
Urban loft living and décor is a lifestyle that many love. While not for everyone, open outdoor spaces are replaced with expansive windows and views over metropolitan vistas. Depending on your lifestyle and your preference for architectural layouts you can bring urban loft details into your home or opt to live in the real deal. Whichever you choose, urban loft living will always have a favorable appeal.
Freshome reader's tell us if you like urban loft living. Do you live in one? Share wh us, and tell us the pros and cons!