10 Luxurious Ways to Decorate with Travertine in your Interiors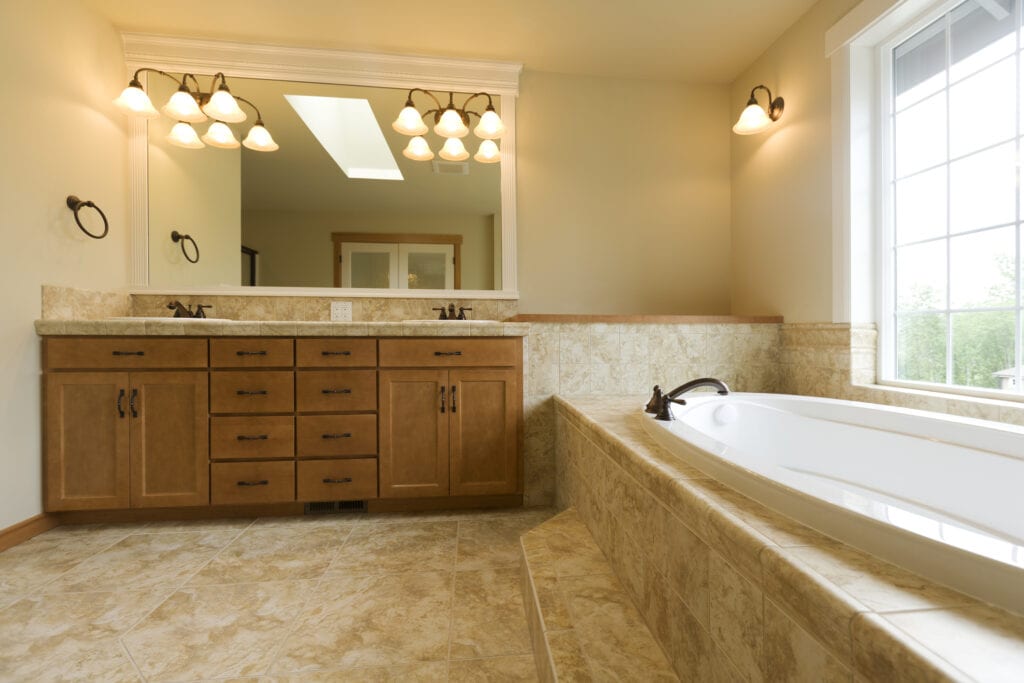 In your home the materials that make up your surroundings are those that captivate you and help you love your home. Travertine is one of those finishes that can be used for countless ways throughout your interiors and looks beautiful regardless of how its used. From bathroom walls and kitchen backsplashes to gracing your outdoor pool deck, you will be surprised how travertine tile can beautify your home. Before you think that travertine is only for floors, think again. Look at these 10 luxurious ways to decorate with this gorgeous stone throughout your interiors.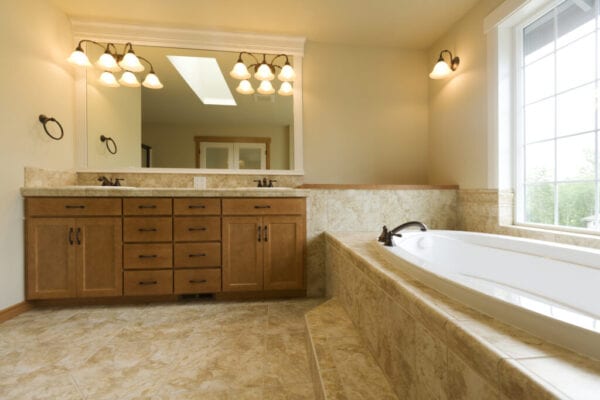 akurtz / Getty Images
1. Choosing the right travertine for your room
Travertine is commonly mistaken for marble or limestone but in fact is a form of rock with sedimentary properties and has a beautiful buffed matte finish that can't be matched by many other natural stone materials. When choosing the right travertine for your room ask a professional what varieties of colors, variegations and application suggestions they recommend. You will be surprised that travertine can be obtained in small mosaic tiles all the way up to large slabs for walls and countertops.
2. Make a grand entrance with travertine tile floors
If you're looking to add a luxurious aesthetic to your grand foyer, look no further than travertine. Known for its uneven or chiseled qualities, travertine looks gorgeous in traditional and modern homes alike. Whether you choose to place travertine mosaic tiles or use large pavers. There aren't many floor materials that can create a rustic yet sophisticated look to your entry.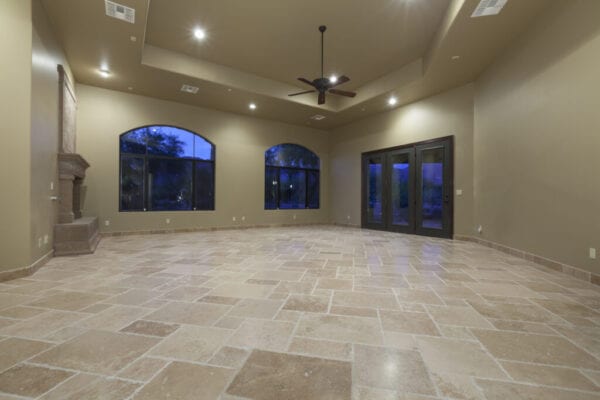 DougBennett / Getty Images
3. Large scale travertine can bring out the drama
If you love a big and bold look to your bathroom why not try travertine in a large scale format? This vein cut travertine tile is sold by the slab and its beauty is enhanced since every slab is unique and designed by nature. If you prefer to keep the travertine confined to one special area of your bathroom, look to the shower, backsplash behind the vanity or in a shower dressing room area. Take a look at this Travertine home in Singapore, what a beautiful way to show off this versatile material.
4. Bring out the nature of your design style
Travertine is a very ancient material dating back generations and was used in many monumental buildings throughout the world. While it has historical connections, it also is used in the most posh and modern homes today. Determine what your style of travertine suits your interiors. From sleek and sexy with very few grout joints in a minimalist backsplash to a traditional layout with chiseled edges, you will have a challenge selecting just one type in your interiors!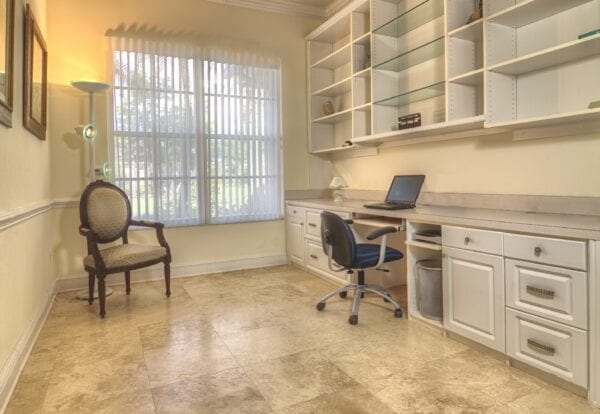 Rudyumans / Getty Images
5. Tips to remember when choosing travertine
One of the beauties of this gorgeous stone is its varied colors and patterns but one draw back is its ability to scuff and scratch easily. Depending on the surface finish a high polished travertine may resist better than a matte finish. Travertine also can be porous and shouldn't be used where levels of oil and other liquids can soak into it and stain its beauty. Although just like marble and granite a tile specialist can direct you to what type of travertine stone tile is best for your project.
6. Travertine in your luxurious bathroom
Dating back centuries ago Travertine has become a building material that is tried and true and your bathroom is the perfect place to showcase its versatility. From travertine mosaic tiles on your shower walls to custom tile work patterns, you will love its versatility. Travertine tiles set on a diagonal can give a gorgeous diamond geometry that when coupled with its natural matte finish will transform any shower stall from ordinary to luxurious.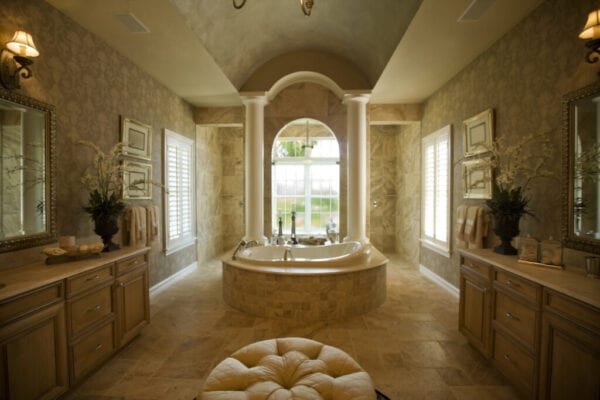 akurtz / Getty Images
7.  Add sophistication to your outdoor home
Travertine can not only beautify your interiors but your outdoor home as well. Whether you are looking for garden pathway stepping stones, making decorative knee walls or you use for swimming pool decking to cool your summer home you will love the versatility.  Travertine like many other natural stones can keep its beauty through long summer and winters and will age beautifully with time.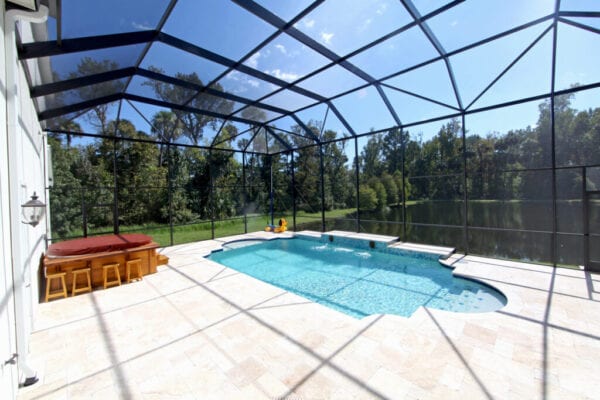 quackersnaps / Getty Images
8. Polished travertine can add a luxurious tone
There is an air of luxe detailing when your bring polished travertine into your home and what better way to do it than in an indoor/outdoor room? Large pavers used with thin grout lines give the illusion of a vast vista of travertine as far as the eye can see. Pair it with your favorite outdoor furniture, a summer kitchen and an outdoor fireplace and your home will enjoy the rave reviews from guests in your entertaining spaces.
9. Combining light and dark finishes to add drama
To add a luxurious play between the materials in your home consider pairing lighter tones of travertine against your dark wood cabinetry for a dramatic touch. The contrast between the colors and textures of the finishes can create a kitchen, bathroom or living space that exudes attention. Similarly with your living room and dining room furniture. A killer dining room table or coffee table in rich mahogany wood will look dynamic against a lighter variety travertine floor.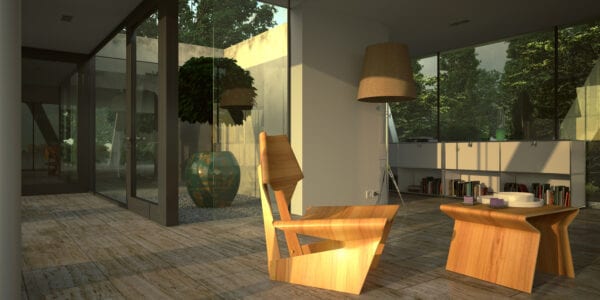 BertrandB / Getty Images
10. Travertine can create a showstopper kitchen
Your kitchen is that one room where you pull out all the stops to showcase the appliances and finishes, and travertine used in kitchen backsplashes, countertops and flooring can wow and party that you are throwing! Look to travertine mosaics for custom details for your stove wall backsplash. Consider enlisting an artisan to create a one-of-a-kind backsplash for your kitchen walls with travertine tile. The options are endless and the ability to redefine your luxurious home with this versatile material is all up to you!Freshome readers we'd love to hear how you use travertine in your home. Have any gorgeous applications for us?