Ingenious Door Sliding System for Saving Valuable Space in Your Home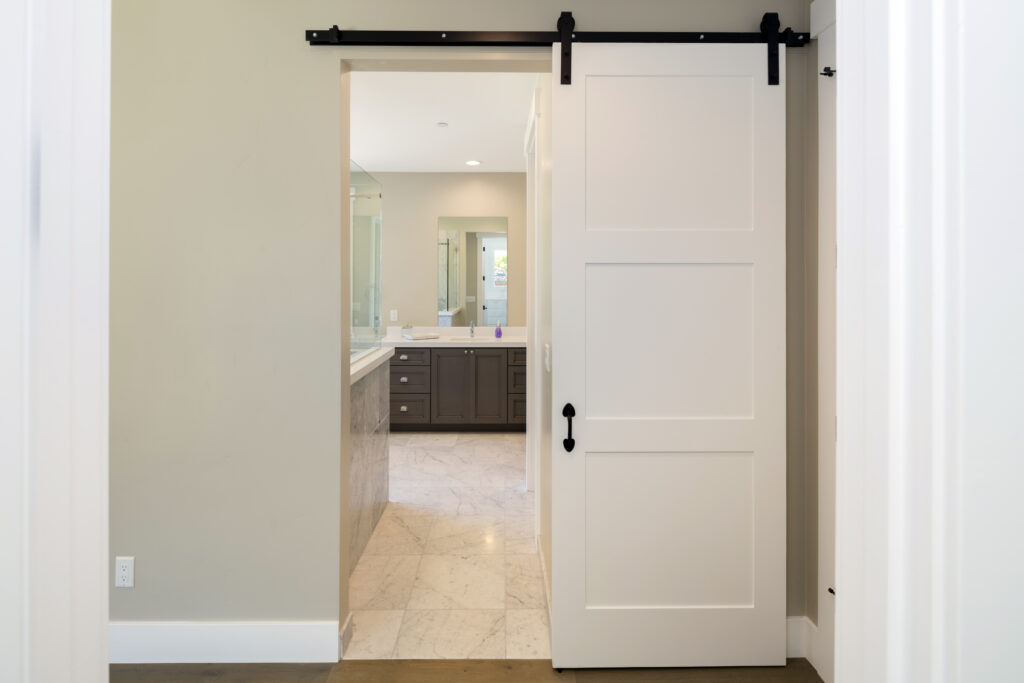 In most homes, space is the highest commodity and what better way to gain space than to remove your doors? While removing your doors may seem drastic, instead of totally removing your doors, how about removing the door swing that takes up space to open and close your doors? Johnson Hardware has invented home interior door hardware that acts like a barn door to slide across your opening, instead of using a swing and hinge hardware set. Take a look at how wall mounted hardware can save space in your home and provide you with a room that is more functional and spacious.
How the hardware works: Not to be confused with pocket doors, which slide into a wall, the Series 200 Wall Mount and the 2610F hardware have track-and-roller systems that attach directly to the wall, resulting in quick installations and easy operation. This is an ideal solution for walls constructed of brick or concrete block, for wood-framed walls that contain pipes or wiring that would make it difficult and costly to install traditional pocket doors or for the Do It Yourselfer looking to make a big change with minimal effort.
How the hardware saves valuable space: Unlike a standard hinged door that requires 10 to 14 square feet of floor space to swing open, a door mounted with the Series 200WM or 2610F hardware takes up little more space than the thickness of the door. And because the door slides open, a table, chair, desk or other furniture pieces can be placed beside the doorway without interfering with the door's operation.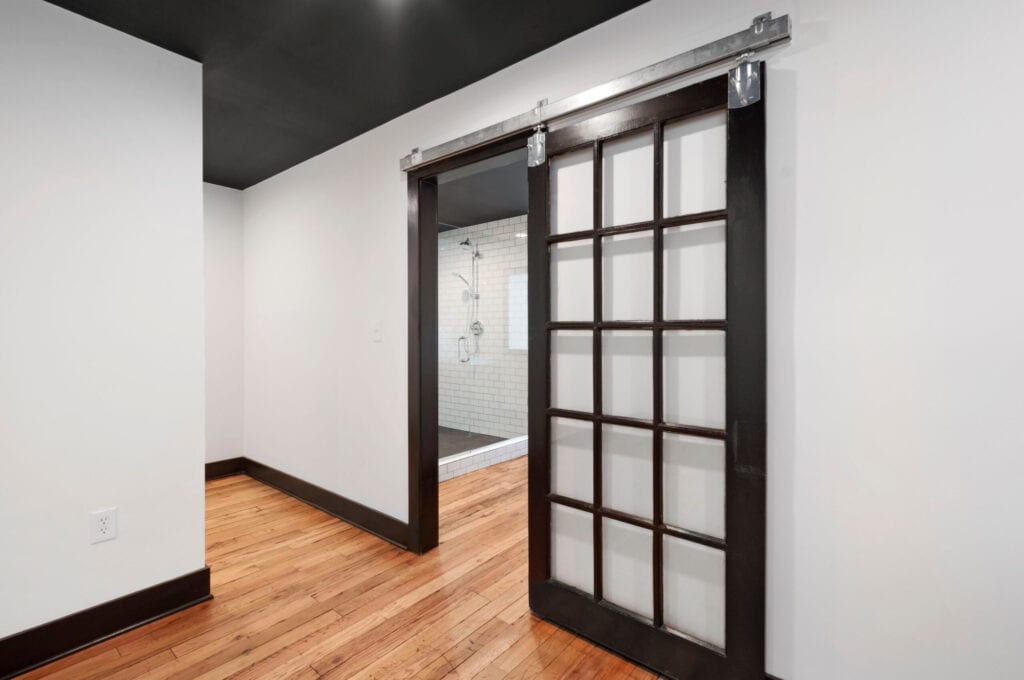 Many people are turned off by hanging doors due to a professional installer needed or complicated directions. Johnston Hardware has made their hardware easy enough for the do it yourselfer, in these directions below:
Secure track brackets to small wooden blocks and screw to wall studs above doorway.
Attach track to brackets above doorway. Slide the ball-baring hanger onto track.
Attach door plates with extendable pivot pins onto hangers on track.
Enjoy your newly found 14 square feet of free floor space.
Imagine the possibilities: Whether your kids are growing out of their current rooms, or you need more space to move around in the living or dining room, adding more floor space can enable you to put more furniture, have more design possibilities, or just have more space for your family to move around. If you've been trying to seek new ways to add more functionality to your room, these door hardware solutions may be the answer.
Johnston Hardware has come up with creative solutions for your home's interiors. It only takes a moment to think of how many locations it could benefit in your home. Bathrooms, kitchens, halls, closets, storage/utility rooms, garage entryways, playrooms, and home offices are all areas that could benefit. With imagination, you will come up with many more. The ease of operating wall mount doors also makes them suitable for homes where there are disabled residents or supplementing universal design efforts. Walkthrough your home and see where these creative door hardware solutions can be used. It won't be hard to think of what you'll do with the extra space!