10 Small Space Design Secrets From Interior Decorators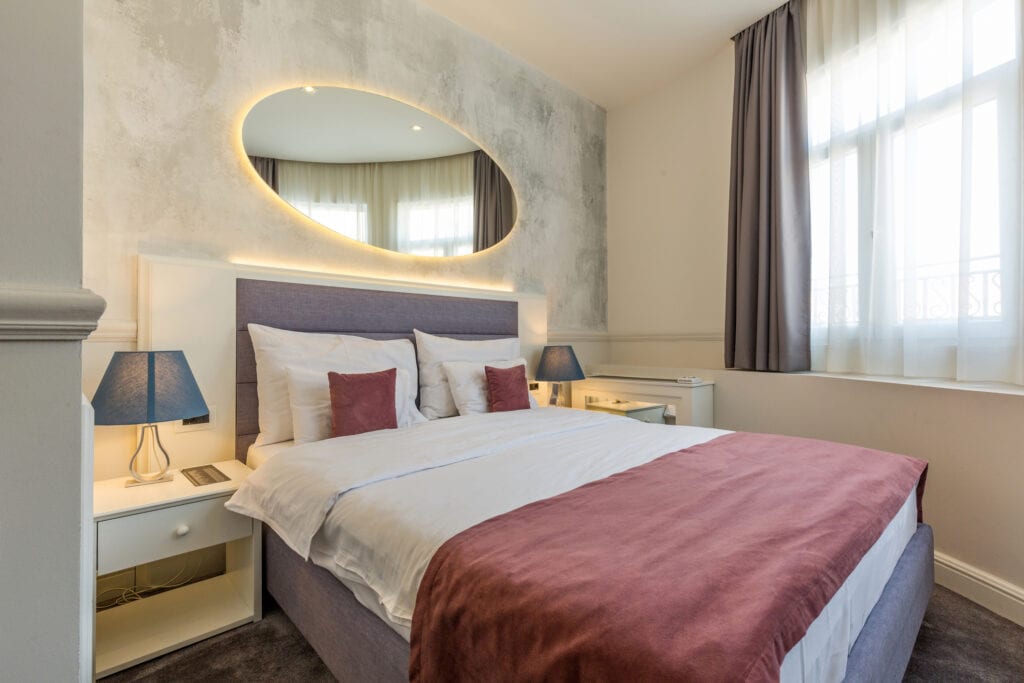 Small spaces can be a challenge to decorate.  The wrong color can feel claustrophobic, too much furniture can feel chaotic, and the wrong patterns just feel too busy.  Professional interior decorators are master illusionists when it comes to meeting these challenges. Using ten of their favorite tricks, you, too, can make a small space look larger than it is.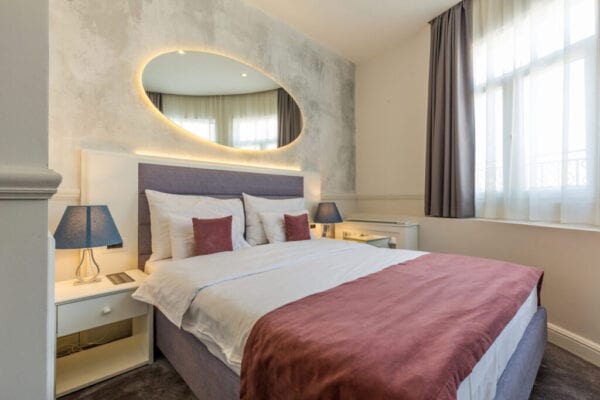 rilueda / Getty Images
1. Don't Use Dark Colors
Have you ever walk into a room painted a dark color with dark furnishing and a dark rug? It feels like the room is closing in on you.  That is the problem with dark colors and it is especially confining in a small room.  A small room needs to appear larger than it is to feel comfortable. Using light colors will make walls appear to recede, creating a bright and airy feel.  Colors to consider are light blues, greens, light grays and neutrals.
Pieter Estersohn / Getty Images
2. Don't be afraid to go bold
Some people resist the idea of going bold in a small space, but smaller spaces are great canvases to experiment with bold ideas.  Start by keeping the color scheme to a few complimentary colors. Consider using, large-scale florals, and graphic prints, vertical or horizontal stripes. The horizontal stripes will visually widen a small narrow room.  Vertical stripes will make a low ceiling seem taller.  A small room will open up with the use of big prints. Avoid tiny prints; they will be too busy and chaotic in a small space.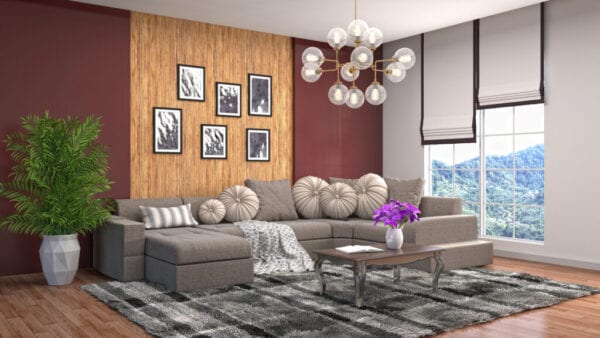 Stockernumber2 / Getty Images
3. Don't ignore scale and proportion
Like Goldie Locks looking for the right bed, one was too big, one too small, and finally one was just right, furniture needs to be just right in a small room.  A large couch in a small area can overtake the space, while a small couch will seem dwarfed.  You want to use a mix of large pieces along with smaller pieces for balance.  Consider using a large bookcase, or sideboard along a wall. Slipper chairs are great options too; they have a low profile and can balance out a six-foot couch.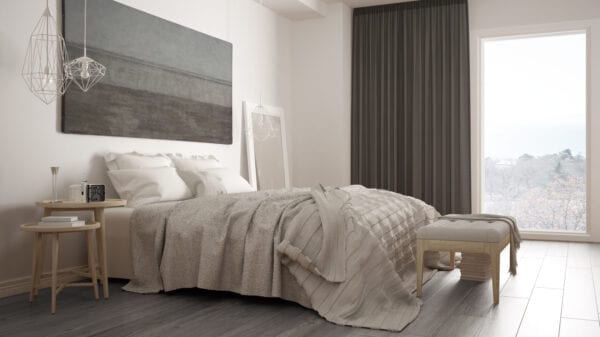 ArchiViz / Getty Images
4. Don't use contrasting colors on the floors
Your eye follows the floor up to the wall and then to the ceiling. When they are the same colors, or tones you will see it as a continuous line.  By keeping the three surfaces in the same color family the space will visually open up as they recede creating the illusion of more space.  A room with one floor color, another wall color, and yet another ceiling color will appear disjointed and can make the space appear small.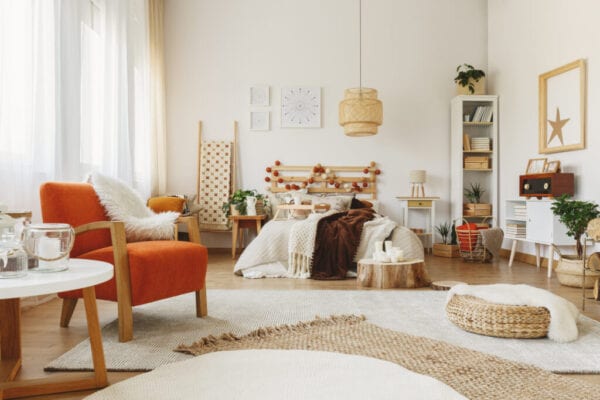 KatarzynaBialasiewicz / Getty Images
5. Don't clutter the room
Clutter is not much different from dark walls when it comes to a small room. If you walk into a room crammed with furniture, overrun with knick-knacks and collectibles it will feel like it is closing in on you.  To keep the open feel you want, pick a few cherished items and display them in creative ways.  Accessorize a bookcase, or hang a floating shelf for your family pictures, but do not clutter a tabletop.  Less is more when furnishing a small space.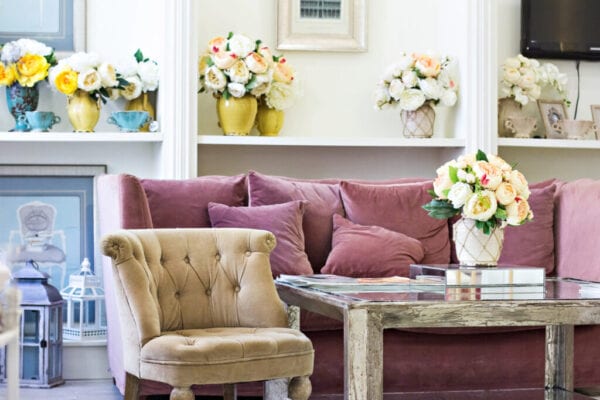 JuliaLototskaya / Getty Images
6. Don't ignore traffic patterns
So, you have the right scale furniture, but you want to move around the space easily.  A fabulous trick is to float your furniture in the space.  Move your couch and chairs away from the wall.  This will create depth in the space. You want to see a fair amount of the floor.  The more of the floor that can be seen the larger the room will appear.  Next, ground your furniture with an area rug in the same color tones as the flooring.  You will visually open up the space.
Eoneren / Getty Images
7. Don't forget the lighting
A small room with poor lighting will feel cave like and claustrophobic.  A properly lit room, ought to have three sources of light that bounce off walls and give the room a visual breadth.  In a space with little floor room for table lamps or floor lambs, track lighting can help to light a room. Another good trick is to use mirrors.  A good mirror will do two things for a small room.  It will reflect natural light and the light from lamps and it will create the illusion of a wider, deeper space.
dit26978 / Getty Images
8. Don't use elaborate window treatments
Small rooms can be overwhelmed with windows framed in full and billowy window treatments with a lot of pattern.  Using elaborate window treatments draws attention to the windows instead of just accenting them.  Pick window treatments that let light in and gently frame the windows.  A simpler style will gently blend harmoniously with a wall rather than visually breaking up the wall.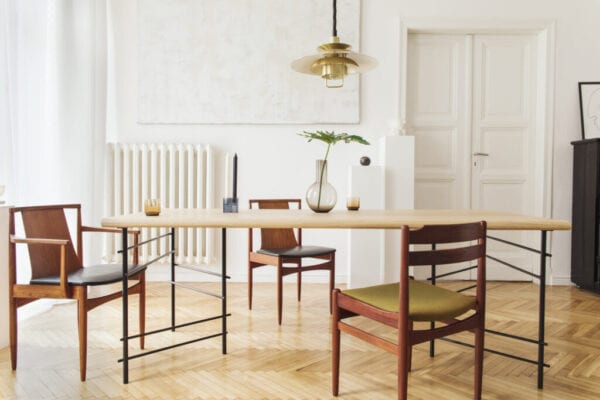 FollowTheFlow / Getty Images
9. Don't discount architectural details
Walls that lack interest are boring, but can be exciting with the addition of a few architectural details. Wainscoting and molding, often thought of, as ornate details best used in larger rooms, are beautiful options.  They define small spaces well and add visual interest to otherwise dull walls.  Consider using chair rails, panels molding or bead board to create some excitement.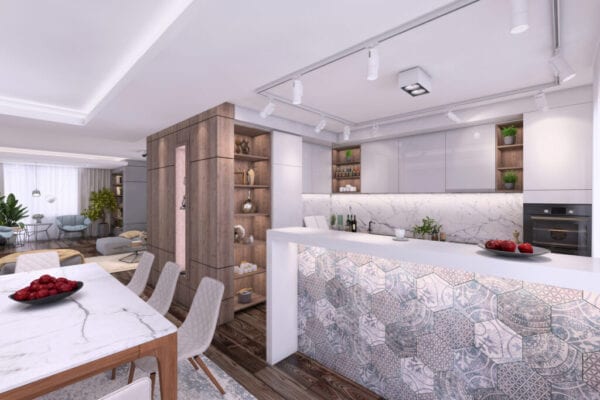 ExperienceInteriors / Getty Images
10. Don't ignore vertical space
Once everything is in place, you may realize you have no room for storage and no floor space to add anything.  The walls are still there and they are not just for artwork.  Take advantage of the vertical space the walls offer, look at it as extra square footage.  They are a perfect surface for hanging shelves, or built-ins.
When it comes to decorating small spaces, it is all about tricking the eye to believe that the space is much larger.  The next time you face a small uninspiring room, take a page out of the decorators' playbook.  Applying their tips will let you create the illusion of space too.  Which tip did you find surprising?