How to Make Your House a Home Without Spending Any Money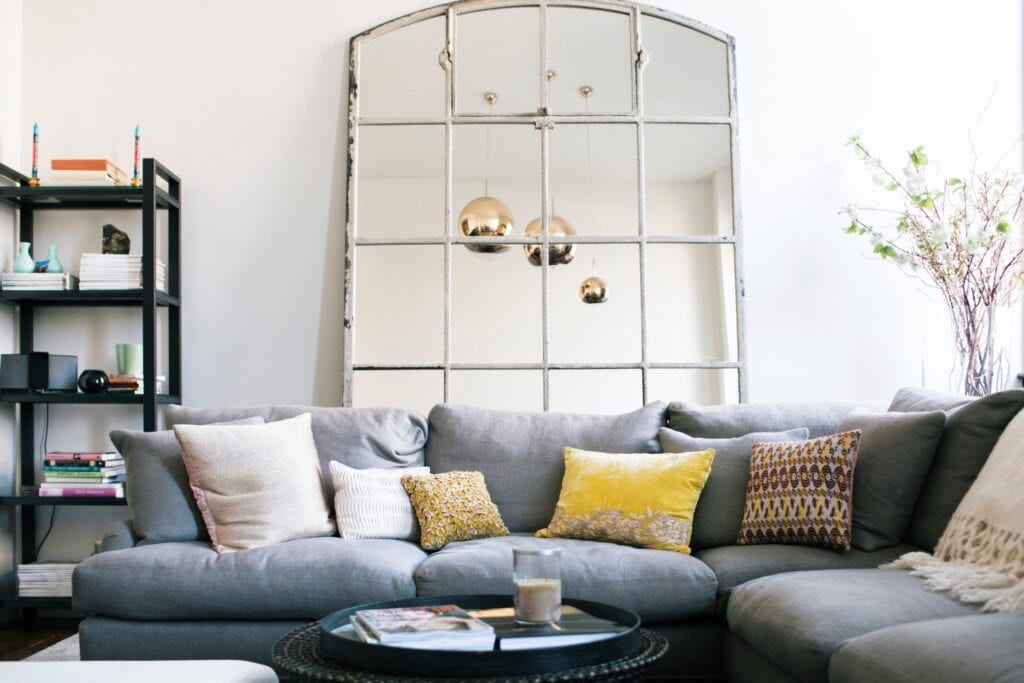 Shop These Products Now: Wall Painting – Sectional Sofa
It takes but a few simple steps to spruce up and breathe new life into your home. Read on to see how you can add a new flavor to your home without spending any money! You'd be amazed at the resources you already have sitting around collecting dust. Now it's time to put them to use.
1. Rearrange your furniture.
Nothing is so simple as rearranging furniture. (For larger pieces you may want to enlist the help of a friend.) You'll be amazed at how different your space looks by simply moving a couch, a table, dresser or bed. Your room may even end up feeling a good bit larger. It will certainly feel fresher and newer.
2. Make use of those old paint cans
Most likely you have cans of paint sitting in your basement or garage. Gallon-sized tins that could be as much as 1/2 to 3/4 of the way filled. Add some color, pizzaz and depth to your rooms. If you don't have enough to paint an entire room consider painting an accent wall or even the ceiling. Paint the inside of your closets or book cases. Give old furniture a facelift with a coat of paint.
Shop These Products Now: Throw Pillow – Pillow Covers
3. Put old fabric swatches to use
Dig up any fabric swatches that you have and put them to use either individually or collectively by covering pillows and bolsters for your bed or couch. You can create a patchwork pattern or you can frame those swatches that are most interesting and interesting to create fun and colorful wall art.
4. Freshen up the linens
Give curtains, sheets, pillows and bedding a new look by adding ric-rac, pompoms or ribbons to borders. By simply adding these to the borders an ordinary pillow (sheet or bedding) can become more whimsical, sophisticated and elegant. You will be amazed at how such a simple thing can be so transforming!
5. Display your wares
Whether you're an avid collector or simply have lovely and unique items, it makes no sense to keep them tucked away behind closed cabinet doors and drawers. Bring out the decorative dishes, bowls, pitchers, the muffin tins and rolling pins. Bring out whatever it is that you collect and display them proudly, whether by hanging them or grouping them together on tables, counters and in bookcases. Instead of having various candle holders scattered through your home, bring them together in one location and display them together.
Shop These Products Now: Accent Mirror – Chandelier – Round Table
6. Mirror, Mirror on the wall
Add oversized mirrors to your space. Mirrors will open up your space and enhance the room's natural lighting. Large mirrors need simply lean against a wall or rest on a mantel for a simple and perfect touch. Add one mirror, add several. You can't go wrong here!
7. Put your unused fireplace to good use
If your fireplace doesn't get used take advantage of this natural focal point. A fireplace is any room's greatest asset, so play it up! Paint the inside of your fireplace in a bright or bold color. Place a large plant, stone bust or other artifact inside the empty space. Create a small scene or vignette using art, coffee table books and other collectibles. Group candles of all sizes together and light them to create a warm and lovely setting. Or store extra books or a large wicker basket with extra pillows here. Don't let this extra space go to waste!
8. Pull the photo boxes out from under the bed
Dust off those old photographs and display them proudly.  Hang them on your prominent walls – in living rooms, bedrooms and hallways. Create a gallery in a galley or mudroom. Display them on bookshelves and in book cases. Place them on tables, dressers and desks. Photographs are a perfect way to personalize your space.
9. Go to nature
Bring the outside in with freshly cut flowers, branches, river rocks, pine cones and whatever natural, organic ingredients you can find. This is a great thing to get the kids involved in. Place flowers and branches in tall glass vases. Group your rocks, and pine cones on platters, trays and large glass bowls. Place these organic wares strategically through your home.
Shop These Products Now: Fruit Bowl – Fruit Pots
10. Go to the fruit drawer
Fruit is a natural accessory. It adds such a visual and textural element to a space. Place a collection of citrus fruit in large glass jars, vases or bowls for instant and natural color. Rotate the fruit and swap it out from time to time to remove the pieces that are blemished. As the seasons change swap the citrus out for apples, pumpkins and gourds. With all the natural and existing resources in your home, you can easily make your house a home without spending any money!