How to Make Your Home Feel More Relaxing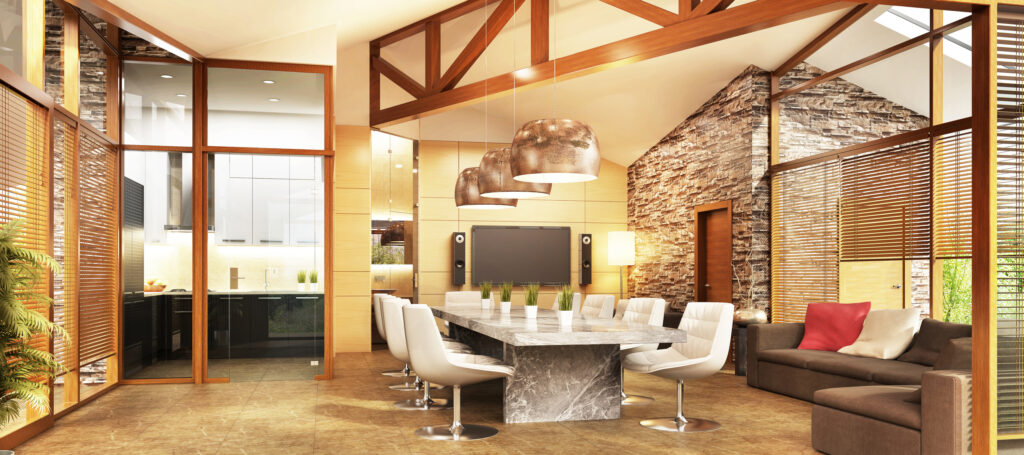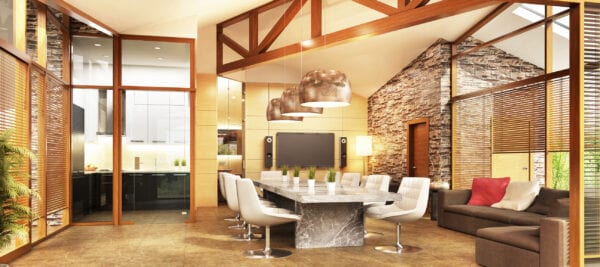 sl-f / Getty Images
Our lives these days are busier than ever. We spend more time in our offices or on the road than we do in our own homes. Our lives have become so fast paced and frenzied that we really need to make a concerted effort to slow down. For many of us this no longer comes naturally and we must force ourselves to relax – to really stop and smell the roses. A home that is disorganized, chaotic and full of discord is not a relaxed one. There are a few simple and very basic steps that we can do to make our homes more harmonious and peaceful to return to at the end of a busy day.
vicnt / Getty Images
One can easily set the tone for a calm and relaxing home by taking a few simple steps.
Flowers are incredibly soothing both visually and aromatically.
White candles add an air of calm and relaxation. Do stay away from the fragrant ones as they can often be overwhelmingly strong.
Lighting is so very important. Natural sunlight does wonders to one's spirit. Don't block a room's natural sunlight. Be sure to keep shades pulled up and curtains and drapes pulled off to the sides. Even when the sun is not out, daylight's natural light is quite bright.
The paint colors you choose in your home can have a profound effect on your mood. I suggest, for a quiet, more relating atmosphere to go with tranquil blues, greens and greys. Whites and beiges are suitable as well – stick with natural tones. Keep bright and jarring colors out of furniture and fabrics in the areas you wish to keep calm. Bright colors tend to energize, and our goal is to create the opposite effect.
Remove clutter. Clutter is distracting and immediately instills a sense of chaos and disorderliness. Tchotchkes should be tucked away and replaced with items that soothe or inspire – such as family photographs (as long as there aren't too many that they look like clutter) and freshly cut flowers and plants.
Surround yourself with books (as long as they are not work-related) and throw pillows and blankets.
Hardwood floors and soft area rugs can tie in furniture to help create a focal point and unity. The idea is to create a space that looks and feels softer, calmer and more relaxing. Layering soft textures can create this effect as can fireplaces.
Read on as I use these suggestions in various rooms of the home.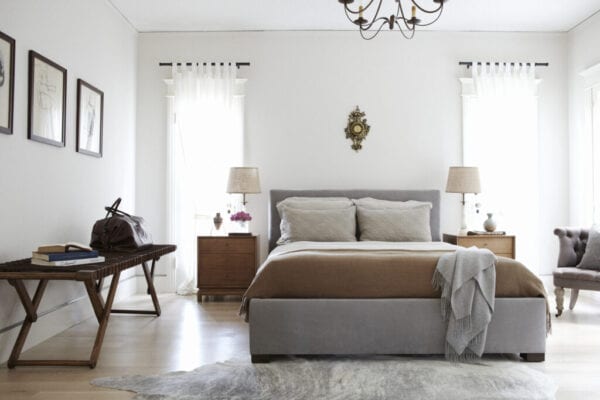 Schmelzer / Getty Images
How to create a more relaxing bedroom
Remove all clutter on your bedside table and your dresser. Put away any clothes that are left out or that are hanging from doors or behind doors.
Don't leave the house without making your bed.
Consider purchasing a new mattress if yours is well worn.
Purchase sheets with a high thread content. They need not be expensive, but the higher the thread content, the softer the sheet.
Down comforters or duvets are soft and inviting.
Bedding is best white, neutral or soft pastels. Colorful accent, however, are fine.
Replace pillows that are old with ones that are supportive. Add extra pillows to your bed to give it a more luxurious feel.
Place a soft area rug beside your bed.
On your nightstand, if you can, place some freshly cut flowers, a candle, a book and glasses if needed.
Place a basket next to your bed where you can toss all remote controls, cell phones and electronic tablets. Make sure these devices are turned off so that they do not distract you in the middle of the night.
Consider your wall color. Soft blues, greens and greys are ideal for creating a relaxing atmosphere in the bedroom.
Keep windows unobstructed to let in natural sunlight when you want it, but be sure that you can pull a shade or pull some drapes so that the same wonderful sunlight doesn't wake you from a deep sleep before necessary.
Hang art and photographs that remind you of happy moments.
If you have the space, create a sitting area with an oversized chair or couch – where you can read or watch television without having to sit on your bed. There should be a lamp – either table or standing – right there to ensure proper lighting when the sun goes down. Keep magazines and books on a small table as long as they are not work related.
Place lights on dimmers if possible.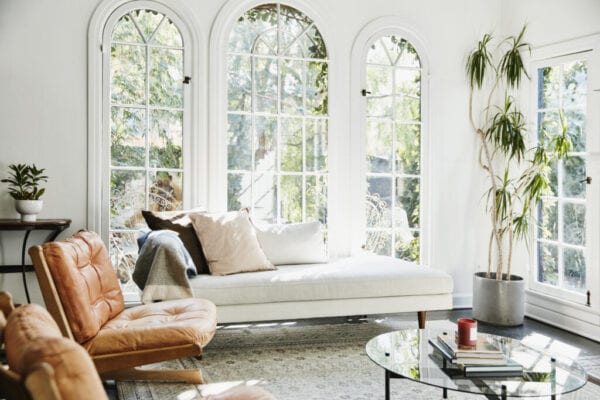 Barwick / Getty Images
How to create a more relaxing living room
Consider your furniture placement. Where's the focal point? Is it a fireplace? A large bay window? Place furniture where you will have a relaxing focal point. Keep it grouped together in a comfortable and intimate setting. Consider colors that are natural or white. Bright colors and loud fabrics are jarring and energizing – keep the brights where you want the energy to be. Textures should be soft to the touch as well as visually.
Toss a few extra pillows onto the couch.
Keep blankets nearby, in a basket or trunk or ottoman that doubles as storage.
Keep a lamp nearby for nighttime reading.
Bring plants or fresh cut flowers into the room.
Hang family portraits or photographs within view from the couch.
Surround yourself with the things that are important to you such as antiques, and family heirlooms but
Keep clutter to a minimum.
Use area rugs to create a softness underfoot and for a layering effect.
Let the light shine in. Pull drapes and shades to take full advantage of your room's natural sunlight.
Keep magazines and books on the coffee table or create vignettes that evoke a sense of calm.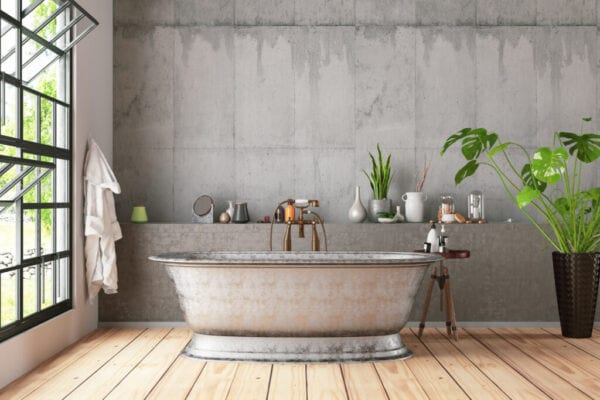 Asbe / Getty Images
How to create a more relaxing bathroom
If you are fortunate to have a large bathtub or Jacuzzi you are already halfway there! Nothing says relaxation like a long, hot soak in the tub. This small room can easily be turned into a little haven.
Unless you live in an apartment and have neighbors who can peer in, let the natural light shine in if you have windows in your bathroom. In the evening or during the night consider placing dimmer on your lights. I think this should be mandatory on all bathrooms!
Place flowers by the sink. Even one can make a difference
Place candles on consoles, along the sink – if there's enough counter space, and by the tub.
Get an inexpensive bath pillow – They are marvellous!
Place a small table near the tub on which to place a book, cup of tea or wine glass.
If you are tight on space a bath tray will be just as effective.
Replace old towels with oversized plush towels.
Consider getting a towel warmer. (Nothing takes away from the relaxation of a hot bath or shower than stepping out into a cold room!)
Place soft, machine washable area rugs on the floor, and one near the tub.
Replace your shower head for a massaging one.
Hang art on the walls, just be sure not to hang valuable photographs or paintings that could be damaged from the humidity.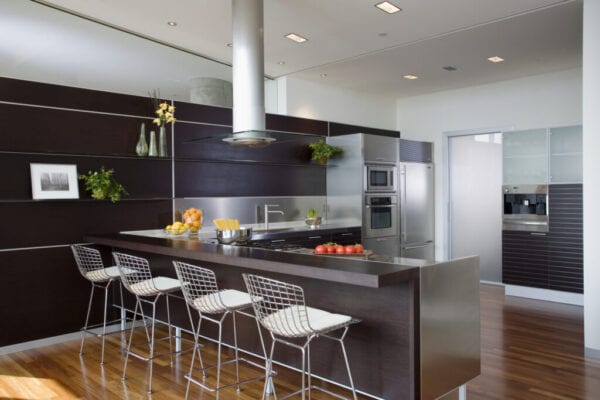 Andrea Rugg / Getty Images
How to create a more relaxing kitchen
Now, the idea of a relaxing kitchen may sound like an oxymoron as it is, after all, the hub of the house – It's where life is lived, nutritious meals are prepared, where friends and family gather, and where memories are made. So while we don't necessarily want a relaxed kitchen, we may prefer one that is harmonious and organized – devoid or chaos and clutter. I know that I work best in an organized and clutter free kitchen.
The more organized the kitchen the calmer the space will be.
Keep like items with like items. All spices should be kept together with the ones most frequently used should be more accessible.
Organize and clean out your cupboards and pantry from time to time. Toss items that have been sitting around for a while that are opened and not finished, such as crackers, cookies and cereals. This is a good time to check your supply and replace items that are running low. Do the same with your refrigerator where items that have expired tend to sit far too long. Wipe down all shelves.
Create a coffee bar area. In one area keep your coffee cups or mugs, coffee, sugar and coffee maker.
Keep a snack drawer for the children. In the refrigerator designate a specific area for the children where they can access healthy snacks such as fruit, yogurt, cheese and juice.
Keep your workspaces clutter-free. People have a habit of dumping mail, magazines and whatnot on their counters. These piles grow and grow over time and tend to get pushed from one spot to another. Designate one space for paperwork that is not on the counter.
Consider your prep areas? Where are they? Are your prep tools such as cutting boards, knives, measuring spoons, etc all within reach, or do you have to walk across the room to get what you need?
Do you have a table in your kitchen? Make sure to keep that clutter-free as well. The table can be used as additional prep space but a clutter-free table ensures that the family can sit together at the table without having to clear it off in a frenzy before each meal.
Keep bowls of fresh fruit on hand.
Place vases of flowers or plants or pots of herbs on your counter, by the sink or on the kitchen table. (These items won't take up much valuable workspace, and can easily be pushed aside.) Plant and flowers have instant soothing capabilities.
Organize your cookbooks and keep them displayed and easily accessible.
Replace ordinary lighting with decorative light fixtures. Install dimmers. Make sure work areas are well lit for prep work.
Add washable area rugs to absorb sounds and soften the floor, in particular those areas where you tend to most standing, such as the sink and prep areas.
Hang art and photographs on the walls.
Display kitchen-related collectibles, such as rolling pins or copper pots and pans, as long as they don't end up looking like clutter.
Keep a radio, CD player or iPod dock on hand. After all, they say that music calms even the savage beast!
As you see, in these rooms many ideas are repetitive. This just serves to illustrate that a few simple steps can go a long way in making your home more relaxing. Do you have any tricks that work for you to create a more relaxing environment in your home?