How to Decide on the Best Fencing Materials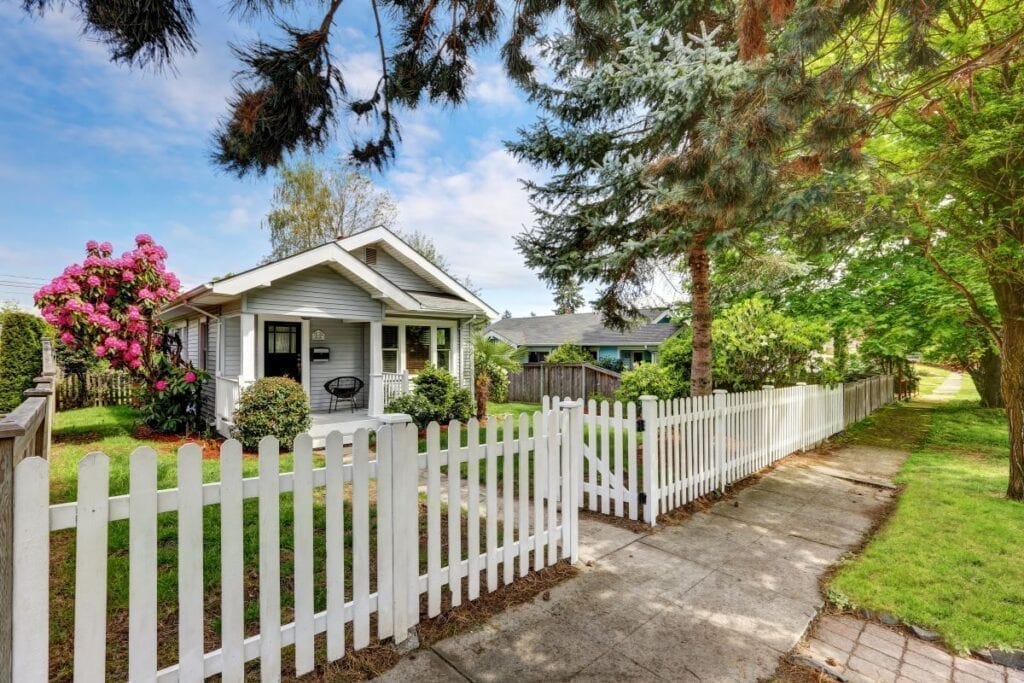 We hope you like the products we recommend. Just so you are aware, Freshome may collect a share of sales from the links on this page.
The huge number of styles of fences and fencing materials can be overwhelming. Wander down the fence aisle of any hardware store and you're looking at different terms like "dog-eared fence" and "scalloped fence." Then there are the half-dozen materials, which may or may not suit the needs of your yard and budget.
As far as the budget for putting in a fence, even that can get confusing. It can be easy to look at the fence panels alone to determine the price. But that's before you take into account the posts you'll need, any additional parts like gate pieces and labor costs to install the fence. The average cost to install a fence runs all around the low thousands of dollars.
If you do it yourself, getting fence posts into the ground can be backbreaking work that requires a post hole digger. The project can take days to weeks, depending on how much time you have. A professionally installed fence can be up in as little as one day.
With the cost and labor involved, you want to be sure you're choosing the best fencing for your yard. Below, we'll outline the different fencing materials and styles so that you can make an informed decision.
Fencing materials
Fencing materials all carry pros and cons. Some work better in certain aesthetic styles than others, too. So your first step is to weigh different fencing materials against each other. Here's a guide to help:
Wood is an attractive, classic material that works in any yard style. It's also cheaper than other options like vinyl privacy fencing or masonry fencing materials. Cedar, teak and redwood are popular fencing material types for their durable and long-lasting properties. Bamboo fencing has become an eco-trend option since it grows so fast. You can also look into pressure-treated woods to increase durability and resistance to rot and bugs. Wood fencing can last a couple of decades or more with proper care, though this can vary based on wood type. However, it does eventually warp and rot. It can also require refinishing. This has led to other fencing materials becoming popular.
There are a few different types of metal fences that are popular, like aluminum, wrought iron and chain link fencing. However, metal has a very specific design aesthetic that may or may not work around your home. For instance, wrought iron can add a stately feel. Chain link fencing is typically found in very casual yards. Certain metals, like wrought iron, can also require scraping and painting to keep rust and other signs of wear away. However, metal fences tend to be inexpensive. And they serve purposes like keeping pets in without visually closing off the yard. Metal fences can last decades or longer with proper care.
These are made out of wood fibers and plastic. They have the look of wood with the increased durability of plastic. They won't warp or rot as badly as wood and are more resistant to bugs. The quality and price of different composites vary widely, so you'll want to make sure you do your research and talk to a reputable seller.
For fencing materials that reduce cost, you can't beat PVC, which often works as the stakes, post sleeves and pickets. It's a way to reduce costs and increase durability because less to no wood is being used in the construction.
Vinyl fencing is the superstar of the fencing world. It's very pricey but, if you can afford it, you may want to consider this type of fence. It's both stronger and more flexible than wood. Plus, it's maintenance-free and very easy to clean. It can also last from 20 to 30 years.
An often-overlooked style of "fencing" is masonry. This encompasses styles like concrete, brick, block, stucco or stone. These types of walls are known for their longevity, often lasting over 100 years with proper upkeep. They're pricey, but their durability might make them worth the upfront cost. They also go great with homes that have classic or stately styles to them. However, they need to be installed by a professional, as they often need complex footings and supports. And, over time, they might need their mortar joints fixed.
Fencing styles
Beyond basic fencing materials, fences also come in a wide range of styles. So you'll want to consider those next. Each of these work in different aesthetic settings and with different goals for the yard. Here is a basic guide to help you weigh fencing styles against each other:
This is a common utilitarian type of fence that blocks all views outside the yard. It often comes in 6-foot-high panels.
This blocks out most sightlines but has a partial view through a decorative checkered pattern at the top of each panel. It adds a bit of romantic style to a yard. You can commonly find the lattice fence in 6-foot-high panels.
When someone references the quintessential suburban white picket fence, this is the type they're talking about. It's usually waist-high and has widely spaced slats. It can give a clean and classic look to yards.
This is like the white picket fence, but the top of the fence has a curved design formed from pickets of different heights. It can give a romantic, decorative feel.
The dog-eared fence obstructs views with alternating planks placed in front of or behind each other. This type can add some attractive texture to any yard.
This basic fence type is simply narrow bars placed a few inches apart from each other. It's a good addition to yards with a stark, modern appeal.
The farm fence is formed by a few widely spaced narrow planks of horizontal wood. It's usually around waist-high and gives just enough obstruction to stop a cow from wandering off. It's great for country or rustic-styled homes.And remember, before finding your dream fencing materials and styles, check with your local municipality. Some areas have height and privacy regulations for fences.