How to Choose the Right Decking Materials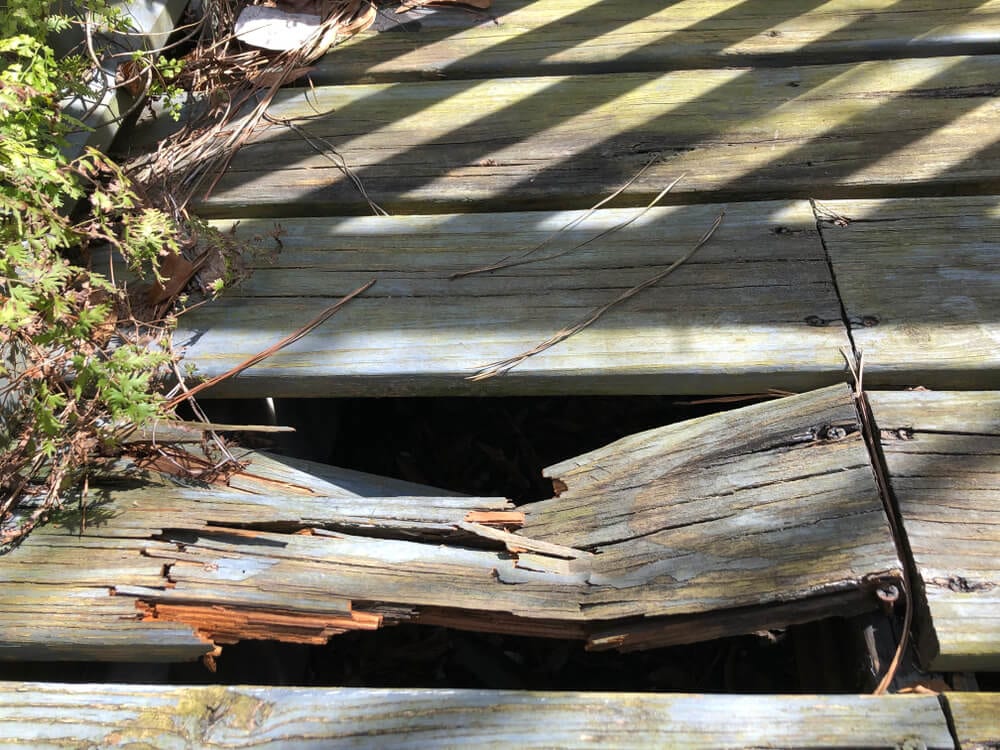 When you know you have to replace your deck, you typically just know. The finishing on the surface of the decking materials starts to look worn. In more extreme cases, portions of the boards can be completely rotted through or broken. In the most extreme cases, the frame could start to deteriorate, leading to hazardous deck collapses.
If you're in a position where your current deck could use some TLC, average repair costs can be in the low thousands of dollars. A whole new deck can cost anywhere from thousands of dollars to tens of thousands of dollars, depending on the decking materials you use, the size of the deck and local labor costs.
Average estimates for how long it takes to complete a deck are around a week or less, whether you use a contractor or build the deck yourself. Deck repair can take as little as a day if repairs are minor. However, contractor schedules can vary.
Below, we'll take a look at the types of decking materials, covering some basic pros and cons of each. But first, you should assess whether to repair or replace that deck.
Should you Repair your Deck?
The first question you should be asking is whether the frame itself is showing signs of corrosion. Damage to the structural support can lead to deck collapse. Sometimes corrosion will be obvious, like in cases where you can see rot on the edge of the deck frame itself. But you may have to get a professional to perform an inspection if you're not an expert on woodwork. They'll look at more technical things, like guardrail and stair connections.
Luckily, decks with structural support intact, but worn boards and railings, can get away with a simple repair to the decking materials. You simply need to replace the individual boards and railings that need repair. Some decks may need only a simple refinishing.
However, if you want newer materials, know that they could be heavier. In cases like these, the deck will need additional supports. The cost of additional supports could approach just putting in a new deck.
As another note, older decks from before 2004 often contained the toxic chemical chromated copper arsenate, a type of lumber preservative that has been labeled a carcinogen due to the arsenic it contains. Fortunately, you can have these types of decks refinished by a professional, which can seal away the chemical.
Types of Decking Materials
The market offers a wide array of options for decking materials, each of which has its own pros and cons. Below is a handy outline of the most common types of decking materials to help you decide which is right for you.
Pressure-treated lumber
This is made of natural wood, but it's chemically treated to resist bugs, fungus and rot. It's affordable and easy to source. However, it can crack, warp and split with time. It also requires maintenance, like yearly power washing and restaining every couple of years or so. And people with natural living and sustainability concerns may want to avoid decking materials with chemical treatments. However, it's also the least expensive type of decking material.
Natural woods
Natural woods are a great investment for people who want to avoid the chemicals of pressure-treated lumber. Some types of woods have oils and tannins that make them naturally resistant to rot and bugs, like redwood and red cedar. Tropical hardwoods can also have similar resistant qualities, like tigerwood and ipe.
Shop carefully for these types of decking materials, as different types of woods are more hearty than others. And, like pressure treated lumber, natural woods like redwood require annual power washing and a new stain every few years. Different woods will have their own maintenance needs, so do your homework. Prices can be all over the place based on wood quality and type.
Composites
Wood fiber and plastic make up this decking material. It's a highly durable option that doesn't warp, rot or split as easily as natural wood can. You don't need to refinish it, but optional paint or stain can give it a fresh look. However, it looks more artificial, so some people might not like the loss of natural texture and color that can come with moving away from natural woods. And it can grow mold and break down over time. You'll be looking at mid-range pricing, compared to other decking materials.
Plastic
This type of deck is usually made from PVC and polyethylene, a couple of popular options. There is also plastic lumber, which is made entirely of 100 percent recyclable plastic. Plastic is more durable, especially in that it doesn't rot or decay. Plus, it's very light. However, this style is getting even further away from the natural beauty of hardwood, which can be a con for people who like that aesthetic. It can also be slippery and might sag. Like composites, prices tend to be mid-range.
Aluminum
Aluminum is one of those ultimate decking materials in terms of durability. It doesn't rot, bugs can't eat it, it's mold resistant, it won't crack or warp and its finishes last and last. For a con, however, it's the most expensive type of decking. And some people may not like the sterile aesthetic of a metal deck.
As you can see, each decking type has its distinct pluses and minuses. So the right decking for you will depend on your budget, tolerance for deck maintenance, backyard entertainment needs and aesthetic preference.
And remember, if the cost of repairing or upgrading a deck is close to putting in a new one, you might just be better off getting a brand new deck that may last longe