How Copper Tubing Can Be Transformed Into Spectacular Furniture And Art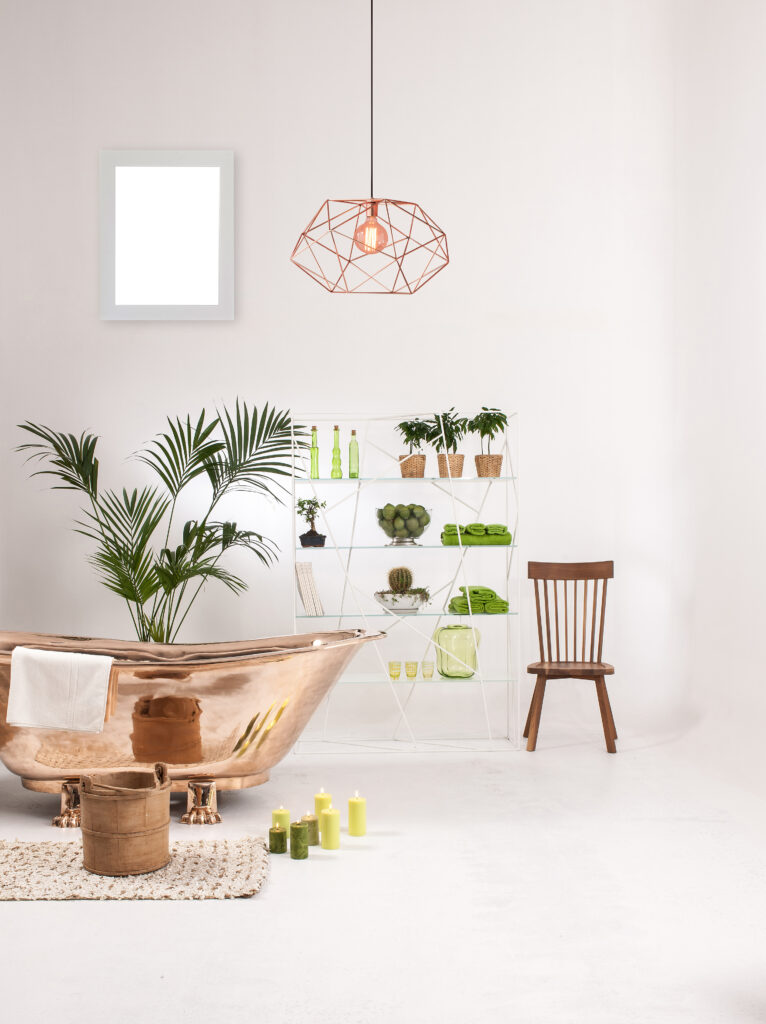 We hope you like the products we recommend. Just so you are aware, Freshome may collect a share of sales from the links on this page.
Have you ever met an artist that works with copper? Meet TJ Volonis – a talented Brooklyn-based artist constructing astounding furniture and wall art pieces using copper tubes. His description helps us understand his intuition that results in so many delicately designed, strongly built pieces: "My work focuses on the dependent relationship between the whole and the segment and the fragile balance between order and disorder. In particular I work with patterns–portraying them simply and in their entirety, or through the prism of a larger pattern." His passion for this versatile material was transposed in numerous furniture items, like an amazing dining table two meters long.
How did you start in this business?
My path to this business was initially unintentional, and a little unconventional. I've always loved copper as a material–its warmth versatility and adaptability. I had dreamed up ways to create things from it like screens and lighting fixtures but had never taken it beyond the sketchbook stage of design. When my roommate moved out she left a rickety coffee table she had gotten from a dumpster. I didn't have the money at the time to replace it so I decided to knock the legs off of it and build a new base out of copper tubing. I did some research, bought the materials I needed from Home Depot, drafted a design, and created it. I was happy with the outcome. At that time I was volunteering for a benefit art auction which highlighted emerging artists. I made another piece and entered it under a pseudonym. The piece was so well received that it won best in its category and attracted the attention of a gallerist who was involved with the auction. This gave me the encouragement to continue.
Did you always work with copper or experienced other materials as well?
So far I've only worked with copper. There are still so many qualities of the material I want to experiment with that I think I'll be focused on it for some time.
What qualities of the material made you choose to work with copper?
Its warmth and its "elementality"–copper tubing seems to encompass the aspects of metal, air, water, fire, earth. I love how it expresses beauty in its various states (bright "new-penny" copper, slightly tarnished and distressed from the blow torch, air oxidized to a honey brown color, verdigris and other patinas). It conducts heat readily and can reform molecular bonds when heated. I like to take copper tubing which was intended for plumbing and re-tasking it to creating something surprising.
How many hours go into creating a functional art piece?
It varies greatly. For a piece as large as the dining table hundreds of hours. For a smaller wall-mounted sculpture 20-30 hours +.
Where do you find inspiration for creating your beautiful "order meets chaos" works?
A lot of my inspiration comes from New York City itself and its tremendous industrial infrastructure. Communal systems such as train tracks, bridges and plumbing are necessary to create an environment that's habitable for a working society. I like looking at this through an artistic lens, and re-imagining it to be something beautiful, beyond the intended utility. I'm also inspired by the material itself, and its own sense of expression.
Please guide Freshome readers through the creative process taking you from idea to finished product – how do you work?
I have two distinctly different working processes. One is much more composed and intentional. When I'm creating a functional piece it has to be designed fairly carefully before starting the process of building it. The design will change in subtle ways as I progress and the material itself informs the design. The other process is much more open and fluid–this applies to the wall-mounted/non-functional pieces. I begin with a basic concept of the piece like a certain image or theme I want to create within the work, decide on the rough size of the piece, and then jump in and start building it. Again, the material informs the process and the finished piece, but that interaction is even more instrumental in this style of building.
You capture a beautiful color of the material – why do you prefer it to, let's say, shiny copper?
I have made pieces that play with the different finishes and states of the material. Some I've left to air oxidize which creates a very mellow honey-brown color over time, unsealed. Other pieces I've sealed with lacquer right away to preserve the scorch marks and discoloration of the torch. And other pieces I've polished and sealed right after finishing the piece to preserve that new-penny gleam. I'm excited to start working with electroplating and forced patina soon. The metal is versatile in terms of finishing options, and I find it to be a beautiful material in all those various states.
Seems that you divide the work into functional and decorative objects – which of these is more challenging and rewarding and why?
Each has its own challenges. Of the two working styles, the more difficult are the functional pieces. Oftentimes, even with my experience of the material, it won't do what I've designed for it. Then you have to collaborate with the material and come up with a mutually satisfactory solution. I really look at the copper tubing as a co-creator of my work.
What have you learned from working with copper tubing?
That any artist or artisan who works with physical materials has to collaborate with the materials themselves. They have their own personality, limits, and strengths.
You are a self-taught artist. How much time do you spend researching your line of work?
Some, but not a lot. I prefer to be in the studio experimenting. Occasionally I'll look up instructions as to how to achieve a particular look or manipulation technique, but mostly I figured it out as I go. I've always wanted to apprentice with a plumber to learn the more formal techniques. Maybe one of these days I'll get to that.
What was the oddest request you had to deal with?
Really nothing very crazy so far. I'm happy to try anything a client would like me to do. A benefit to working on commissions is that I get to experience the material and the look of my work from a different perspective.