10 Dramatic Garage Transformations to Inspire and Amuse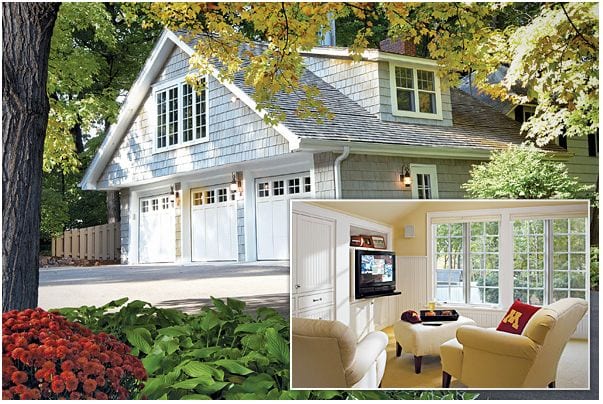 Garages, they're not just for cars anymore! People in need of more living space are getting very creative these days. Many are nervous now, not wanting to invest in the real estate market at this time for a myriad of reasons. But what does one do when one has simply outgrown their living space? Perhaps there are now children where there once were none. Or perhaps the family is growing in a different way, active teenagers need a place to get away, or, as is happening more and more these days, grandparents are moving in, changing the face and description of the modern family. Whatever the reason, you find yourself needing more living space but whether for personal or financial reasons you can't leave your home. The answer could be quite literally just outside your front door… and down the front steps, down the walkway… in your garage!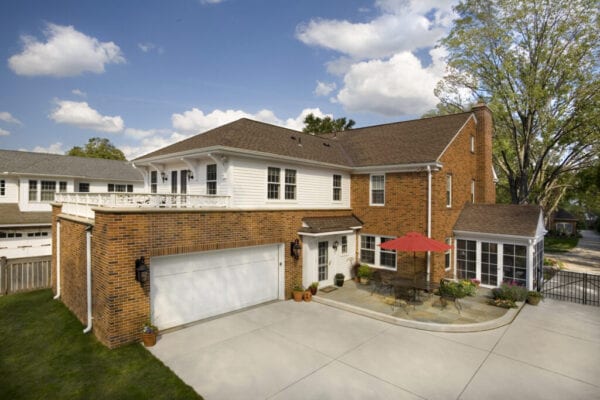 Andrea Rugg / Getty Images
1. Chauffeur's Apartment created for elderly, widowed father.
Here, the garage stays intact allowing the cars to remain housed inside. The upstairs storage loft, however, was converted into a living space, sometimes known as a chauffeur's apartment, for the homeowner's recently widowed father. The result was a warm and inviting, open-plan apartment that boasted a fireplace, and scenic views from the large windows at the front gable end. Plenty of storage cabinetry was created under the eaves by installing knee walls, allowing the main space to remain uncluttered and appear larger.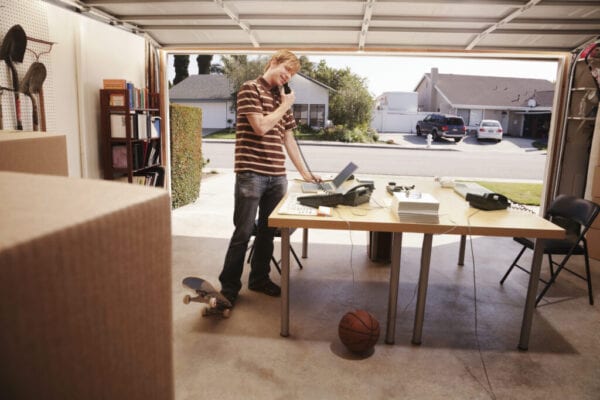 Maguey Images / Getty Images
2. Garage turned home office.
We showed you the above office in this post. This office from a converted garage in Eindhoven, Holland seemed, to the homeowner to be a natural, spacey solution. Here the garage structure was actually extended and the garage door  was swapped for a sliding glass one. The result is fantastic light-filled space with plenty of fresh air. A perforated metal skin was used to cover this garage with folding metal doors to serve as a privacy screen from the driveway. Additionally, the roof was lifted at an angle to accommodate a south facing skylight strip that increases the interior's light and airy feeling.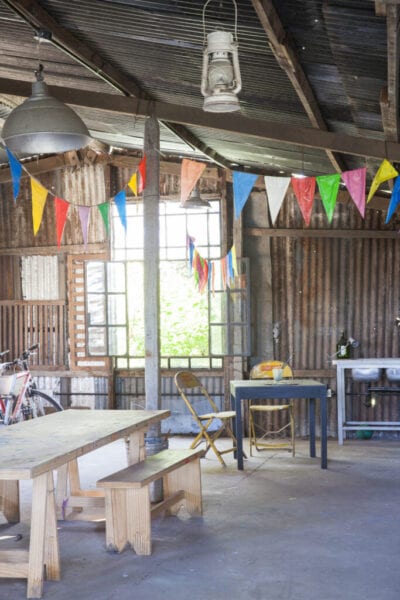 AltoImages / Getty Images
3. Garage converted into fully functional living space
In this renovated, fully functional garage space, the concrete slab was leveled (often in garages, the floors slope slightly) and covered with hardwood. As with any garage space-turned living space, heat, air-conditioning and plumbing were added for full functionality. The overhead garage door was replaced with these over-sized, insulated accordion-like folding doors for the a clean, modern look.
4. Dilapidated garage becomes magically transformed.
A former dilapidated garage in Bordeaux, France is magically transformed into a  handsome, modern, living space.  Electricity, plumbing and heat were brought in to make the space fully functional. The small space was divided according to function. A small kitchen with all the essential appliances sits on one wall towards the front of the structure. This compact kitchen leaves room to serve dinner for 6.  In the center of the home a 12′ x 10′ x 10′ wooden cube conceals the shower, sink, bathroom, washing machine, dressing room and toilet.  A desk and a sofa area as well as storage space, were built into the right hand side of the exterior of the cube, while a staircase  was added on to the left  which leads right up to the mezzanine level sleeping area.
5. Garage remodel accommodates expansion and renovation of  historic home.
This garage remodel was part of a much larger historic renovation where the original house had been added to over time. In dire need of an overhaul, the core of the home remained beautiful with wide pine floors and plaster walls. "A critical requirement of the project was to preserve the integrity of the historic structure while giving the new owners additional space for their growing family and friends."  Without having seen so in the past, one might never have imagined that where this refined, comfortable family room now sits, was once a bare bones garage, complete with a concrete floor and metal lolly columns down the center. The transformation, overseen by Crisp Architects in historic Hudson Valley, NY, was completed with wide board floors, a tall and elegant tray ceiling, antique beams and a focal point fireplace with period flair.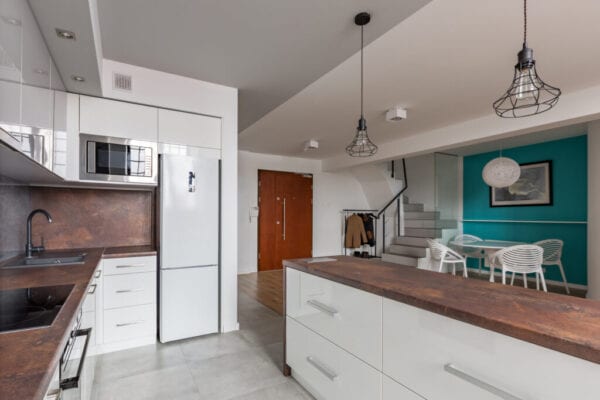 in4mal / Getty Images
6. Italian garage becomes a stylish duplex.
In northern Italy, in a city called Cuneo, sits a modern and aesthetically stylish duplex residence that was once a garage. The transformation was overseen by the  Italian architectural firm Ego Vitamina Creativa. Distributed on two floors a sculptural staircase, seamlessly connects the downstairs public living space to the upstairs private space via design and color.  Downstairs, the bright and airy living, dining and cooking areas are separated by a wide column boasting a transparent fireplace. The space has an open and fluid feel. The light-colored hardwood floors are mirrored above by the light hardwood ceiling giving the space a light, spacious and airy feel that emphasize the natural light pouring through the glass doors and windows. Here a living space was created where "design lines intertwine to shape a dark wooden piece of furniture running alongside the wall opposite the kitchen."  Versatile construction acts as both a storage space and supports the folded, painted and perforated metal staircase railing leading to the upstairs.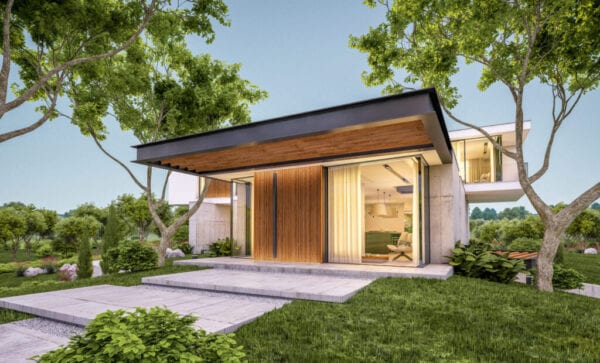 Korisbo / Getty Images
7.  Extreme micro home.
Call it extreme. Call it simple, this tiny Seattle home was created by converting a garage and using re-purposed items. The 250 square foot house home cost $30,000 to convert.  Her house has a small but efficient kitchen complete with the industrial sink, ceiling lamp and wooden wine crates, all of which are salvaged items. The metal shelves and counter top are new. A raw-food enthusiast, the homeowner, Ms. de la Varga, needs only a blender to prepare food and a camping stove to boil water.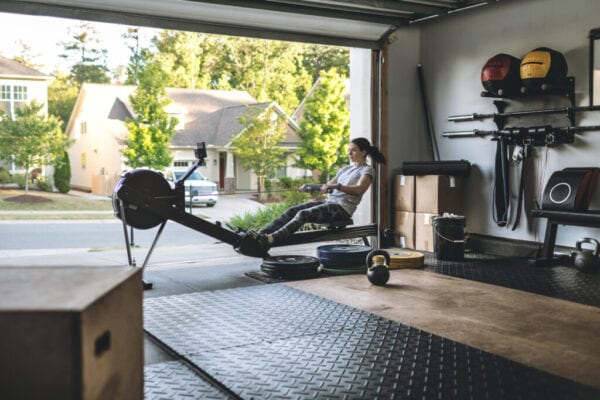 IngredientsPhoto / Getty Images
8. Where cars once sat children now run and play.
Created by architect Margaret Menter, this converted two-story garage tucked in the back of a Craftsman home in Seattle  re-imagines the modern family room. A multipurpose pavilion was created to engage the family in creative and physical play and activities. The second level boasts a large multipurpose room, with bike and car storage space below, on the first level. This was created to be a space that was both flexible and stimulating; a space that would evolve and change with the children through their teenage years. The flexibility of the space allows it to be used for reading – in the hammocks; for physical – swinging from monkey bars, climbing  the ropes or running around freely. The room's flexible space allows it to be easily be converted from a gym to a party room, for entertaining at small, intimate dinner parties, or cozy family movie nights. A small bathroom and a utility sink are on the premises, making cleanup after craft parties and small gatherings easier. The space is modern, streamlined and functional  while remaining true to the 1904 architecture.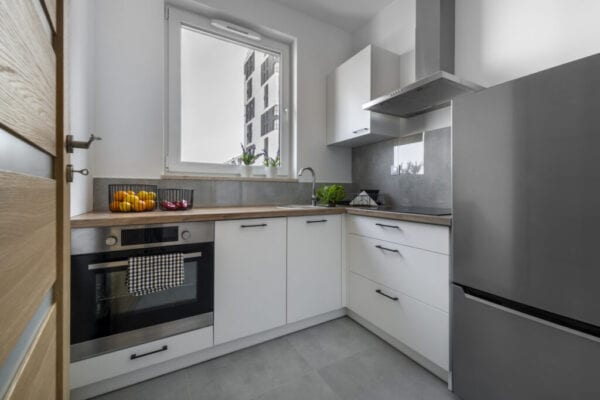 Kadaj / Getty Images
9. Junk-filled space becomes a charming kitchen.
Once a tiny, junk-filled garage, this delightful kitchen in Washington, D.C. overlooks a beautiful backyard and patio, allowing natural light and nature to flow in and fill the room. The conversion, performed by Thomas Ahmann of Ahmann Architects was quite challenging as the garage's original floor plan was extremely narrow. The L-shaped kitchen was divided into distinct areas while maintaining a unified feel. A workspace, mudroom, lounge, and a breakfast bar were integrated into the design. Despite the narrow space, there's still plenty of room to cook and move around freely. A built-in hutch with desk space was installed at the far end of the kitchen, right against the mudroom area which is accessed through the home's driveway. That location encourages everyone to remove their shoes, hang up coats and deposit their bags before entering into the kitchen area. At the end of the island sits a breakfast table constructed from reclaimed wood. Placement of the table there was crucial to create uninterrupted flow from the front to the back of the room.
10. Former garage becomes a trendy and popular restaurant.
Finally, not all garage transformations are for the home and extended family. Above we see the highly acclaimed restaurant, ASTERISK,  located in the heart of  tony Newport, RI.  ASTERISK is known to have one of the most unique atmospheres in town. "Sited in a renovated historical service garage, the 12′ over-head doors and open floor plan create a wonderful communal atmosphere unlike any other curbside establishment in Newport." Patrons can enjoy dining en plein air during the summer months or go inside to enjoy the  large bar area and dining room complete with open kitchen where the talented chefs  can be seen hard at work. The restaurant's chefs are renowned for their creative combinations of fresh herbs and classic sauces, creating the perfect blend of innovation and originality to all their dishes. The restaurant also happens to be a Food Network favorite, with the "best martinis in town." Should you find yourself in Newport, visit the restaurant and experience some wonderful architecture, interior design as well as a wonderful meal!Other wonderful garage conversion ideas are art studios, yoga and dance rooms, movie theaters, large playrooms that include billiards and other table games. I'd love to entertain and would love to convert my into a large dining and entertaining space complete with a full bar, music and entertainment system. I would love to be able to open up the large garage doors and bring the party outdoors. What would you do with your garage space if you chose to convert it?