Modular Homes: Everything You Need to Know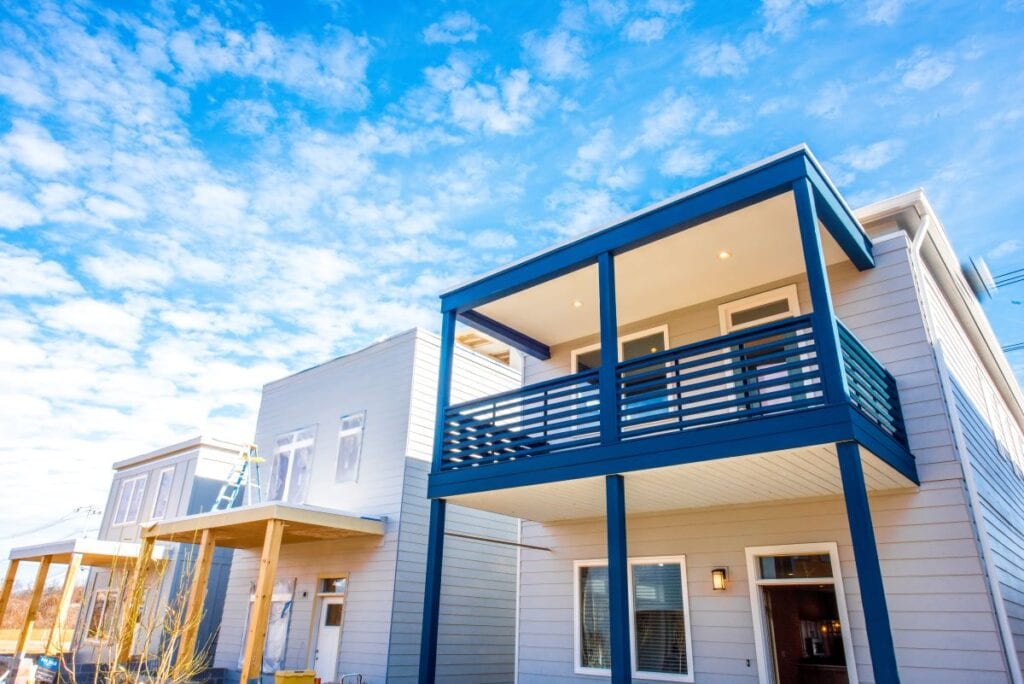 Some homeowners dream of their own custom-made home but don't want to put in the time and expense needed to manage architects, engineers, and construction workers required to build a home. Modular homes and prefab homes are a great alternative to a traditional design-and-build home. They're cost-effective and can save you lots of time (and headaches).
What is a modular home?
A modular home is one that is built indoors in a factory-like setting. The finished products are covered and transported to their new locations, where a builder assembles them. A modular home is not a mobile home; it's simply a home that is built off-site. These homes are often called factory-built, system-built, or prefab homes (short for prefabricated).
Modular homes vs. prefab homes: 
Modular homes and prefab homes often refer to the same thing. Prefab homes is the catch-all term for a home made with sections that have been put together off-site. A modular home is often considered a prefab home — since it's been built in sections elsewhere.
Modular homes vs. manufactured homes:
Modular homes and manufactured homes are not the same. Manufactured homes are not placed on permanent foundations. Manufactured homes, sometimes referred to as (but are not always) mobile homes, can be moved from one location to another. There are specific laws and regulations regarding these relocations.
Modular homes vs. mobile homes:
Mobile homes are simply the term for a manufactured home built prior to June 15, 1976. Housing and Urban Development replaced the term with manufactured homes.
Did you know you can buy an entire modular home on Amazon?
How do modular homes differ from houses built on-site?
Because modular homes are built indoors, they can be completed in a matter of weeks, as opposed to months. They don't see the typical on-site delays caused predominantly by the weather. Modular homes must conform to specific rules, guidelines, and building codes that often surpass those of traditional on-site homes.
When considering a modular home, make sure to shop around, as not all companies that make factory-built homes are alike. There can be significant differences in quality, price, and service. As with purchasing or building any home, you must do your research.
15 must-know modular home facts:
Modular homes are transported to the home site and set on a permanent foundation.
Modular homes appraise the same as their on-site built counterparts do; they do not depreciate in value.
Modular homes can be customized.
Most modular home companies have in-house engineering departments that utilize CAD (Computer-Aided Design).
Modular home designs vary in style and size.
Modular construction can be used for commercial applications, including office buildings.
Modular homes are permanent structures and, like manufactured homes, are generally assessed as real property.
Taxes on modular homes are the same as site-built homes.
Modular homes can be built on crawl spaces and basements.
Modular homes are considered a form of green building.
Modular homes are faster to build than 100% site-built homes.
Home loans for modular homes are the same as site-built homes.
Insurance premiums for modular homes are the same as site-built homes. Mobile or manufactured homes require their own dedicated homeowners insurance.
Modular homes can be built to withstand up to 173-mph winds.
Modular homes can be built for accessible living and designed for future conveniences.
Do all modular homes look alike?
Contrary to popular misconception, modular homes do not all look alike. Modular homes have no design limitations. You can create any style of modular home you wish and embody your dream design style.
You can add any style of window or architectural detail that you desire. Nearly all host plans can be turned into modular homes, which means you can create your ideal home.
How is a modular home assembled?
A factory-built home starts out as sections that have been built in a climate-controlled area. The finished sections are transported to the building site and then assembled with cranes. This process resembles building with Lego blocks. Modular homes cannot be moved after they have been placed and set on their foundations.
Are modular homes more expensive than those built on-site?
You can save quite a bit of money with prefab homes. Because they're constructed in a factory, they can be built fairly quickly — in a matter of weeks, as opposed to months — because there are no weather delays. Furthermore, all inspections are performed at the factory during each phase of construction by a third-party inspector and are completed before the homes are transported to their permanent locations.
The average modular home could cost between $90 and $120 per square foot to build. A home built on-site starts at $150 per square foot. But the more complex your design and layout, the more your modular home could cost. Specialty services like plumbing and electrical work could also add to the base price of your home.
What are the pros and cons of owning a modular home?
Prefab homes have many advantages, but there are a few drawbacks you should consider as well. If you were planning on building a home from scratch anyways, modular homes would save you time and money. But if you're more interested in a move-in ready home, review the following pros and cons.
Pros of modular homes:
Cons of modular homes:

More affordable to build.
Shorter build times.
No home inspections needed — they're done at the factory.
They can be customized.
Typically built with environmentally-friendly materials and practices.
Built to be more energy efficient.
No weather-related building delays.

You'll need to purchase the land first.
Cannot be built on subdivisions.
You'll need to build out a foundation, add electrical hookups, plumbing, and sewage on-site.
Not all manufacturers are the same — you'll need to do research on which company to choose.
You may need a construction loan at first to finance the modular home, which is only good for one year.
Once the home is attached to the foundation on-site, you'll need to convert the construction loan into a longer-term mortgage by going through the home loan process.
Where can you find modular homes for sale?
There are many companies building and selling modular homes. You can order pre-designed homes that need nothing but installation, or you can customize to your heart's content.
Modular homes on Amazon:
It would only make sense you would eventually be able to order prefab homes on Amazon. Do a quick search on Amazon and you'll find tiny homes, plans for modular homes, and a 1,000 square foot modern cabin home by ECOHOUSEMART, delivered in 100 to 120 days.
Nationwide Homes:
Nationwide Homes is a major manufacturer of modular homes serving the Southeast. They have a variety of plans including two-story prefab homes, Cape Cod, or Ranch styles. Nationwide Homes are available through the manufacturer's approved builders in the states of Georgia, North Carolina, South Carolina, Tennessee, Virginia, and West Virginia.
Impresa Modular:
If you're in search of a prefab home style that can be shipped nearly anywhere, Impresa Modular's prefab homes can ship to any state. They have eight styles of homes, including the popular contemporary styles and a selection of immediate delivery homes available based on your zip code.
The bottom line
Modular homes — often referred to as prefab homes — are a great option for homeowners who want to build their custom dream home without the hassle of traditional construction.
The process typically runs faster and smoother because the home is built in a factory off-site by pros who understand zoning, permits, and the home-building process. You'll work with the manufacturer to design your modular home. They'll build it at their factory, transport it to your location, and anchor it to the permanent foundation faster and for less than the traditional way of homebuilding.
Other frequently asked questions
Do modular homes last long?
Modular homes are designed according to local zoning codes and regulations and will last as long as a traditional home, if not longer.
Which is better, prefab homes or modular homes?
A modular home falls in the category of a prefab home. Another type of prefab home is a manufactured home.
How much do you have to put down on a modular home? 
If you plan on financing your modular home through a mortgage, you'll need to put down 20% of the home's value for the best chances of getting approved for the loan.
Cynthia Paez Bowman contributed to this report.