6 Amazing Indoor Water Feature Ideas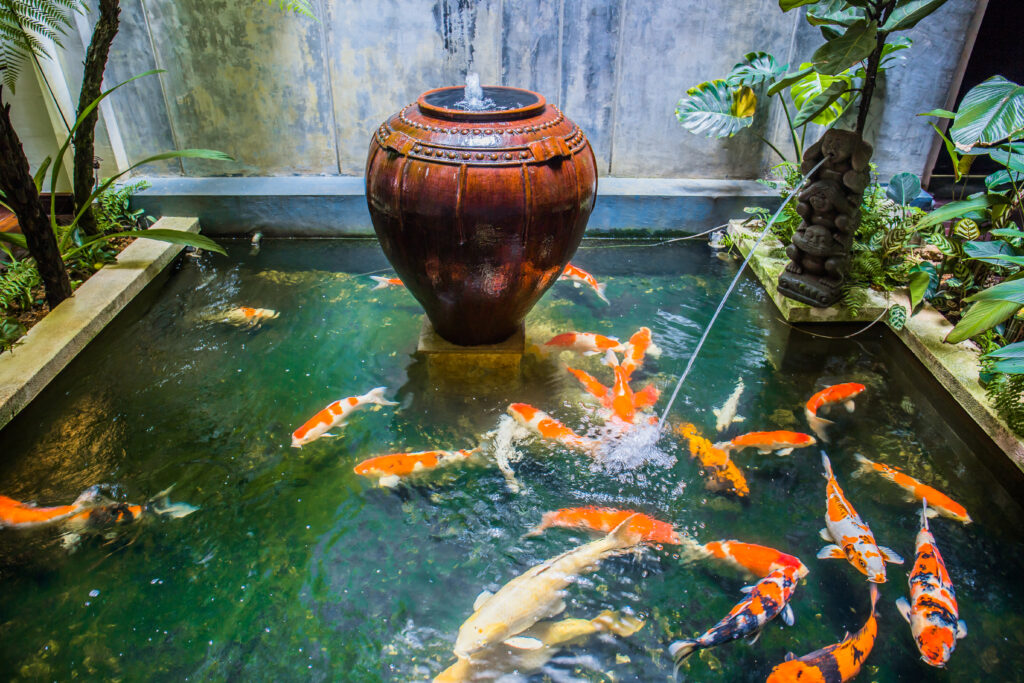 Water features are usually associated with outdoor gardens, adding a serene bubbling brook to lush natural areas. But you can also get that relaxing feeling inside the home with an indoor water feature.The uses for water features in the home are endless, from small accent pieces to room dividers. Read on to learn how and where to use water features indoors. You may be inspired to make use of these unusual features in your own home.
Get a Zen vibe
One of the most classic home styles for indoor water features is Zen style. With Zen, anything natural helps create the soothing, relaxing feeling that defines Zen style. Water features may be used to form indoor meditative ponds or to complement an indoor Zen garden. You can use water features to create peace in unusual spaces, such as the previously unused area beneath the stairs in the photo above.
Create an indoor water feature wall accent
One of the most popular ways to use indoor water features is the wall fountain. These remain a common indoor water feature because they don't take up any floor space, yet they add a relaxing bubbling sound and attractive visuals.Wall fountains tend to work well in homes with natural, rich textures like deep woods and green walls, since the elemental nature of the water feature adds to the natural feel. They also work well in a high-class style, since a continually flowing water feature denotes a feeling of luxury.
Fill in unused floor space
Earlier we touched on the fact that water features can make use of unused space, but that doesn't mean they have to go unnoticed. The fountain above demonstrates how water features can be designed specifically for the space they occupy. The narrow design of the water feature makes it great for use under the stairs, without compromising visual interest — just take a look at the bright river rocks.Just because this particular water feature is situated beneath stairs doesn't mean it's not part of the space as a whole. It works well as an accent in a dining space, creating ambiance for the diners.
Place subtle water features near windows
A water feature doesn't have to be a large ordeal. The photo above shows a water feature that is simply a small pool surrounding a decorative jug. Its positioning by the window is key, as that allows the pool to catch natural light. The reflective light brings attention to the small water fixture.This style is particularly great if you have space limitations. Putting a smaller water feature off to the side means that you have more floor space to work with, while still using natural light to highlight the beauty of the feature.
Add style with light features
Want to add an even bolder pop of interest to your indoor water feature? Lights are an excellent and relatively simple option. Small lighted water jets add instant class and style to any water feature. It's like getting a small version of those luxury hotel fountains right in your own home.This option is a ritzy idea for entryways or hallways. You can make the pools as wide or narrow as you want, depending on the space you have to work with.
Divide up your rooms
Perhaps one of the most unusual ways to use an indoor water feature is to make it a room divider. That's what the homeowners did in the design above, and with wonderful results. A simple, clear surface with running water keeps spaces separate without closing off rooms entirely. This way, the running water reflects the room beyond the water feature and creates an artistic, unique look.By simply taking out a portion of the wall, a feature like this fits into the home without taking up valuable floor space. It's a great idea if you're looking to add something distinctive, yet natural.Adding an indoor water feature may sound like a daunting task, but there are ways to accomplish it without installing full-on waterfalls in your home. Any of the ideas above bring a touch of class to any indoor space. Do any of them inspire you? We'd love to hear all about your indowater feature plans.