17 Wall Decor Ideas to Spruce Up Your Space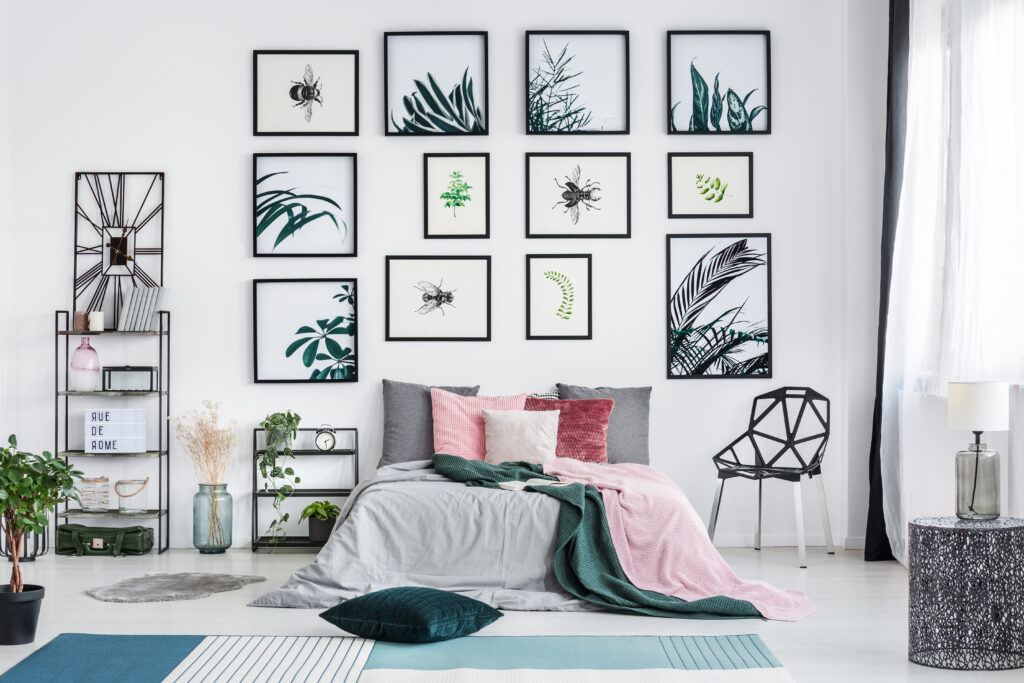 Want to make your house feel more like a home? Add intrigue to your space by filling those blank walls. If you need some brilliant wall decor ideas, we've rounded up 17 of the most on-trend ways to spruce up your walls. The best part? Some of these looks won't even cost you a cent.
1. Basket walls
With their Bohemian vibe and various styles, baskets are the perfect DIY living room wall art ideas. Keep the tones natural for something decorative yet low-key, or mix it up with different colors or patterns for a statement wall that pops.
How you can get this look:
2. Pastel round shapes
You only need paintbrushes and a pastel color palette for these fresh living room wall decor ideas. By adding round shapes to your walls, you can give them an on-trend aesthetic that's not too over-the-top. Not keen on paint? Apply wall decals instead!
How you can get this look:
3. Mirror gallery walls
You've seen gallery walls of framed art, but how about one of all cool and quirky mirrors? This easy-to-implement contemporary wall decor idea isn't just a great conversation piece — it's also perfect for bouncing light throughout an otherwise dark room or opening up a small space.
How you can get this look:
4. Plants
Plants aren't just pretty to look at. They're also great for purifying the air and adding a burst of life to your space. Use your favorite plants, pots, and pot wall fixtures to create this stunning wall decor idea that'll wow everyone who sets foot inside your space.
How you can get this look:
5. Murals
Conjure your inner Picasso and transform a blank wall into a magnificent mural. All it takes is some paint, a paintbrush, and your imagination. If painting isn't your thing, opt for some gorgeous large wall decals instead.
How you can get this look:
6. Eye-catching canvases
Jazzing up an otherwise plain wall can be as simple as finding the perfect canvas for it – or painting your own! It doesn't matter what style of art you're into. As long as it's eye-catching and consistent with the rest of your decor's color scheme, it'll be a winner.
Not much of an artist, but want to brag about painting your favorite piece of art? Try paint by number kits!
How you can get this look:
7. Accent color shelves
Shelves are incredibly practical and easy to install. But add an accent color, and they're works of art in their own right. Opt for an ombre look, like these wall shelves, or choose a single hue for a more dramatic statement.
How you can get this look:
8. Old books
Before you toss old or torn books in the trash, try turning them into cool wall designs. All it takes are some removable wall adhesives, books or torn-out pages, and of course, your imagination. The sky's the limit with this one!
How you can get this look:
9. Giant pegboards
Though usually just a practical organization hack, pegboards can shine as unique and versatile wall decor, too. Mix and match yours with different shelving, peg styles, and knobs, or paint it a bright color.
How you can get this look:
10. Record-cover wall art
Record covers are an affordable, easy, and accessible way to transform boring walls. Use mounting tape to fasten them to your wall. Or, if you don't have any record covers, snag some at thrift stores and online marketplaces.
How you can get this look:
11. Faux flowers
You shouldn't have to wait until spring to adorn your space with flowers. Look to plastic versions of your favorite blooms to add beauty to your walls. Create a garland or use wall-friendly tape to affix flowers into place.
How you can get this look:
12. Metal hoops
You can source architectural, decorative hoop art online, or why not create one yourself? Collect metal or plastic hoops and spray-painting them black. It may seem like a simple wall décor idea, but sometimes minimalist touches are the most effective.
How you can get this look:
13. Woven wall hangings
If you're looking to cozy up your room with color, texture, and warmth, do it in one swoop with a woven wall hanging. Large walls call for big wall decor. Smaller walls go best with small-to-medium hangings.
How you can get this look:
14. Window frames
For an easy and sustainable way to bring cottage chic into your space, recycle an old window frame into wall art. Hang a wreath over it for fall or Christmas vibes, or leave it bare for something a little starker yet still stylish.
How you can get this look:
15. Oversized ornate mirrors
Going for an ornate theme but want to keep it practical? An oversized ornate mirror adds light and the illusion of space.
How you can get this look:
16. Jute rugs as wall art
Sure, you've heard of decorative jute rugs for your floor, but what about perched on your wall? It might sound strange, but it's a perfectly pretty wall decor idea that takes just minutes to do.
How you can get this look:
17. Decorative plates
Why leave your favorite decorative plates tucked away in your kitchen cupboards when you can display them as unique art on your walls? Whether your plates have been handed down from a grandparent or you found them in a thrift store, they'll add a vintage charm to any room.
How you can get this look:
The bottom line
There are many creative and stunning ways you can spruce up your blank walls, from gallery displays and murals to using plants, plates, or pages. Thankfully, getting the perfect wall décor look doesn't have to cost a small fortune. Use things you already have at home, such as baskets or old record covers, or shop for cheaper wall decor items online.
Frequently asked questions
What can you do with a blank wall?
Wall decor comes in many forms. You can cover the wall entirely with a mural or hang a small, stylish canvas to add intrigue to a space.
How can I decorate my walls for cheap?
Look to items you already have lying around at home, including pretty plates, potted plants, and old record covers. Thrift shops can be a goldmine for interesting and cheap wall decor items.
How do you decorate a large wall?
Try combining multiple items related to a single theme, such as a gallery or mirror wall. Or decorate with one large statement piece, like a giant canvas or intricate floor rug.
How do you decorate a small wall?
A smaller cluster of decorative items works well on a small wall. Try a group of smaller canvases or framed art. Even one large mirror or medium wall hanging that ties in elements of the room's color scheme can work wonders.