5 Ways to Make Big Statements in Small Spaces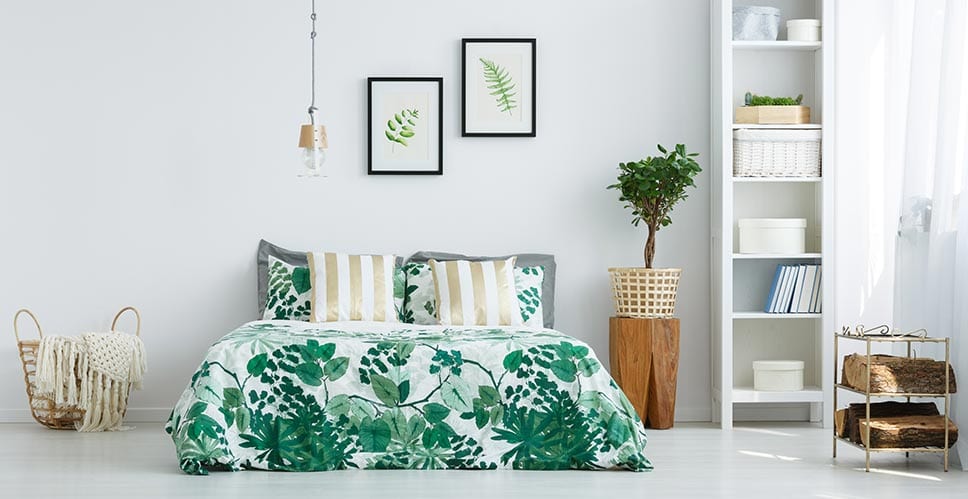 You're about to move into a small space. Where are you going to cram your huge personality?
It's natural to want to express yourself by way of design in your new home. The fact that it's not boasting endless square footage doesn't mean you have to forgo big design statements.
Here are 5 ways to create show-stopping features in your small — yet largely promising — space:
1. Suspend a Show-Stopper from the Ceiling
If you're looking for a gasp-worthy focal point, suspend one. A chandelier can add instant elegance to any room (even a bathroom) without infringing on space. Too glamorous for you? Peruse the many styles available beyond traditional crystal. They can range from rustic to masculine to modern.
When it comes to a chandelier size that's proportional to your space, experts recommend this formula for finding the ideal diameter: total dimensions of the room added together in feet, then converted to inches. Fear not if math isn't your forte — this calculator will do the work.
How high should you hang this show-stopper? Experts recommend 30-36 inches above tables and 7 feet or more if hung above walking areas. Thrive off original statements? Have your own "find" professionally wired at a lighting shop and turned into a chandelier.
2. Float Your Shelves and Furniture
The suspension factor doesn't stop with chandeliers. Use the strategy to free up space by floating furniture from the ceiling and on the wall. Floating shelves are a functional, visually pleasing alternative to large shelving units. A trending use for floating shelves is as a display for randomly sized and framed pictures. If you're a bookworm, use simple and inexpensive hardware to feature a seemingly invisible bookshelf. Group several stacks of books to create a full floating library.
Tables can float, too! Hanging nightstands create a design statement that also frees up floor space. Handy with DIYs? Create your own.
3. Reflect Natural Beauty Through the Magic of Mirrors
One of the best visual tricks for enlarging a room is reflecting light through mirrors. The bigger the mirror, the bigger the statement and feel of the room. Some of the most prominent places for mirrors are behind sofas and in hallways, but there's no limit on places mirrors can brighten for the better.
Placing a decorative mirror near the dining table can up the ambiance and the feel of spaciousness. Mirror tiles can make even unexpected rooms — like kitchens and bathrooms — feel upscale. If you have limited natural light, use mirror tiles to create faux windows that promote openness. For dramatic impact anywhere there's ample space, group a set of three vertical mirrors to aesthetically elongate the room.
The best rule of thumb for using mirrors to bounce light? When possible, angle the mirror to face the natural source of light. Shine on!
4. Raise Your Curtains (and Your Expectations)
Another simple trick for making a room feel larger: hang your curtains higher and wider. It will make your ceilings soar, let in maximum light and make a noticeable statement. Need proof? Check out the visible difference hanging curtains high and wide can make with the same panels in the same room.
You often hear about the "rule of three" in interior design, but when it comes to curtains, four is the word. Double the panel set you purchased and hang two identical panels on each side, instead of just one. These extra fabrics, coupled with the creative positioning of the rod, will make the room feel dramatic and high-end.
Another striking statement? Using a curved shower rod as a curtain rod. Regardless of how your curtains are hung, patterns with personality — such as stripes and vibrant florals — will strengthen the design impact.
5. Feature a Front-Running Wall
Just because it's listed last doesn't mean it can't be a frontrunner. Put any wall in your home on display by repurposing it as a feature wall. A striking paint color or lively wallpaper can bring a wall to life. If you're not committed to the entire wall, envelope it in warmth and color with a large tapestry. Society6 has hundreds of styles and designs you can browse.
For a truly custom tapestry, make your own. Popular places for impromptu feature walls are behind bar carts, couches, and beds, but the possibilities are endless. If you're an art enthusiast who collects photography and prints, create a full gallery feature wall to bring them to the forefront.