How to Create a Mudroom in a Small Apartment
Whether there are still slush piles outside, or the weather is making way to spring showers, inevitably there is still going to be mud being tracked into your home. In the entrance of your home, where do you put your wet boots and coat? For larger homes, a vestibule, foyer or mudroom are the ideal dry off spaces, but what if you live in an apartment or a smaller home and don't have the space? You can still create an area that is ideal for you to drop off your wet slicker, and keep the rest of your home dry. Here are tips for your small apartment or home.
PC Photography / Getty Images
Optimize vertical wall space: Everyone doesn't have floor space, but everyone has walls, right?! Take advantage of wall space when you have a small area to work with. Install hooks for hanging jackets and coats, and shelving or cubbies to hold baskets for dog leashes, wet backpacks, and storing your umbrella. Mudrooms don't have to be a "room". It can be an area that you designate for your outdoor gear. It's also a good place to put keys, wallets, and purses that you always forget running late to work in the morning!
Protect your flooring: Assess your walk off area and determine what type of flooring protection you need. In many apartments there is no transition from the immediate foyer area to the rest of your home. In this case, opt for an outdoor mat immediately at the door to collect water and mud, and then a nicer natural fiber floor mat that will enable your floor to still remain looking nice. Depending on your geographic area, you may only need these certain seasons of the year. By time the summer months come around, a beautiful floor runner rug may be all that you need.
Multifunctional area: In small homes, multifunctional spaces are key. In your mudroom area, determine if you can use the space to also house other functions. It may be a good place to store unopened mail, notes to the kids with a chalkboard, or even a bulletin board for important notes that the family needs to see daily. It can also make a great place for baby toys, yoga mats and gym bags that you often don't know where to put in your bedroom, or just need when running out the door.
`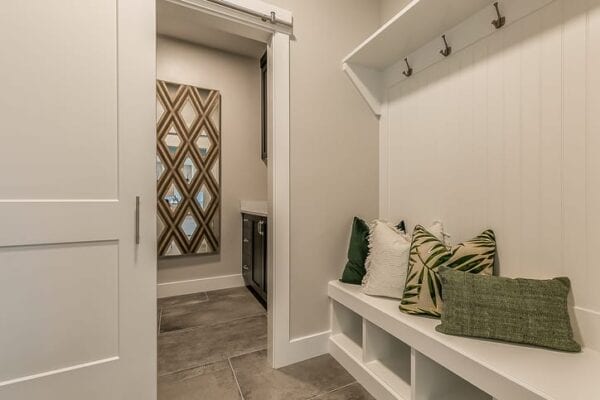 PC Photography / Getty Images
Decorate your mudroom area: While the main focus of your mudroom is to be functional it can also be beautiful. Consider getting brightly colored shelving, cubbies, and hooks, in coordinating colors to the wall around it. Beautify your wall with artwork, mirrors, and even a hanging pendant light if you have space. If your apartment is too strict, opt for removable hooks and wall hangers that leave minimum holes in the wall, that can be easily puttied.  Decorate your mudroom area to reflect your decorative style, and when your coats are dry – move them into other closets to keep your front entry from getting overly cluttered.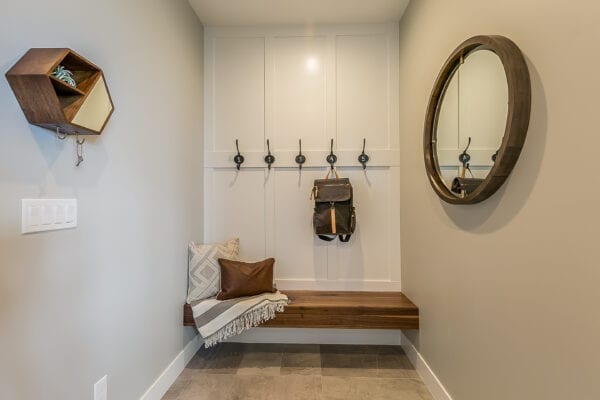 PC Photography / Getty Images
Having a mudroom in your apartment or small home isn't only for those who have space to spare. Having a designated area for your outdoor gear can keep the rest of your home clean, tidy and dry. Use this area to hold multiple items, and if you have an outlet, consider getting a charging station to house your smart phone, iPad, and other gadgets that need regular charging. Before your know it, you'll have more than one reason to put a mudroom into your small home.
Freshome readers do you have a designated area for your wet gear asou come into your apartment or small home? We'd love to hear your comments.