Small Space, Big Plans: 6 Genius Organizational Hacks You Haven't Seen Before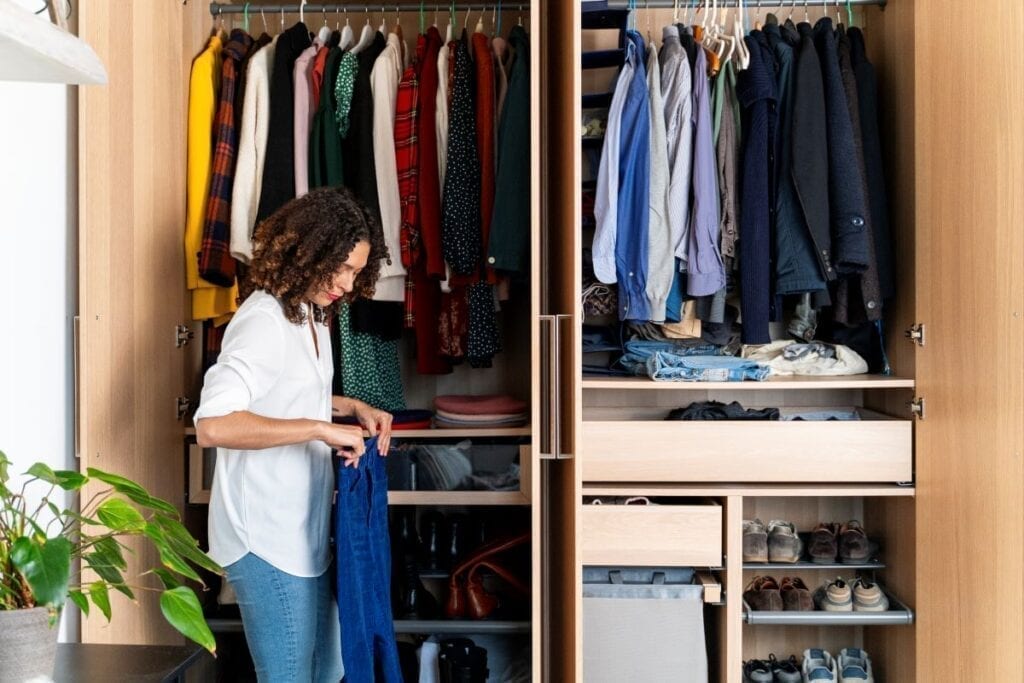 If you live in a small space, organizational hacks are practically a given. It's a lifestyle, right?
Exactly. Which is why you've already seen and mastered every behind-the-door, inside-the-drawer, over-the-toilet trick there is. You're a small space ace, if you do say so yourself.
We won't bore you with those, but stay with us on these 6 genius ideas you haven't seen yet.
1. Bring Soda into the Closet
Soda: the secret to your closet's success? When it comes to vastly increasing your vertical hanging space, yes. By sliding the tab of a soda can (or any other drink can, for that matter) onto the neck of a hanger, you've just created a separate suspension for yet another hanger. Repeat until satisfied — though we'll warn you, it's addicting.
You'll just need to make sure your hangers have necks skinny enough to slip through the tab holes. Of course, that's while you start slurping soda and collecting can tabs stat. Chug and consolidate!
2. Hide Eyesores Behind your Muse
Just because it's an item that's constantly in use, doesn't mean it needs to become a coffee or soda table centerpiece. Keys and wallets: we're talking to you.
The fix? Creating an instant hideaway for essentials that are at the ready but out of plain view. The secret? Turning a piece of your favorite art into a hidden storage cabinet.
Not that we lose our keys multiple times a week, but we're suddenly feeling a little relieved knowing they'd have a hiding place where they could actually be found.
Note: you can also use this concept to conceal alarm panels, thermostats, and built-in safes by simply adding hinges to a picture.
3. Make One Thing Clear
Those to-dos, notes, and reminders you just can't overlook are forgotten in the time it takes to dig pen and paper out of that daunting junk drawer. Where to turn? Any surface you're bound to see it most, thanks to transparent dry erase paint.
Simply paint a wall, door, cabinet or table with the clear paint-and you'll be jotting down messages to yourself or your significant other in no time.
Warning: These honey-do lists can't be escaped. That's daunting.
4. Hide your Crazy Corded Chaos
Leave it to Buzzfeed to wow us with this one. When the disarray of cords and wires in your bedroom starts getting to you and you're fresh out of hiding places, turn to the side for the winning spot. Placing a power strip inside your nightstand will up your power supply while streamlining the clutter. Strangely satisfying even to think about, isn't it?
Here are 10 more ways to hide unsightly cords in your home. Corded chaos, be gone!
5. Call the Surface Shots
Surfaces aren't a luxury you have a lot of in a small space, but your prized mobile possession still deserves a platform to be charged on. For less than $8, you can invest in a floating station that'll keep your phone at the scene of the socket-no shelving or furniture required. It'll also organize that crazy cord. Your power-stripped nightstand's new BFF?
6. Turn a Shelf into a Bench
It's okay to decorate sideways. If you've reached capacity for vertical shelf storage, try flipping a cubed shelving unit-like the IKEA Kallax model-sideways for instant storage and seating. Add cushioning and legs to complete the ergonomic and functional look-then fill with decorative storage baskets you can easily access. On the edge of your seat?
Check out a full tutorial here.
Bonus: combine two shelves for a seating nook.