10 Ways to Change your Space with Tone on Tone Color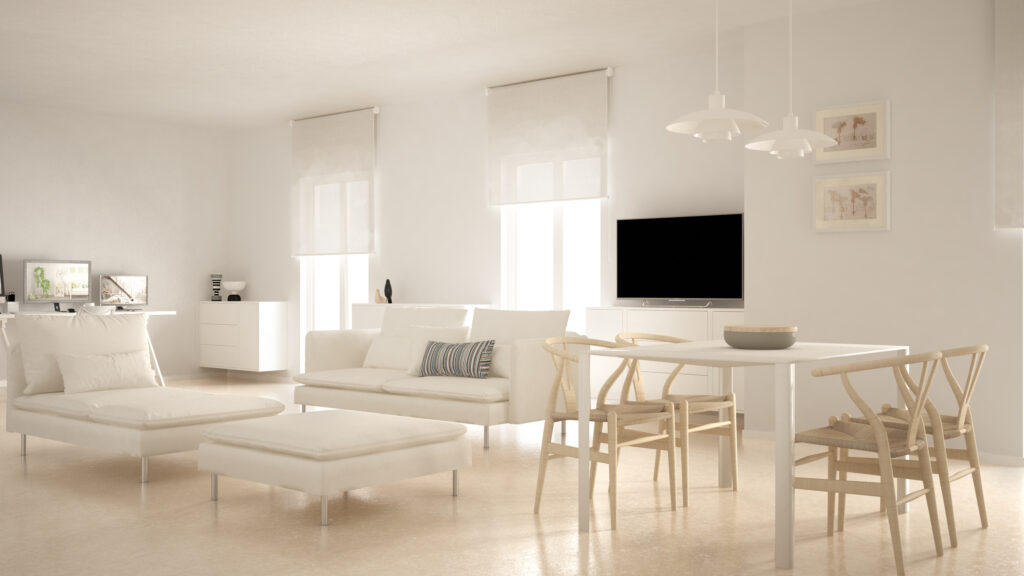 Have you ever been in a space where only 1 or 2 colors were used but it seemed as if there were 20? Tone on tone coloring or layering, is a decorative technique that takes a single or a few colors and uses different saturation of that color(s) throughout the space. The result is a room that can be dramatically transformed just by lightening or darkening of that color.  If you are happy with the color of your space, but would like to give it more definition and style, look at these 10 ways to change your space with tone on tone color.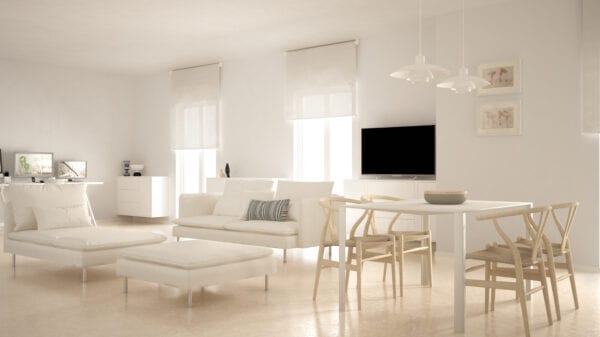 ArchiViz / Getty Images
1.) Layer your wall coloring: Tone on tone coloring works well with any color, and thus is the magic! For a dramatic look in your space use a dark wall color as an accent color, then ask the your paint supplier to bring that tone 2 – 3 shades lighter.  For a subdued look only use 2 shades, for more drama, use more shades on different walls – all within the same color.
2.) Pull inspiration from art: If you have a piece of art that you love, but don't know how to decorate around it, choose your 1 favorite color and use tone on tone variations throughout the room.  This will prevent making the room too busy for the eye, and will blend beautifully with your art work.
3.) Mix and match patterns: A new trend in décor is mixing and matching materials and patterns, but keeping all within the same color family.  In a living room use one color for the walls, and then lighten the same color in throw pillows, accent rugs, and adjacent spaces. The result will be a pulled together look.
phototropic / Getty Images
4.) Neutral room, one color décor: If you prefer a crisp neutral palette in your space, keep your furnishings neutral and add a pop of color in your décor.  A turquoise vase, or a yellow table setting will keep the room neutral, buy add whimsy and visual interest.
5.) Bring color into door and windows: From window and door frames to window treatments – don't forget tone on tone color isn't just for walls and furnishings. The more variety you use throughout your space, the more warm and personalized it will become.
6.) Window treatments can match the walls: If you have very high ceilings and want to make the space feel more intimate, match your wall treatment color to the walls. Choose to use a lighter or darker tone for either the wall or to complement each other. Use this same color throughout the room to add dimension.
Daniel Viero / Getty Images
7.) Pair color tone with black or white: Tone on tone color works beautifully with black and white too. Since these are neutrals they seamlessly will meld together with little effort. Use black or white in fabrics, and trim colors to accent beautifully your tone on tone color palette.
8.) Exterior paint colors work too: The outside of your home can use tone on tone color palette for field color, trim, shutters, gutter and downspouts. For contrast use dark and very light tones for the accent exterior pieces.  Tone on tone color works well in neighborhoods with strict covenants and restrictions about paint color!
9.) Flooring can use tone on tone colors: For open space floor plans you can choose to break up the spaces with different color flooring. So the spaces flows from one space to another choose lighter and darker tones of the same color. Wood and concrete flooring work best for this color concept.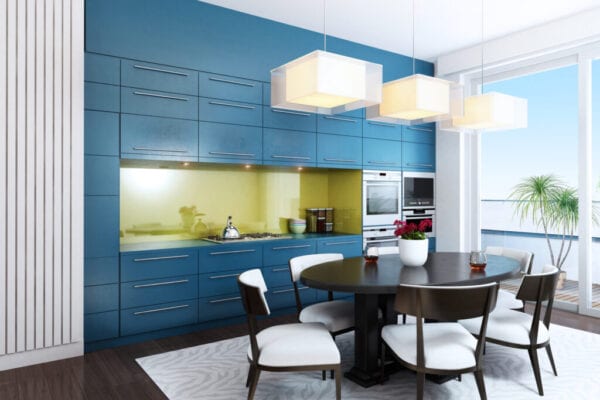 tulcarion / Getty Images
10.) Tone on tone in any room: Bedrooms, bathrooms, kitchens and living spaces are the most common spaces to use tone on tone color palettes. In fact the color concept can be used throughout your home and gender neutral shared offices and nurseries especially work well with tone on tone coloring.
Change up your space by using tone on tone colors; you will be pleasantly surprised at the outcome. Consider bringing samples home of the colors from the paint store before transforming your entire space.  Once you've chosen the paint colors, take these to your local fabric store to bring in patterns to your living spaces. What a difference one color can make!
Freshome reader's have you tried using tone on tone cor in your home? Tell us how you incorporated it into your home!